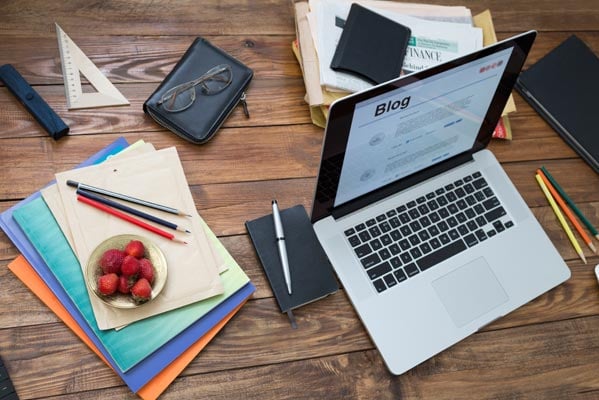 Writing a business blog is a little bit like cycling up a long hill with a fairly small, but steady incline. It seems easy at the start, but gets a lot harder when your legs tire and your stamina fades away.
Producing a high quality business blog that actually adds to your bottom line is hard work. It's not just a matter of writing new posts regularly, you also have to make sure your content is on-brand, appealing to both visitors AND customers, as well as delivering on your organisation's SMART goals.
While all this can certainly seem like a lot, it's no reason to postpone your blogging any longer. If blogs are well planned and implemented, they can be an invaluable tool for generating new leads. But just as with any exercise, it pays to start small and gradually build yourself up to reach higher goals - otherwise you lose motivation.
Here are some easy tricks to ensure your blog is working hard to reach its full potential.
Let's talk about content
If your content doesn't strike the right balance for your audience, you're in danger of losing their attention in less time than it takes Usain Bolt to finish a 100m race. Place equal emphasis on marketing, educational, industry news and thought leadership in your writing (and don't forget that just because it's educational it doesn't have to be boring).
The reason for this is twofold; on a topline level this opens up the range of content you can post making planning and sourcing content so much easier. More importantly, it will allow you to cater to visitors in varying stages of the buyer's journey.
The buyer's journey is split into three distinct segments:
Awareness Stage
Consideration Station
Decision Stage
In the Awareness Stage, your potential customers are experiencing the symptoms of a problem and are conducting broad research in an attempt to identify and solve it. These visitors are in the very early stages of the buyer's journey and are not ready to purchase yet, so your content needs to be broad and educational.
In the Consideration Stage, they have identified the problem and are looking at targeted solutions to solve it. You can get more specific with your content here as they are trying to understand a particular topic.
In the Decision Stage your customers have solved their problem and are ready to buy in order to solve it. It is only in this stage that you should directly reference your brand.
Fun fact time. Did you know, that only 4% of visitors are ready to buy when they first engage with you? Most of your blog's visitors are in the early stages of the buyer's journey and are still attempting to identify or solve their problem.
This is why striking the right balance between your material is crucial; and why you shouldn't be actively selling your brand through your blog. If you mention your brand too often in your educational content, you could risk turning off potential customers.
On the flip side if your blog only focuses on thought leadership or industry news, you're not helping potential customers resolve their problems. You NEED to deliver relevant, balanced content, to begin nurturing the remaining 96% of your readers into leads.
Call-to-Action and Email Lists
Remember how we said that you shouldn't be actively selling your brand through your blog? You might be thinking what's the point! Rest assured, there are two very easy tactics you can employ in order to close leads into customers.
Does your blog currently allow people to sign up and subscribe to your content? Email makes it easy for visitors to find you again. Simply put if someone is enjoying your content, you should make the re-discovery process as easy as possible. It also has the added benefit of building relationships with your visitors, nurturing high quality leads and moving them further into the buyer's journey.
But how can you tell when a lead is ready to buy? Call-to-action buttons are crucial here, as you can monitor what content offers your potential customer is consuming. Through this you can keep track of where they are in the buyer's journey. Once you're confident that they're ready to purchase, you can then email them with specific brand-related content.
Search Engine Optimisation
It's time for us to talk about SEO. There are a few common SEO tricks you can use to boost your blog's ranking and credibility, which in turn will drive organic traffic to your posts (and fingers-crossed, conversions).
Keywords: Put yourself in the shoes of your readers and research the keywords they're likely to search in order to find your content. Once you're happy with your keywords make sure you include them in your post's title, meta-description, URL and naturally through the body text.
Meta-descriptions: A meta-description is the snippet displayed on a search engine that summarises your post. It is important to make your copy engaging to draw in readers, but also to include a long-tail keyword so the search engine can rank your page. Keep it short and sweet (under 155 characters) so it doesn't get cut off.
Add Alt Text to images: So a search engine can read an image (and boost your ranking), you should always add Alt Text to your images. Your Alt Text should be a full-sentence description of what is in your image. Most blogging platforms will have a feature enabling the easy addition of Alt Text, simply Google instructions specific to your provider to find out how.
Link away: Include all relevant inbound and outbound links within your posts. Adding inbound links to your past content prompts readers to explore your blog, while outbound links lift your ranking and credibility. When linking to authoritative external sources, there's always a chance they'll return the favour and include a referral link back to you, which also boosts your credibility.
Post often
This one is a no brainer really. The more often you post, the more visitors will be attracted to your site. Additionally with each post that's pushed live you're creating a new indexable page, giving you one more valuable chance to be discovered via a search engine and boosting your organic traffic.
Promote regularly
A lot of time and effort goes into generating blog posts, so after it's published don't let it fall by the wayside. You can still promote relevant content on social months after it's initially published.
Download our editorial calendar to make planning your content easy as A B C.
Brand chemistry is a strategic content marketing agency that goes the extra mile to deliver results for our b2b clients. Take a look at our client case studies to find out more.