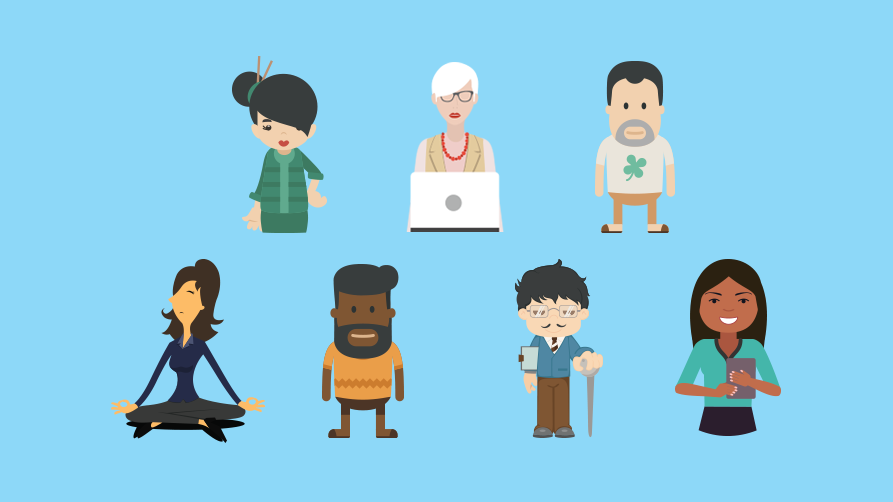 Buyer personas are critical for b2b inbound marketing success. Without a clear understanding and representation of your customers, you simply cannot design an appealing product - let alone market it effectively. And a clear buyer persona requires more than just a generic "50 something-year-old man at an ASX listed company" kind of statement.
When done well buyer personas are a complete in-depth representation of your customer. For example, you should know what they look like, how old they are, what their background is, and how they get to where they are today. You also need to find out more about their needs and wants. What are their goals? What motivates them? Do they like hiking or skiing? Which social media channel do they spend the most time on? Where do they go on weekends? Have they got kids to look after? It's a lot of information to gather and you might be tempted to guess it!
But as you might - well - guess, this isn't exactly the most accurate approach. You may even run the risk of creating messaging and branding that is simply missing the mark. And according to the B2B Content Marketing Spotlight Report audience relevance is considered as the most important factor in determining content marketing effectiveness by 58% of b2b content marketers. Personalisation also leads to double the number of open rates and five times the click-through rate of campaigns compared to campaigns without personalisation. That's why time, effort and resources need to be spent on creating in-depth and accurate buyer personas. And while it might seem like an easy task, it can be a lot trickier than it seems. Hiring a marketing agency to create buyer personas for your business gives you the best chance of establishing a full picture of your buyer. And here are the reasons why.
1. Creating accurate buyer personas is time-consuming and requires experience
Developing a buyer persona takes time.The process involves workshopping personas with key frontline staff and all senior stakeholders that need to buy into the process. To achieve the best possible workshop outcomes and ensure that every participant's contributions are valued equally, you need the skills of an experienced facilitator. They will know exactly how to keep the big personalities in check and draw valuable contributions from your quieter team members.
After the workshop, a basic persona profile is drawn up. But it doesn't stop there. To ensure that your personas are hitting the mark, you should conduct at least two interviews with existing clients for each persona to validate your workshop assumptions. Preparing these interviews takes time and an understanding of what questions you need to ask. An agency brings a lot of experience to the table that can help you manage the process as effectively as possible. They know what questions to ask, are quick on their feet to pick up anything that needs more exploration, and they have the time and team needed to create a realistic buyer persona.
2. It's hard to be objective when you work in the business
Working in your business day in and day out can make it really hard to see the wood for the tree. You're bound to already have preconceived ideas about who your customer is, which is not the ideal starting point when you're trying to drive change and innovation.
While many of your ideas may be right on point, creating personas based on research and interviews usually helps businesses discover something about their customers and the way they serve them that they didn't know before. When you're caught up in your business as usual processes it can be quite hard to step back and look at the process objectively. It may even be tempting to skip over parts of the processes if you think you already know the answers to them. To get an accurate picture and an outsider's perspective it's best to get an agency's help.
3. Buyer personas evolve based on learnings
Especially if you're new to inbound marketing and don't have a lot of historic data to analyse, you need to make some assumptions about your customer's needs and online behaviour. However, you should always aim to validate them with data through your content and tweak your personas accordingly. For instance, your interviews might reveal that your buyer persona spends a lot of time on LinkedIn. With this information, you start pushing a lot of content through sponsored updates but you notice you aren't getting the desired results This might indicate that you need to reassess if the persona is really the best target for content through this particular channel.
Agencies can help you tweak and perfect your buyer persona over time. They have processes in place to ensure that your buyer personas are constantly reviewed and validated with data. They can also help you develop content ideas to keep existing customers happy too. Their expert team's insight and experience makes hiring an agency to create your buyer personas worthwhile.
Final thoughts
Buyer personas are key to all b2b inbound marketing campaigns and building a customer-centric business. Developing your buyer personas takes time, effort and in-depth research. Hiring an experienced marketing agency can help you to manage the process as efficiently as possible and uncover a few hidden gems that you haven't even thought about yet.
Want to know more about working with an inbound agency? Download our 7-Step Checklist to Choosing Your Inbound Agency to learn all about it!
Brand chemistry is a strategic inbound marketing agency that goes the extra mile to deliver results for our b2b clients. Our inbound marketing specialists are HubSpot certified and use the latest techniques to provide our clients with a steady stream of relevant new leads.