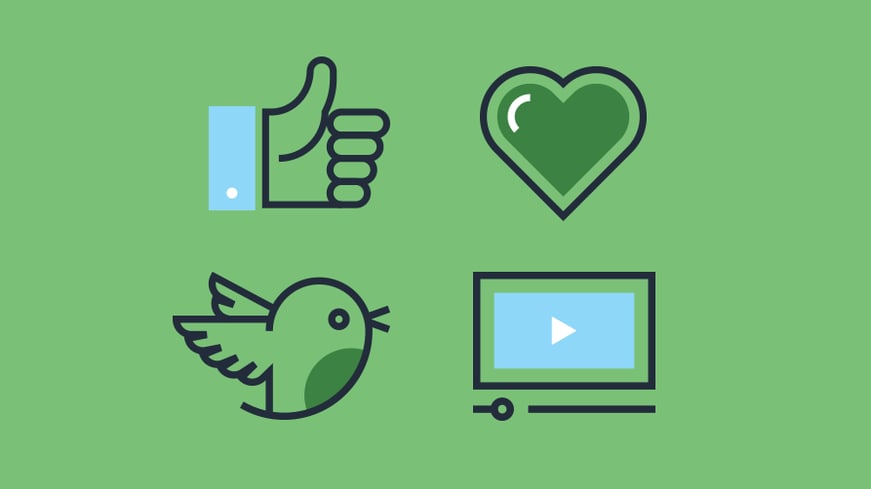 A recent study by Sensis found that 64% of consumers will likely to trust a brand if they interact in a positive way on social media. While there are b2b companies out there with awesome social media campaigns, there are still a few that are hesitant to take the leap into social.
According to Salesforce's 2017 State of Marketing Report, social media marketing tops the list of marketing spend with 66% of marketing leaders planning to increase social budgets over the next 12 months. Also, 64% of marketers now collaborate with service teams to manage social enquiries and issues - with more customers broadcasting their positive (and negative) experiences publicly through social channels.
There is a shift in focus in marketing globally as more and more businesses are establishing their presence on social media, and the importance of these networks for b2b marketing has increased in parallel.
Not convinced?
Here are Bc's top 4 reasons why social media is important for b2b.
It is a great platform for content sharing
So you have spent a lot of time and effort writing a blog post or creating a video. Now, you'd want your content to be seen and appreciated by as many people as possible. Hence, you send it out to your contacts, who have signed up to receive your emails because they have an active interest in your brand and products. But what about the others who are seeking for what you have to offer but have yet to come across your brand?
This is when social media comes in as a business tool to expand your content beyond your existing contacts. Not only does social media enable you to share content with those who are already familiar with your brand and company, you also have the power to extend your reach to an audience beyond your primary circle.
Using multiple channels effectively helps establish your company and employees as thought leaders and experts in your field. This will keep potential prospects returning to your website and make you the go-to source for your niche.
It gives sales teams an edge
Social media allows the sales teams to follow and engage with their leads on a personal and professional level. By following a potential prospect's activities online (be it through their LinkedIn or Facebook pages), you can learn about their likes and dislikes, and use these topics of interest as informal conversation starters. These give the salesperson an advantage in closing the deal.
Pro tip: There's a fine line between being friendly and coming across as a stalker. If you wouldn't be comfortable with the level of information a stranger has about you, don't mention it to a prospect. That's just creepy.
Tap into customer insights
Have you ever wondered what your customers are saying about you, without having to interview them or sending out a survey?
By monitoring your target audience's conversations on social media, you can learn how your brand image and products are perceived. More importantly, you can also learn more about your audience's pain points. These insights are useful for improving product standards and customer experience.
The online chatter about your brand will continue regardless of your social media presence. By joining in and being part of these conversations, you'll have the opportunity to demonstrate your expertise, enhance brand experience, and turn negative feedback around.
Social media usage will only continue to grow
We cannot deny that social media has become one of the main methods through which we communicate, get the latest news and share content with others.
While we tend to associate social media usage with the younger generations, the latest Sensis Social Media Report study shows that social media is used across all age groups. According to the study, almost eight in 10 people (79%) now use social media.
Final word
Social media isn't the fringe marketing avenue it once was. Communication preferences have changed and in order to remain competitive in today's market, a social media presence is a must.
Need help with integrating social media in your marketing strategy? This quick-start guide to inbound marketing is for you - download it now!