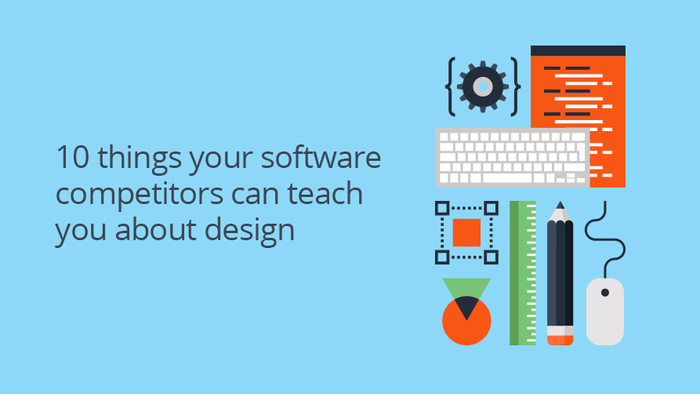 "If cats looked like frogs we'd realise what nasty, cruel little bastards they are. Style. That's what people remember."
— Terry Pratchett
It's an unfortunate fact of life that looks count. Your mum was right, what's on the inside is also important, but style is the thing that immediately captures and excites the imagination.
This is especially true for your online presence and even more so for software companies, who often have to grapple with loads of complex, hard-to-navigate information.

If your web design isn't displaying your charms correctly, then we have one word for you: Makeover!
Airbnb knows the transformational influence of design. Once a failing start-up, an online overhaul later, it's now a billion dollar entity that entices with its website's sharp imagery and sleek rebranding.
The first thing that grabs your attention when you visit a website or peruse a social media account is that way it has been presented. We can't help but be influenced by the way a thing looks!
So what makes a grand design? We've had a look at 10 beautiful things software companies are doing and their best practices to make their content pop more than Beyonce at the SuperBowl.
1. Let's address the Elephant in the room: Software can feel… well… dull
Xero is a fun example of how a boring topic can transform into something engaging and a bit fabulous. For most of us who would rather be, watching footage of Mini Oreos Sinking Under Milk than keeping track of small business finances, there is Xero.
The software boasts the ability to transform a shoebox of receipts into a beautiful easy and breezy system. Rather than just stating numbers and testimonials, Xero has created a series of simple icons and images that express the power of the software and its ability to transform and grow your business.

2. Killer branding and tone
Just like the grungy barista at your local, your style should let everybody know who you are and how cool you are doing it.
A good example of a b2b company that oozes personality is MailChimp. With splashes of bright colours as well as playful and contemporary illustration and sketches it presents an exceptionally friendly and humour-filled platform that delights and educates the user at every check-point.
MailChimp also uses social media as secondary ammunition to set themselves apart from the competition. On Instagram they often reveal behind-the-scenes office action to share just how MailChimp runs their daily operations. The images present a bright, colourful and relaxed and happy atmosphere within the MC team. The way this company explains how the product works is very intuitive, so people can get on with the task of creating their newsletter.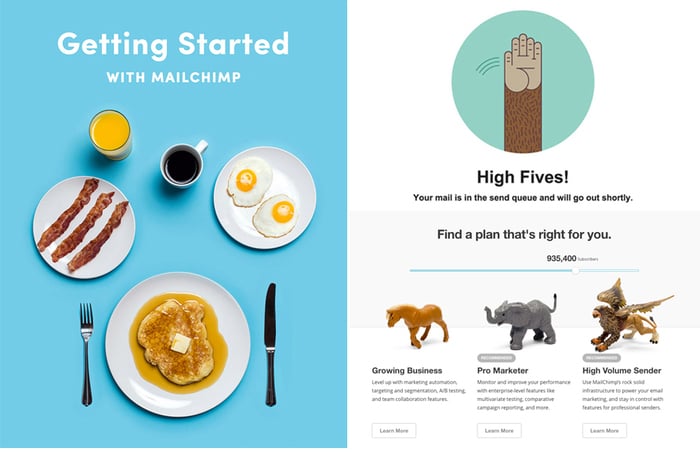 3. Show them how it works
Revealing visually how your product works is vital to software creators, as demonstrating what the actual product looks like when it's being used, can make it very appealing to click through for a customer.
Nuorder is a cloud and mobile b2b eCommerce solution, helping brands to streamline their wholesale business, which is revolutionary in the retail industry. They present their product with beautiful 3D visuals that convey the various levels this software can give to a client's business.
Nuorder is a perfect example of displaying a message intended for a specific audience and and expressing to them just how useful this tool can be.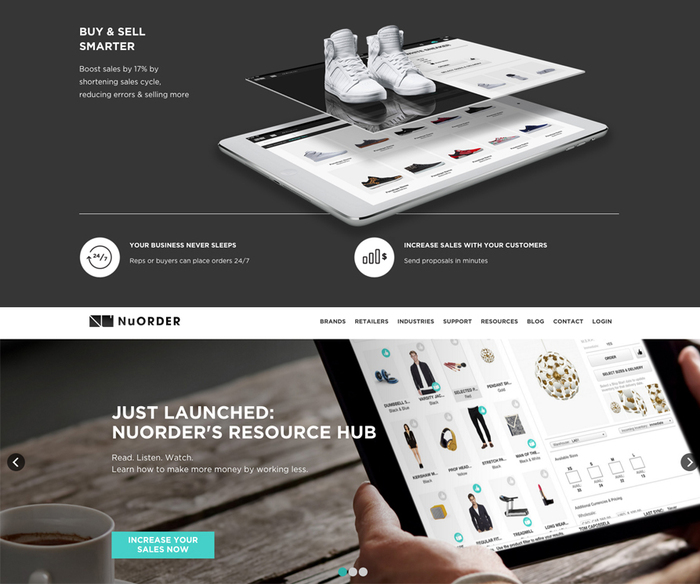 4. Take a cue from The Godfather: Make an offer they can't refuse
Use amazing visuals to inspire and excite your audience to join your platform like Slack. Slack is a communications tool that bids you to say bye-bye to email and keep all your team's' conversations and files in the one place, they are focused on delivering a great experience.
One of their advertising strategies is to be very transparent and blunt about the reason people should sign-up. As shown in the ad below, Slack cuts to the core of what people want – less boring meetings, more getting the task done with style. Their visual focus is being 'humble, authentic, humorous and human.'

5. Draw it out
Some ideas and concepts just can't be explained as well in writing as they can through visuals. App Annie provides an analytics service and market intelligence so that app developers can focus on making apps, rather than reports. The App Annie website utilises simplified icons and product images to break up chunks of text and draw out the main features and benefits of their software, as seen below.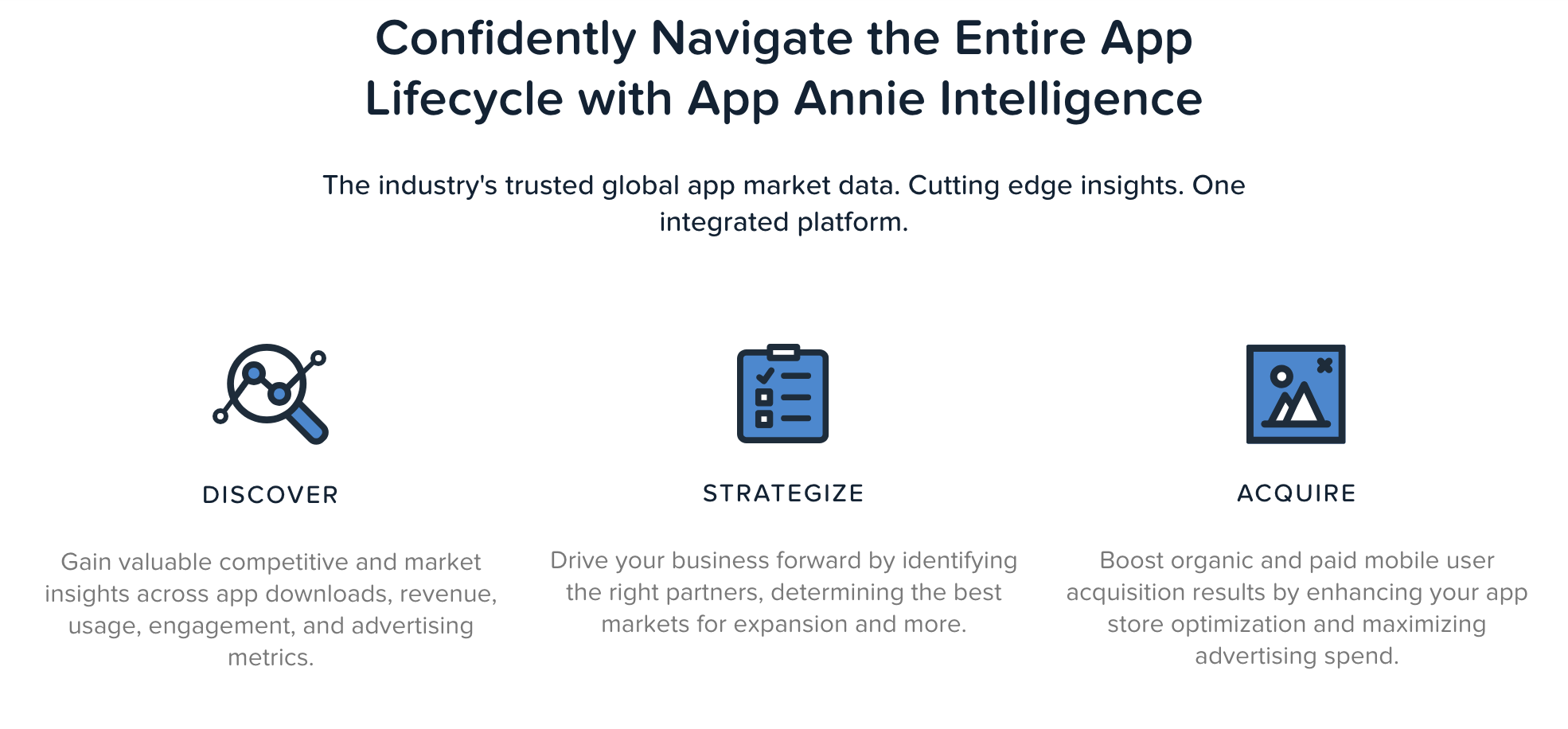 6. It's all about them: The personal touch
Eyeview Digital uses consumer knowledge and business intelligence to reveal the power of one-to-one video marketing to gain:
offline sales
online sales
website visits
foot traffic
improved branding for their client
Their service is focused on the strength of personalising their product to the client's audience in order to create dynamic, real-time, targeted and localised advertising.
The benefit of personalising your content is better performance and results from your advertising efforts. At a basic marketing level you can use this targeting method via social media ie targeted facebook ads and email campaigns ie – personalised and targeted newsletters drawn from collected data. Eyeview engages their audience visually through visual metaphors and a clear and concise guide to the benefits of their software, as shown below.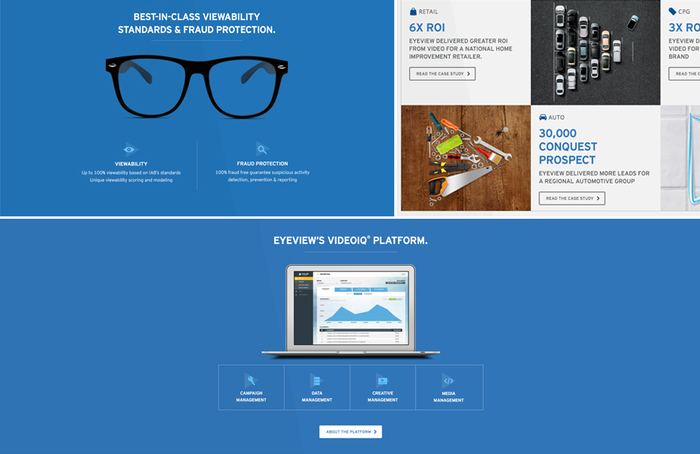 7. I'm here with all of my people
Interact and engage with your audience. Make them feel inclusive and part of a gang.
OpenX is technology for online advertisers and publishers. They are the world's largest digital advertising marketplace and hold a high-quality inventory for buyers and sellers.
OpenX engages with their audience via clear messaging, impressive business statistics, and captivating video to cultivate a professional and reliable brand. They use contained colour palettes and simplified typography that helps viewers focus on the message at hand.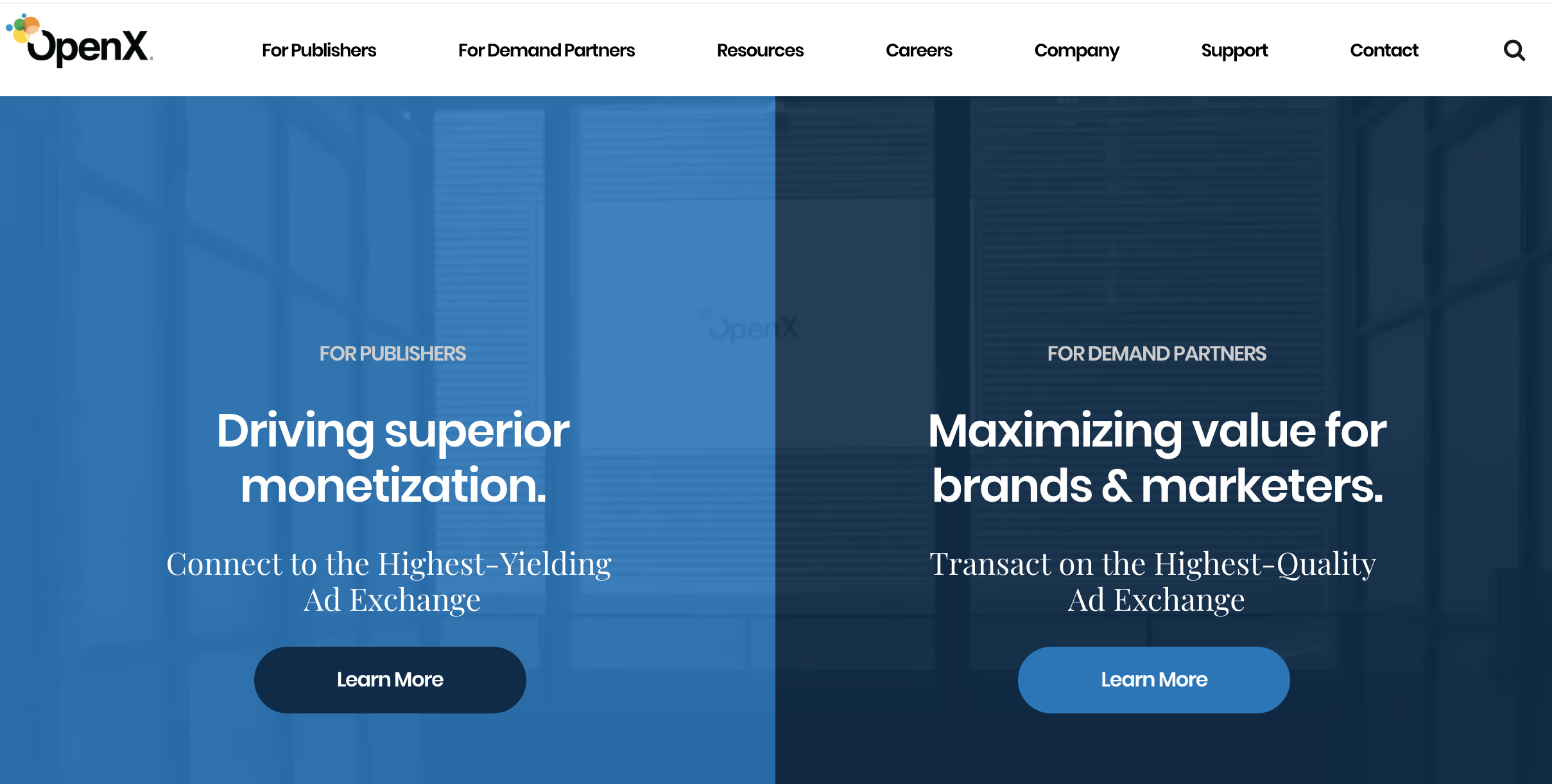 8. Come hither
Lure them in and peak their interest. Twilio is a crackerjack at using effective call-to-action buttons to guide the user through their website. They also employ testimonial quotes in beautiful clean layouts to boast about their useful and impressive features.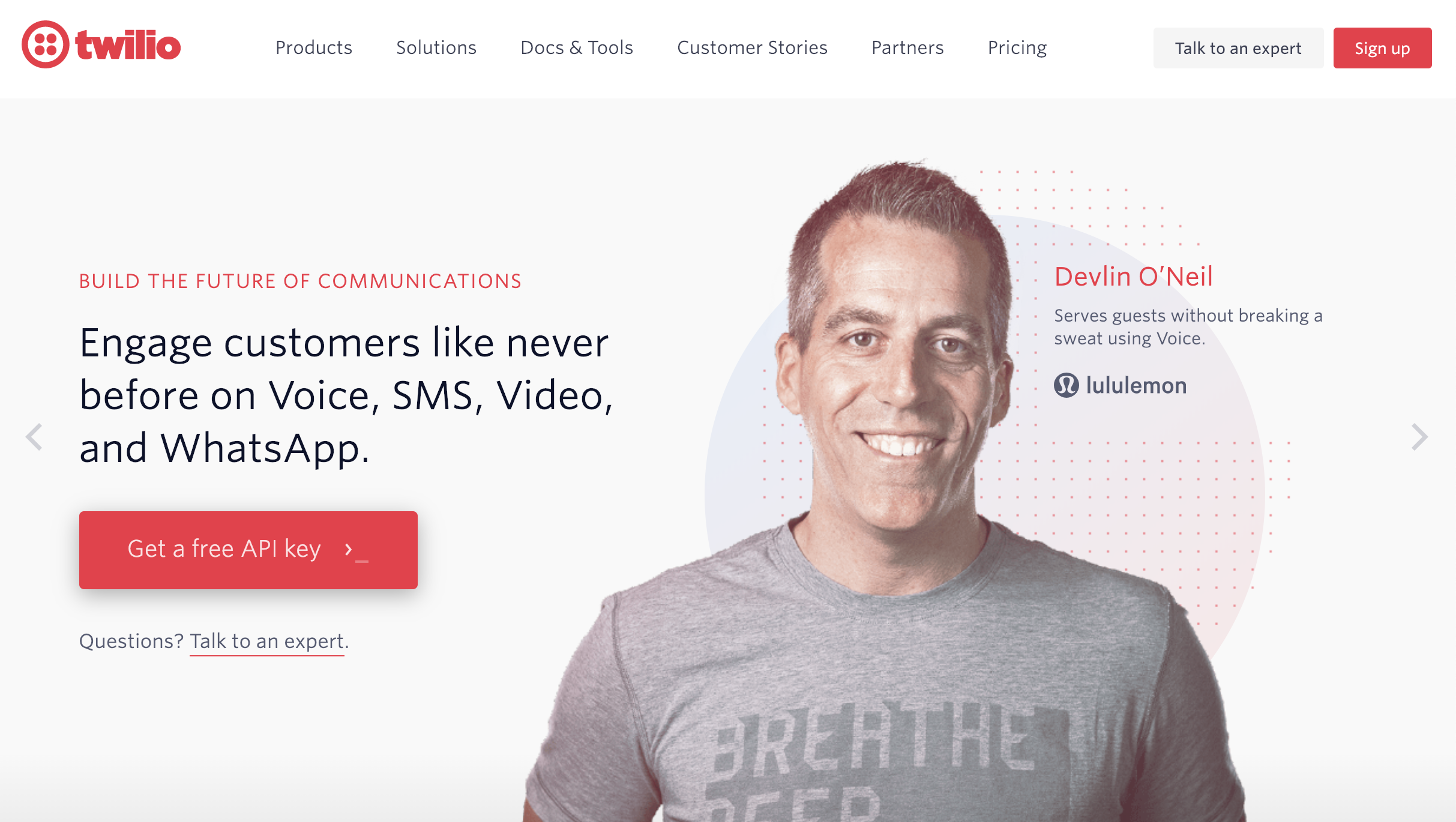 9. Design for humans
StartApp is a 'collaborative platform that opens up social data to reveal a new understanding of true user intent, behaviour and attributes'. Their website focuses on the human experience and explains their product in a very visual and personable way through captivating video snapshots and rich photography, which are treated with a consistent warm yet muted filter that translates a pleasant film-like quality. Their form fields are exceptionally easy to fill-in and well displayed for a quick engagement.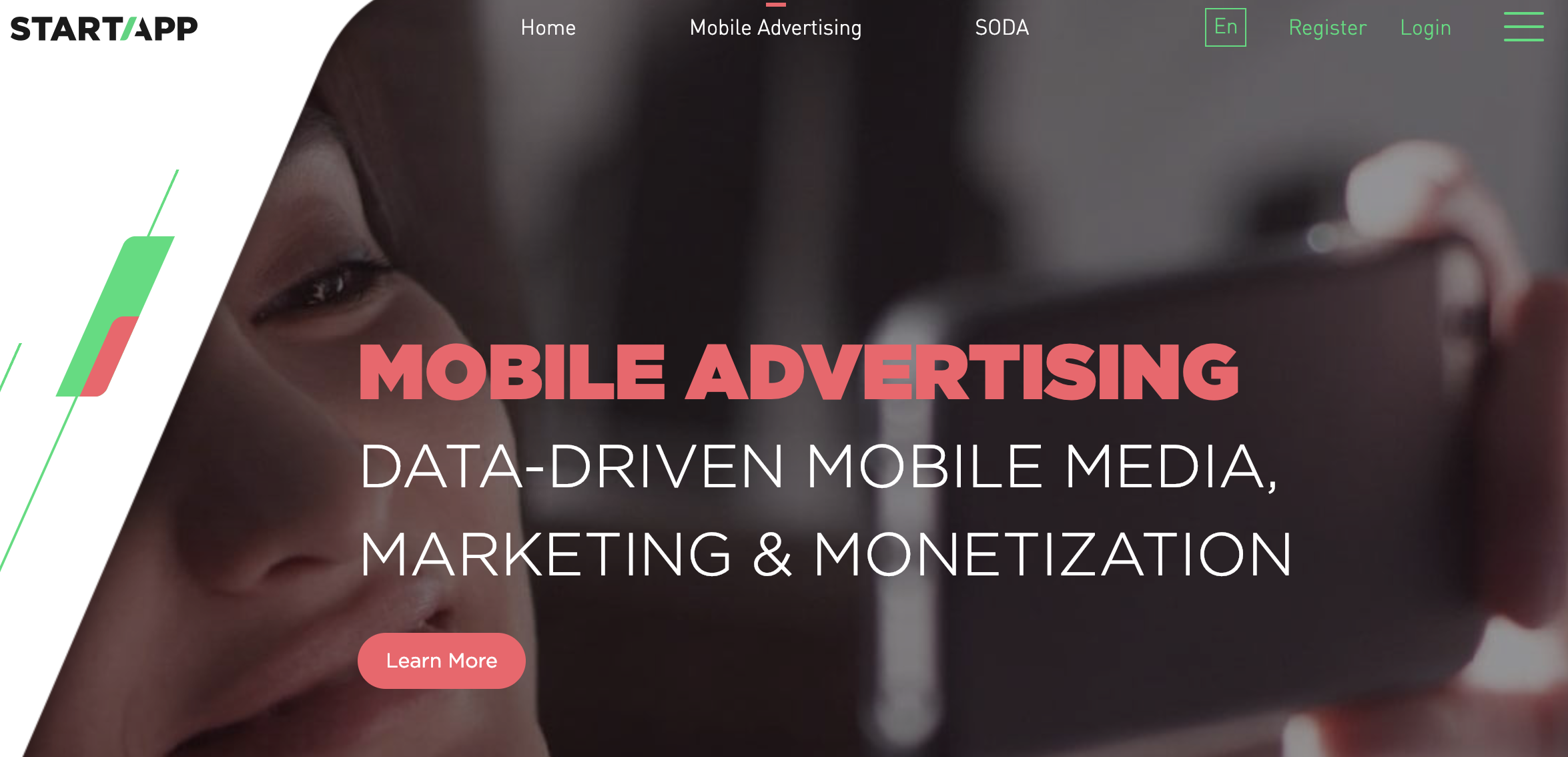 10. Think simple
Focusing on experience and simplifying what would otherwise be an overwhelming and expensive process, the SquareSpace homepage reveals a full-screen video slide of interesting clients engaging in their practice and day-to-day business.
This opening page is a dramatic and thrilling display that entices the user to continue on via a sweet and simple, no catch, one-liner call-to-action. Their dedication to purity of design continues through the site, with a clear navigation and answers to most questions ready and waiting in a beautiful grid-based layout.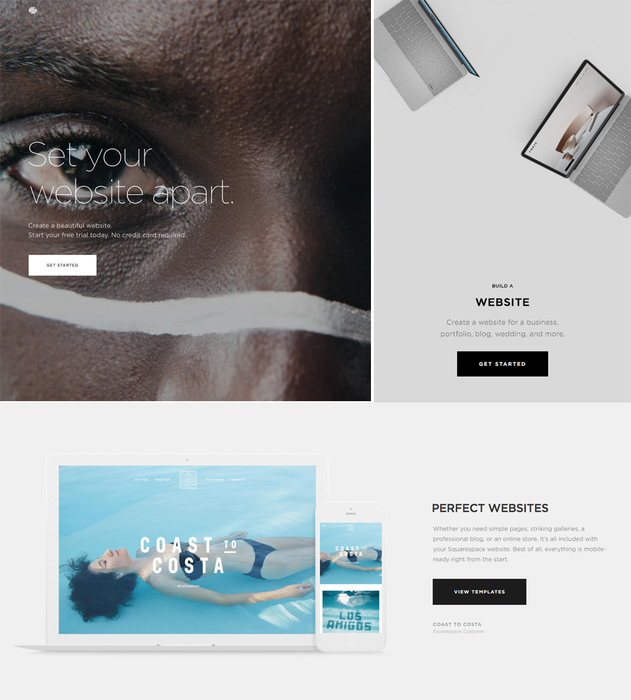 Be a cat, not a frog!
When it comes to displaying software to your buyer, you need to make your product look as good as it actually performs. Think big, beautiful and functional. We hope these thought provoking design tips can help you on your way. The good news is that you don't have to do it alone. An inbound marketing agency can help you get the process started and have your inbound pipeline pumping in no time.
Download our 7 step guide to choosing your inbound marketing agency and find out how to engage the right agency to get your business on the best path to success.
Brand chemistry is a digital marketing agency focused on delivering quality leads and measurable results for our b2b clients. Take a look at our client case studies to find out more.