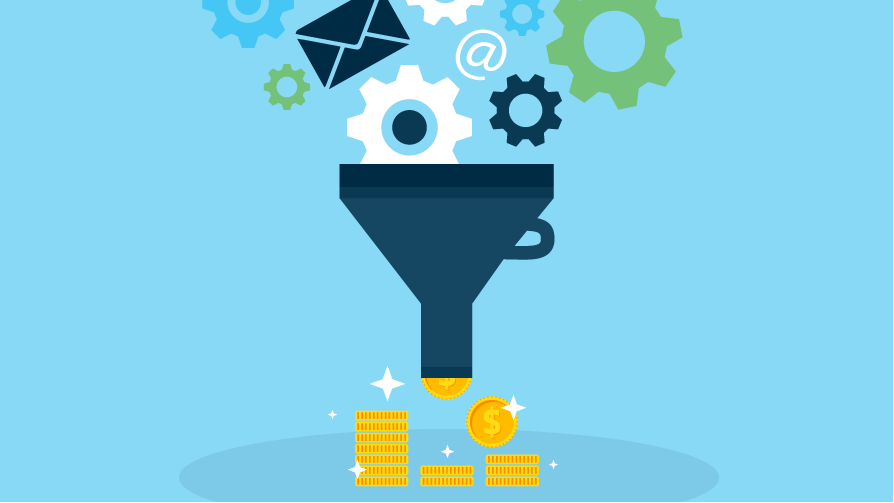 It seems like every year there's a swathe of new marketing buzzwords to get your head around. One of the recent additions is 'demand generation'. (Or, 'demand gen', as the cool kids call it – and we at Bc like to think of ourselves as pretty cool.) It might sound a bit redundant – after all, isn't the whole point of marketing to generate demand? – but it's actually more nuanced than it appears at first glance.
So what is demand gen, and why should it matter to you?
Let's start by differentiating between demand gen, lead gen and inbound marketing.
Demand gen vs. lead gen vs. inbound: what's the difference?
Demand generation takes a holistic approach to the sales funnel - it includes brand awareness or "buzz", filling and optimising the pipeline, and turning customers into repeat customers.
Additionally, instead of focusing on leads as a key metric, it's about focusing on the revenue generated from each tactic - just like Sales, thereby helping to facilitate Sales and Marketing alignment.
Demand gen tactics could include:
PR

Paid advertising

Exhibiting at industry events

Blog posts

Whitepapers

Email campaigns
Lead generation, on the other hand, is much more focused: it's about capturing information about leads, so that you can add them to your CRM database and follow up with them in the future. The key metric is number of leads.
Some examples of lead gen tactics include:
Opt-in forms for newsletters

Forms to attend webinars or download ebooks or whitepapers

Sign-up forms at event exhibit booths

Website tracking from a marketing automation platform
Both are disciplines in their own right, but demand gen encompasses lead gen.
To understand this subtle shift in focus, think about how the goals of a demand gen campaign can be different to that of a lead gen campaign. If you create a whitepaper for the purpose of demand gen, you'll want it to be shared as widely as possible, which means allowing it to be accessed freely without having to fill out a form. If the purpose is primarily lead gen, however, then you'll want to promote the whitepaper, but have people fill out a form before downloading the file.
Of course, you can't have demand gen without lead gen – leads are a very good indicator of how much demand you're generating. Some content pieces are juicy enough to gate, and others aren't. It's all about finding the perfect balance to ensure the sales funnel gets filled with the right amount of qualified leads.
Inbound marketing is simply one type of demand gen activity - demand generation is the bigger picture.
Inbound marketing is about making sure people can find you when they start showing interest in your industry, and drawing them in with high-quality, relevant content that establishes you as an authority.
Demand generation will use outbound and inbound marketing tactics, paid and unpaid tactics, and affiliate and reseller tactics - to generate overall revenue.
Here's an infographic to help you get your head around it: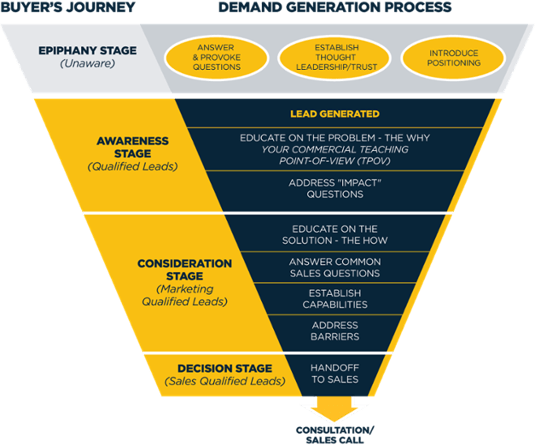 How do you generate demand effectively?
1. Start with the basics
Demand gen begins with knowing your strongest-fit customers inside and out. This is where buyer personas come in – they tell you who your targets are, what their pain points are, and why your product is the best solution for those pain points.
Once you have your buyer personas, you can then understand their buyer's journey: how do you first make them aware of and get them excited about your product, and what information do they need at each stage to keep them seamlessly moving from the awareness stage through to the consideration stage, towards finally becoming a customer?
2. Look at all stages of your sales funnel
Demand gen is about cultivating a long-term relationship with the customer, engaging them through multiple touchpoints and using a data-driven approach to nurture leads through to conversion, and beyond.
To do it effectively, you need to consider all stages - including those beyond MQL. Consider how to reduce churn at each stage in the customer lifecycle. In the end, it's about building a loyal customer base rather than just generating lots of one-time purchasers.
3. Use a marketing automation platform
A marketing automation platform can help to automate many of the processes of effective demand gen, such as sending personalised follow-ups to those that have expressed an interest in your company. With this software, you can create nurture campaigns, perform A/B tests, select the most appropriate content and customise timing for each of your campaigns and customer segments.
It can also help enormously with lead scoring, by tracking the interactions that prospects have with your company and building a profile based on these interactions, so you can clearly see what stage of the buyer journey a lead is in, and act accordingly. This also ensures Sales gets qualified leads that are likely to convert.
4. Use a mixture of tactics
Once you have optimised your website and processes further down the funnel, you're ready to amplify your top-of-the-funnel inbound marketing efforts with some paid tactics (because there's no point filling the top of the funnel if you aren't sure how you will turn prospects into qualified leads and satisfied customers).
If this is your first foray into paid advertising, we highly recommend trying out LinkedIn - it tends to work well for b2b marketers, and the targeting options are brilliant.
To sum …
If you're doing anything to increase the awareness of your brand with the goal of becoming profitable, then you're doing demand gen. So you're probably doing demand gen already - now it just has a fancy name for it (we'll wait while you update your LinkedIn by-lines).
However, if you're not thinking strategically about who you're targeting, and how to seamlessly nurture your leads beyond MQL through to becoming satisfied customers, then you're probably not doing demand gen as effectively as you could be.
Of course, it can be difficult to know where to direct your limited resources, while at the same time trying to engage your prospects on multiple fronts. Why not outsource the skills you don't have?
A marketing agency like ours can help you create a holistic demand gen strategy and fill in any gaps - especially when it comes to inbound marketing. To find an agency that's the right fit, check out our 7-step checklist to choosing your inbound agency.
Brand chemistry is a strategic inbound marketing agency that goes the extra mile to deliver results for our b2b clients. Our inbound marketing specialists are HubSpot certified and use the latest techniques to provide our clients with a steady stream of relevant new leads.