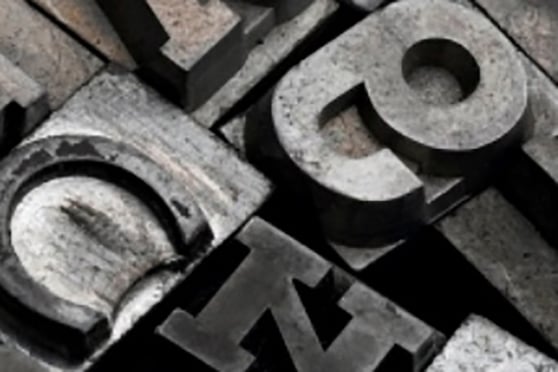 Finding the right lead generation strategy for your business can be a tricky task. What are the most effective tactics? How can you make the most of your tight resources? Testing and measuring is definitely an effective way to find out over time, but every now and again it's good to compare how your strategy stacks up with the latest trends and developments in the industry.
Software Advice, a comparison website for marketing software buyers, recently released their second b2b demand generation review: with some really surprising results! We had the chance to catch up with Market Research Associate Jay Ivey who shared his insights about the changing marketing technology landscape and its impact on lead generation.
Bc: In your research, tradeshows came out at the top for quality demand generation. How does this result compare to your previous studies?
Jay Ivey: It's very common for tradeshows to come up at the top in the quantitative results. Businesses tend to get a lot of leads at events, but they are often not really in a position to buy.
What's surprising in this survey is that tradeshows also came out on top in the high quality leads category. We think that this development is very closely linked to the fast advancements in technology. While these technologies allow for much better lead profiling, as well as fast and easy content distribution, there is also a renewed demand for the in-person experience. If events are well-run, the face-to-face interaction can provide immense value.
Bc: What trends are on the horizon for b2b inbound marketing?
Jay Ivey: The tech industry remains at the forefront of content marketing and we will continue to see a surge in online word-of-mouth and referral marketing.
We have seen a lot of research emerge in the last few years showing that buyers increasingly want to educate themselves with self-driven research being cited as their main source of trust. They are looking for unbiased reviews of real users.
That's why brand advocates will play an even more important role in successful inbound marketing strategies.

The online testimonial on third party platforms is becoming more and more important. In the past this used to be a very b2c style concept, but it's becoming more and more important to b2b: much faster than b2b marketers are catching on!
Bc: Based on your research, what is the least effective b2b demand generation tool?
Jay Ivey: Display advertising lost out as a demand generation tactic, both in the quantitative and qualitative category. It's a bit of an old-school thing to do and web users are becoming increasingly banner blind.
On the other hand, we have found that remarketing works very well. It's just a more sophisticated way to use banner ads and people are seeing a lot more success with this strategy.
Bc: The report also highlighted that decision-makers still rely on print publications to do their research. How does print display advertising differ from online banners?
Jay Ivey: Compared to online advertising printed trade magazines are very, very targeted. Investing consistently in print advertising has been closely linked to purchase, but print ads do work over time rather than instantaneously.
Bc: Your research included over 200 participants, representing businesses with different marketing budgets and staff numbers. Do large and small businesses implement demand generation technologies and tactics differently?
Jay Ivey: We didn't determine a huge difference in the take-up of different tactics. The one thing that did stand out is that the marketing technology adoption rate differs depending on the size of the business.
We found that small businesses tend to use less niche products and were often unable to gauge the overall success of marketing performance relative to their expectations. They were also significantly less likely to say that the performance of their demand generation tactics was above expectations compared to large businesses.
The survey placed a big emphasis on the relationship between software adoption and the effectiveness of marketing. One thing that we noticed was that businesses who used all 11 software solutions we asked them about also had more success in meeting their demand generation expectations.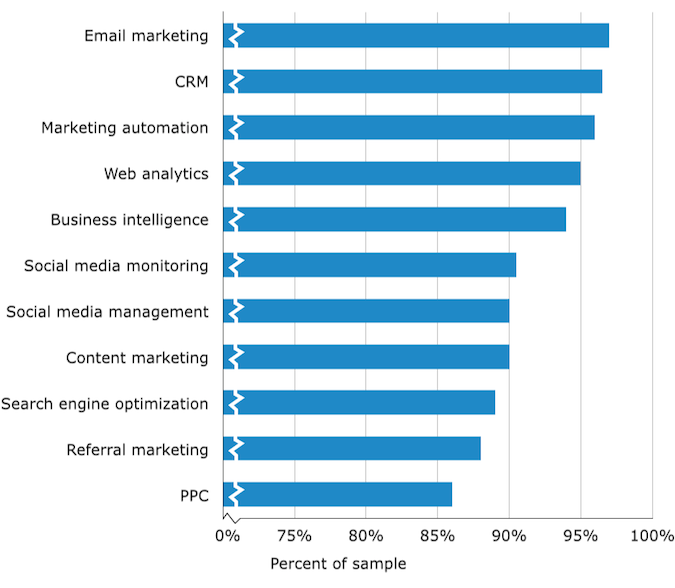 We also found that smaller businesses often underperform in their marketing because they don't document their marketing strategy (the Content Marketing Institute recently made a similar observation) which makes it a lot more difficult to track and measure results. Apart from that budget, staff resources, market experience, and a lack of appropriate processes have been cited as the biggest hindrance to deliver effective marketing strategies that support demand generation goals.
Bc: What skills do marketers need to acquire to be successful at demand generation in the future?
Jay Ivey: That's a hard question to answer. It depends a lot on the size of business and industry. However, I would say that you will have to have some degree of technology skills to be able to figure out what products are out there and how they can make a difference to your business.
On the enterprise level the integration of marketing technology has been an arms race in the last few years. These days, CMOs are spending more on technology than CIOs. Sophisticated marketing technology allows businesses to convey a unified view of the brands in an increasingly complex media network.
Social media remains another area to watch out for. In our research it came out as the demand generation channel with the cheapest cost per lead. The problem is that a lot of businesses have adopted middle of the road approach to social and it's often not integrated into the larger marketing strategy.
In the future, social is going to become part of everything else. It's about a lot more than just a publishing blog posts. Businesses need to play a part in the community they operate in. Understanding the value that a sense of community can bring to business will become a core competency for any marketer looking to start a demand generation campaign.
To determine the effectiveness of your marketing efforts you have to test and measure. But which metrics are the most relevant? Sometimes, it can feel like there are too many to choose from. Our guide "The 6 Marketing Metrics Your Boss Actually Cares About," will help you determine what stats you should focus on.
Brand chemistry is a strategic inbound marketing agency that goes the extra mile to deliver results for our b2b clients. Our inbound marketing specialists are HubSpot certified and use the latest techniques to provide our clients with a steady stream of relevant new leads.