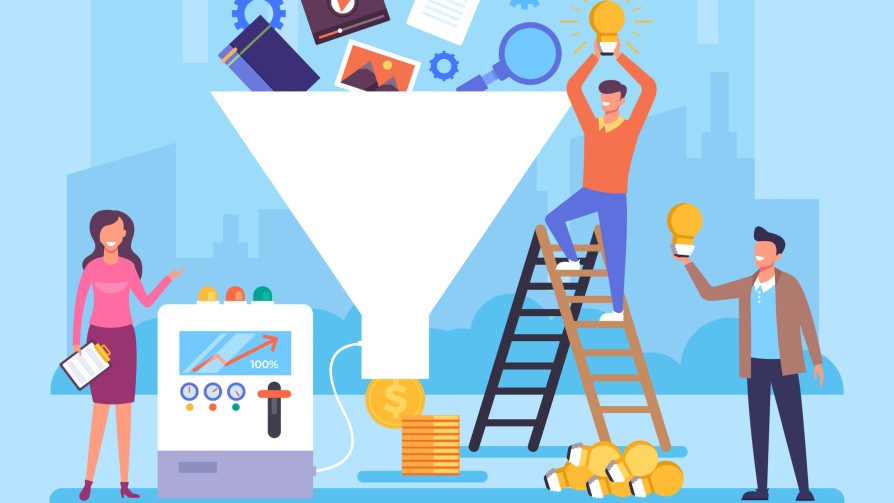 There's nothing more frustrating than a marketing tool that doesn't do what you need it to. You might have the best b2b inbound marketing strategy in the world, but if you don't have the tools to execute it, then there's only so much you can do.
As a b2b inbound marketing agency, we've come across our fair share of terrible platforms. So to save you the pain of making the wrong choice, we've created a list of our top five favourite marketing tools for 2021. Do yourself a favour and pick the best from the very start.
1. HubSpot
We wouldn't be a good agency partner if we didn't mention HubSpot. The truth is, though, we'd recommend it anyway. We love HubSpot and use it for our own website, marketing and sales activity. It's easy-to-use, powerful and combines everything you need in one platform. Why do you need this marketing tool?
It combines a full marketing tech stack into one simple platform - which means you can track sales back to the social post (or wherever else) they originated from
It's built on the same platform as the Sales Hub, meaning you can align marketing and sales more effectively - no more dodgy leads
You can easily level up your marketing game with automation, personalisation and a whole host of other features
You probably already know something about HubSpot, so we'll just highlight a couple of the latest features to get excited about:
Marketing contacts: Differentiate between contacts you market to and contacts you don't market to in Marketing Hub. Why is this so cool? Because you don't have to pay for non-marketing contacts anymore.
Custom objects: You can now create your own custom objects for your company instead of squeezing into the standard contact/company/deal objects. For Marketing Hub Enterprise users, this means greater personalisation as you can target contact segments that are specific to your business.
Account-based marketing (ABM) software: A whole suite of tools that support ABM, enabling marketing and sales teams to work together closely. The target accounts home feature gives both teams an overview of what's happening, and account-level targeting has been added to the LinkedIn Ads feature, amongst other updates.
2. Ubersuggest
UberSuggest is marketing guru Neil Patel's keyword research tool. It's a great tool for b2b marketers on a budget, offering information on:
Search volume
SEO difficulty
Paid difficulty
Cost-per-click
Average backlinks
Average domain score
12-month search volume
Keyword ideas
Content ideas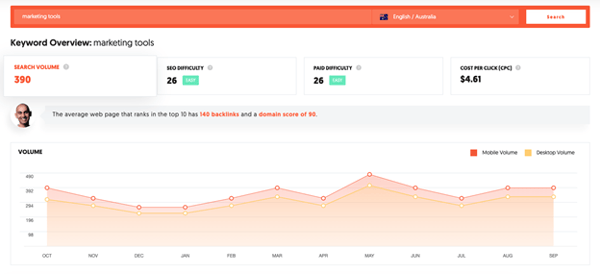 And that's all in the free plan! There are some limitations of course. For example, you're limited to creating one project (i.e. one website) with a maximum of 25 keywords to be monitored weekly. But if that isn't a deal breaker for you, then UberSuggest is the free keyword research tool you've been dreaming of!
3. Zoom Webinar
2020 was a great year to be a Zoom shareholder as the platform became everyone's go-to video conferencing tool. However, did you know that it also offers a top-notch webinar feature as well?
Webinars are an awesome lead generation tool for b2b brands, particularly in the pandemic world as many people continue to stick to virtual events. Here at Bc, we've used Zoom Webinar for ourselves as well as a number of our clients and it's now our go-to choice of webinar software. Here's what some of our clients say about it:
"It's great for Q&A and getting people to upvote questions."
"Easy to use."
"The poll feature is very good!"
"Love the practice room before you go live."
"Being able to have co-hosts with screen-sharing rights is super helpful."
"It is fabsticks!"
That's five out of five fabsticks from people who should know. Of course, choosing a platform is only half the planning. A great inbound marketing agency can help you ace the second half and deliver a winning webinar that pulls in high value leads.
4. Rollworks
Have you dabbled in ABM but haven't got the results you hoped? Or just not known where to start? We've got the marketing tool for you!
Rollworks is an ABM platform that's been proven to be 5x more effective than other ABM platforms out there. First, it uses some cool machine learning to identify your best-fit prospects from your database and their own. Second, it helps you engage your accounts with digital advertising and sales automation that's highly targeted. Finally, you can measure the impact of your marketing efforts, from campaign analytics to influenced revenue - always a win when you're trying to convince the boss that your budget is worth it.
Other perks? You can filter your target accounts by multiple attributes, such as industry, job title and department. It offers personalised, account-based and retargeting ads. And it will integrate with your CRM or marketing automation platform, allowing you to see data directly in HubSpot, Salesforce or Marketo.
Still not sure if you want to handle ABM by yourself? Have a chat to us about how we can help you leverage Rollworks (or another ABM platform) to create the most opportunities for your business.
5. Oribi
These guys win first place for one of the most engaging and amusing websites! But that's not why you should get on board with this marketing tool. The real reason is because Oribi makes analytics simple.
Forget trawling through large swathes of data from Google Analytics. Or chasing down your developer again and again to set up event tracking. Oribi takes all your data and makes it beautiful, relevant and useful. It's optimisation feature allows you to put insights into action to achieve more conversions. Visitor journeys enable you to pinpoint specific behaviours taken by individuals or segments. Sophisticated marketing attribution tracks exactly which platforms contributed to a conversion. And there are beautiful, simple ready-made and customisable reports.
So there you have it - our top five inbound marketing tools for 2021. Do yourself and your inbound marketing strategy a favour by jumping on these platforms now. And if you want to measure the impact these tools have on your marketing return on investment, download our inbound marketing ROI calculator today.