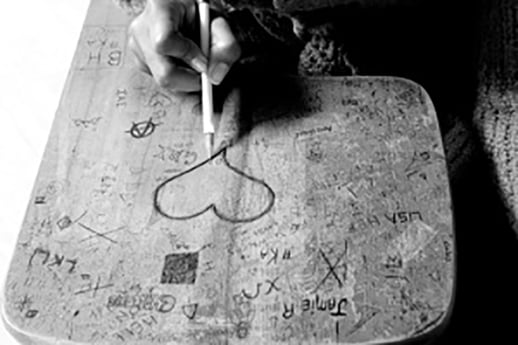 As Valentine's Day approaches, many b2b marketers are thinking of that one special person... the one who could make our lives so much better… if only they could see the joy and happiness we could bring to their lives.
Nope. It's not the hot barista in the café downstairs. Nor is it the cute redhead who works in finance. It's that most-desired of b2b personas: the b2b decision maker.
While love certainly don't come easy, the key to a b2b decision maker's heart is held firmly by their business KPIs. That's why these three phrases are guaranteed to get their heart racing:
1. Your brand can help them boost their revenue
Example: "CallidusCloud: More deals for more money in record time."
How it addresses the decision maker's needs and motivations: the marketing team at CallidusCloud has managed to condense the promise of more revenue, steady growth and greater efficiencies in one simple, easy-to-remember sentence. Their communications approach is bound to have had decision makers at 'hello' and you definitely see how they'd get asked out to at least a second date (more likely a meeting than a dinner and a movie).
2. Your brand can help reduce costs
Example: "American Express Small Business: Control your business"
How it addresses the decision maker's needs and motivations: small business owners are always concerned about keeping expenses at an appropriate level and having full visibility of exactly how much is spent, on what and by who in the business. AmEx has addressed this by communicating to business owners that their solution empowers them to be fully in charge of any outgoings, meaning that they will be able to reduce their costs (and stress levels).
3. Your brand can increase efficiencies
Example: "Marketo: Helping marketers master the art and science of digital marketing."
How it addresses the decision maker's needs and motivations: according to an AdNews Poll, 68% of marketers in Australia feel that they are not effective in their digital marketing strategies. A technology solution that promises to help businesses navigate the tricky and constantly evolving digital space is an investment with significant potential to increase efficiencies and effectiveness.
Final word: don't forget the influencer in your marketing efforts! While they won't have the final say in sealing the deal, they are often the ones tasked with researching and short-listing potential solutions (as well as ultimately implement and use them). Support them with content and material to make the sale internally. Especially in the early stages of the buying journey, they can be your greatest ally.
*Watch-out: Whether your decision-maker is more interested in revenue or profitability will depend on their function in the business. For instance, Sales & Marketing Directors are driven by revenue. C-Suites are more interested in profit (e.g. revenue minus capital expenditure and operational expenditure).
Are you considering an inbound marketing agency to help turn your product benefits into a message that will appeal to your decision maker? This 7-Step Checklist to Choosing Your Inbound Agency will show you which questions you need to ask and how to score them, to ensure you choose the right agency for your business.
Brand chemistry is a b2b marketing agency focused on delivering quality leads and measurable results for our clients. Take a look at our client case studies to find out more.