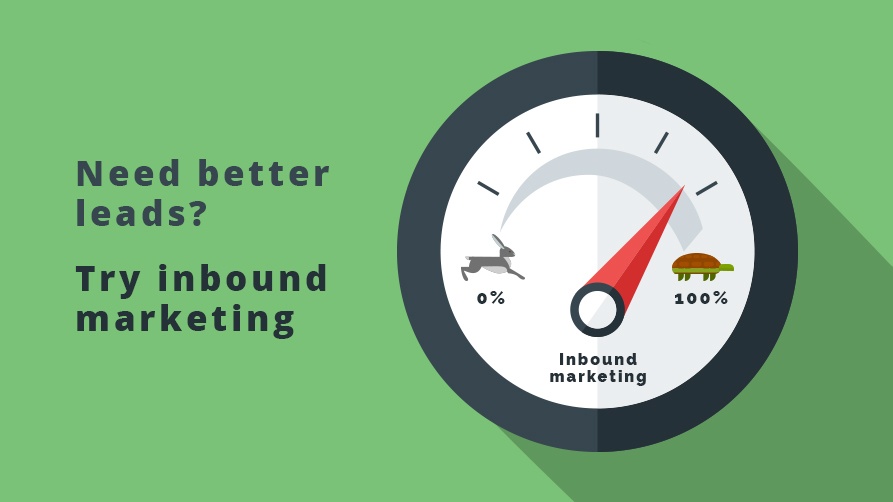 Buying an email list of prospects can be tempting for consultancy firms. After all, you can target a list of businesses that have proven to be the right fit for your services and approach them via email or phone. It seems like a convenient and effective way to generate new business, right?
Unfortunately, traditional outbound sales methods are no longer as effective as they once used to be. Research has shown that less than 24% of sales emails are opened and it can take up to 18 dials to connect with a single buyer. A sales rep can make 52 sales calls per day on average. You can do the math. The chances that your business development people are going to speak to a handful of buyers that are actually interested in your consultancy services are pretty slim with any form of purely outbound driven sales.
So what's the alternative? Let us introduce you to the concept of inbound marketing.
Inbound marketing works because it enables you to show off your consultant's expertise to prospects, without having to cold call or rely solely on the sales team.
Sound like a pipe dream? It's not.
So what exactly is inbound marketing? It's a marketing approach that helps you attract visitors, leads and prospects, through your website and other digital channels, rather than having to go out and get their attention.
Inbound marketing should be considered a key part of your consultancy's business development plans and here are three reasons why.
Inbound meets the needs of your buyers (and the new way they're buying)
Put your head in the mind of this year's buyer.
If I am a technology start-up business and I need to find a lawyer to sort out my intellectual property legal needs, what would be my first action?
I would Google it. What would I search for? Perhaps: How to protect technology start-up IP or how can I get IP protection for my new business? Imagine then if a blog post came up discussing the ins and outs of protecting IP for technology start-ups. And that the post was written by a lawyer who can get this all done for you. I, as a new business owner, am probably going to feel pretty confident that this lawyer knows their stuff.
Most likely I would fish around their website for more information and then send them email enquiry.
This is a classic example of inbound marketing at work. You need to think about the needs of your buyer and how they'd go about solving a problem that you can help them with.Whatever services you offer, why would a company need to hire your skills? Work it out and answer it for them on your website.
Inbound marketing enables you to meet the prospects on their terms and address their concerns.
Inbound marketing shows you're a knowledgeable expert
The inbound approach might make it seem as if you're giving away your expertise for free. And sure, to some extent you are. But it still doesn't mean that anyone can just take that advice and implement it without you. In most cases, businesses need the specialist expertise of consultants to get the job done in a very specific timeframe and executed to the highest standard.
Consultancies are especially attractive to a business wanting to fill a gap because they don't have to worry about long-term hiring costs and associated training.
If your consultancy can prove your team is full of experts by sharing knowledge for free, you're instantly gaining the attention of your target market.
The catch? Blogging every once in awhile is not enough. For inbound marketing to work, your website content needs to be strategic and address all stages in the buyer journey.
In marketing-jargon-free terms this simply means that not all companies looking for consultants are reaching you at the same point in their decision making journey. One contact may have seen one of your consultants speak at a recent conference, and wants to look at case studies that support your credentials before they reach out with a request for proposal.
Another contact may have stumbled upon your website for the first time through a blog post. While they may want to learn more about you and subscribe to a newsletter, they are unlikely to be ready to buy at this stage. You would want to nurture them with strategic content pieces and formats to ensure you are in their consideration set when they are about to make a move.
And inbound marketing doesn't stop there. SEO, guest blogging opportunities, distribution strategies and of course, social media also need to be part of the equation. A great inbound marketing agency can do all this for you. Not sure what inbound agency is right for you? You can download it here to help you make the right inbound agency choice.
Inbound enables you to have informed and meaningful conversations with prospects
Probably the best part of inbound is that it allows you to amplify real and meaningful conversations with prospects. Inbound marketing enables you to gather both firmographic and behavioral data, giving you a much better idea of their needs. It's also an opportunity to turn up to the initial sales meeting much better prepared than you could ever be through more traditional sales methods.
What's more, providing your contacts with relevant content when they need it increases your chance of success. You can update them regularly with practical information that can help your potential client, and you can do so in a not so salesy way. And who knows? they might even find the information so helpful they pass it to a friend or colleague.
Final thoughts
Business now is so different to last year, and the year before that.
Making the shift to inbound requires planning and internal stakeholder engagement. After all, it means turning many longstanding marketing and sales traditions on their head.
The good news is that you don't have to do it alone. An inbound marketing agency can help you get the process started and have your inbound pipeline pumping in no time.
Not sure how to choose an inbound marketing agency that's right for your business? Download our checklist on how to choose the right inbound marketing agency to guide you through the qualification process.
Brand chemistry is a strategic inbound marketing agency that goes the extra mile to deliver results for our b2b clients. Our inbound marketing specialists are HubSpot certified and use the latest techniques to provide our clients with a steady stream of relevant new leads.