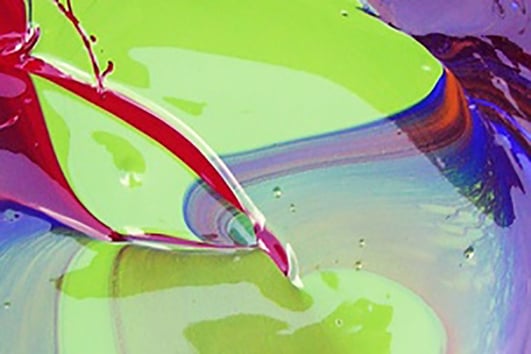 There once was a simpler time when marketers could easily distinguish between paid, owned and earned media. 'Oh sure,' they'd say, giving you a little pat on the head, 'that's an easy one.' They'd patiently describe how paid media refers to advertisements that are placed and purchased (e.g. TV and print ads); how owned media is about the brand's assets (e.g. the corporate website or company-run blog); and how earned media is all about third-party-generated content (e.g. news articles and reviews).
But, the good old days when these three types of media could be treated as separate entities are long gone. The lines between these categories are constantly overlapping. Take, for example, those often eerily individualised Facebook sponsored posts. In which category would these fit? The answer: all three.
Paid, because you're paying Facebook a fee to place the post in front of a target audience.
Owned, as the content being placed in front of that audience belongs to you.
Earned, as the ad appears in the audience's newsfeeds, meaning they can comment on and share the post, thereby participating in the campaign.
With the distinctions becoming ever more blurred, an either/or approach is no longer practical. Now it's about making the most of all three types through a converged media strategy to deliver the best possible results. Welcome to the era of converged media. One of the most well-known examples of converged media usage is Tourism Queensland's 2009 'Best Job in the World' campaign – a campaign that I'm sure needs no introduction, a testament to just how wide-reaching and effective it was.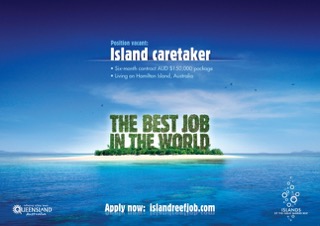 The campaign is a great illustration of how each type of media complements the others to make one lean, mean selling machine. They used paid media, such as low-cost newspaper classifieds and banner advertising, to effectively get the message out there.
This paid media then drove people to their website (owned media), where they were able to engage with their audience on a deeper level, really selling the job to them as well as receiving video applications from them. YouTube – one of the largest social media channels in the world – was cleverly used as both an avenue to distribute their recruitment video (owned), as well as the video submission engine on the website (earned).
The huge amount of interest in the job also generated countless news stories and articles (earned) all over the world – it even spawned a documentary (earned). They also set up social media pages (owned and earned) to get their audience commenting and sharing. The resulting numbers speak for themselves: more than 34,000 applicants from around the globe, and over 7 million visits to the website. Yet as successful as these techniques were, there was one crucial ingredient, without which the campaign would have failed miserably. That ingredient? A compelling message.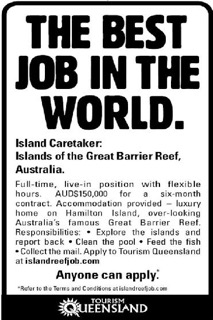 'Island caretaker' – a job that included responsibilities like 'exploring the islands' and 'feeding the fish', on a not-too-shabby salary of $150,000 – really did sound like the best job in the world. It wasn't an exaggerated claim; it was an idea that captured imaginations and got people not just talking, but jumping off bridges.
It's clear that the era of converged media is here to stay. With a truly integrated campaign that address all three types of media, you too can give your big idea maximum exposure while keeping the accountants happy – just ask us how.
If you'd like to learn how inbound marketing can help boost your converged media strategy, download The quick-start guide to inbound marketing for technology companies today!
Brand chemistry is a b2b marketing agency focused on delivering quality leads and measurable results for our clients. Take a look at our client case studies to find out more.