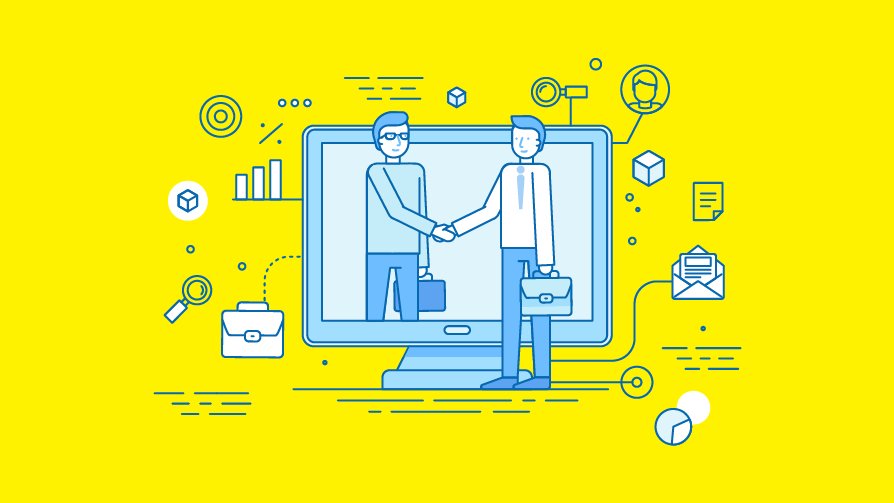 Marketing is vital to any company's growth
– that's a given. (Also, the sky is blue and grass is green.) But that, unfortunately, is really about the only obvious thing that could be said about marketing, because the truth is, it's complex. Really complex.
Successful marketing means formulating strategies, being well-versed across all channels, and nailing the planning, development and execution of campaigns. It's about being across
analytics
,
reporting
, product positioning, competitors, trends,
technology
, and the list goes on.

Most companies recognise the need for a captain at the helm to steer your marketing efforts in the right direction, and to ensure the business stays on a growth trajectory. That's why many companies choose to employ a full-time chief marketing officer (CMO) to bring this specialised knowledge into the business.
What many people might now know, however, is that there's actually another option that businesses everywhere are starting to take up: outsourcing your CMO.
Here are 7 benefits to outsourcing your CMO position to an experienced marketing agency.
1. Easier on the bottom line
Executive-level leadership comes with an executive-level salary, which can be particularly burdensome on a small- to medium-sized business (SMB) – not to mention the overheads and benefits that come with that salary. It may also be difficult to justify the need for a full-time CMO right now – though you want to eventually get to the point where you can justify it.
If you're in this situation, I have some good news – you don't just have to try to fumble by on your own. By outsourcing your CMO, you can effectively "rent" this expertise on an as-needed basis. Think of it as "executive-as-a-service" – you get the talent you require, at a price you can afford, without the obligations of hiring an in-house executive. This can save you a tonne – some estimates say outsourcing such high-level positions can save your business 40–65%.
2. Deeper expertise across just about every facet of marketing
The job of CMO is a big one. Keeping all those balls in the air is a huge ask for just one person. What tends to happen is you end up with either a 'jack of all trades, but master of none', whose expertise is spread broadly across several aspects of marketing, or you end up with someone who is highly knowledgeable about one or two areas, but may be lacking in others.
With a marketing agency, however, you get a whole team of channel-specific experts, who bring with them years of experience that they can leverage to grow your business.
3. Avoid the painful recruitment process
Let's face it, hiring someone is a pain in the neck. It's expensive, it's tedious, you've got to sift through resumes, go through the lengthy interview process … It's giving me hives just thinking about it. Plus, the whole process could take months – and, in the meantime, your marketing flounders.
By contrast, an agency can be brought on quickly, saving you valuable time, and, if they've got a good reputation, you can be reasonably certain they're a safe bet. It's also much less risky, as making a wrong hire can be a mistake that is much more difficult to rectify than simply letting go of an agency.
4. Hit the ground running on day one
When a new CMO comes on board, there's the expectation there will be a bit of a learning curve at the beginning while he/she gets to know your business. An agency, on the other hand, is able to use their extensive experience to start generating results almost immediately, using strategies that have been proven to work with other clients (not to mention they'll be super keen to prove their worth as quickly as possible).
5. Scales with your business
An agency is used to working with businesses of all shapes and sizes, and at all stages of growth, so wherever you're at, they will be well-equipped to get you to the next level – and the one after that.
We're not saying a CMO can't do this, but odds are their experience will be a bit more limited, and likely very focused on a particular type of business whose strategies may not apply to yours. If this is the case, they'll end up relying a lot more on guesswork than on proven techniques.
You'll probably eventually achieve the same results as you would with a marketing agency – it just might take you a lot longer.
6. Fully accountable
With an agency, there's no surprises – you know exactly how much time they're spending on you, what they're doing with that time, and what sort of results they're generating.
While a CMO can and should be accountable, there are often a lot of grey areas when it comes to working out exactly how they're spending their day.
7. Access to the best resources
When you bring on a new CMO, you may also have to bring on additional resources to support the new marketing strategies and campaigns. This includes things like a marketing automation platform or content management system. These sorts of resources don't tend to come cheap though, adding yet another significant burden on your bottom line.
When you work with an agency, however, they often already have access to the best tools out there, so you can reap the benefit of industry-leading tools at a fraction of the cost.
It might sound radical, but outsourcing your CMO is an option that offers the expertise your business needs, in the time and at the budget that suits you, so you can reach your marketing objectives faster.
Are you convinced? Then the next step is picking out the right inbound agency. Luckily, we've got just the thing: our free 7-step checklist to choosing your inbound agency. Why not give it a whirl now?
Brand chemistry creates inbound marketing strategies and tactics to attract, engage and delight prospects, creating traffic, generating leads and, ultimately, converting more customers.