Inbound b2b marketing isn't for the faint of heart. It is an involved, detailed, strategic process.
There will be data. Lots and lots of the stuff. You will have to know how to analyse it.
And contrary to popular belief, inbound marketing isn't quick or cheap; rather, it focuses on long-term goals and a solid accumulation of content that will create a powerful pull to your website.
Now let's also throw in a tech company (who often have very complex products), involved buying processes and a reputation for being as dull as a rainy Monday morning meeting; the whole endeavour might seem so overwhelming that you just want to chuck it all in and run off to join the circus.
But stop! Before you invest in a spangled leotard, a new name and some trapeze lessons, you need to read this. We've looked at three great examples to help you harness the power of inbound marketing in order to make your b2b tech company dazzle. And while it seems like the pairing could be tricky, the inbound marketing approach can really amplify your tech company's marketing efforts.
Inbound marketing acknowledges that the buying process can be involved
Buyers are a sophisticated bunch and as a result, purchasing software can be a very complicated process.
Back in the day, IT used to be the domain of, well, IT. Now, every department uses the systems and products so everyone has a stake in how they operate, and will have a (strong) opinion on what they need. It's not just the IT department making all of the decisions any more, so tech companies can't just speak to them. Therefore, content has to be crafted with this in mind.
A company that really understands this is Cisco, who describe themselves as 'worldwide leaders in IT,' yet, their content is really clear and engaging and isn't necessarily pitched at fellow boffs, but to a wider group who could be interested in their products and services.
For example, they provide video conferencing solutions, and while your IT worker will be able to understand the bottom line of implementing such a system, different stakeholders, such as sales, PR, marketing and senior management, will all want to have a say in what functionalities they will need.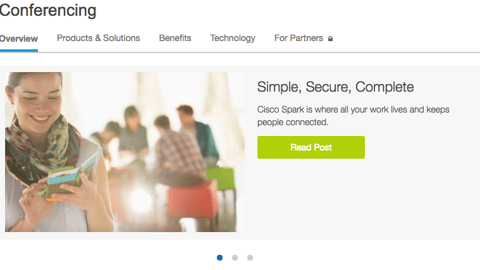 Cisco also supplement their product pages with loads of training and videos to see how the products could work for you.
Which brings us to our next point:
Inbound marketing doesn't just sell, it educates
The glorified sales brochure should be left in the same place as scrunchies, consumption and this ad: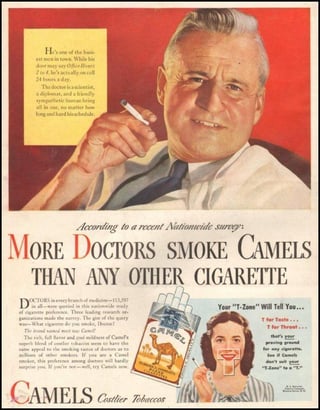 Firmly in the past. Nowadays, using your online presence to host a sales brochure is like hitting your customer over the head with a club, in that it is both outmoded and deeply boorish.
As Gary Vaynerchuk, author of Jab, Jab, Jab, Right Hook says:
'Great marketing is all about telling your story in such a way that it compels people to buy what you are selling. And that story is at its best when it's not intrusive, when it brings value to a platform's consumers, and when it fits in as a natural step along the customer's path to making a purchase.'
If you were face-to-face with a customer, you wouldn't just start talking to them about how great your online ticketing software was; you would (hopefully) take great care to build a relationship with them first. Even though digital is a different platform, exactly the same protocol should be used. Have some subtlety and finesse.
GE, a company with a bewildering array of systems, products and applications spanning from aviation to healthcare, do a brilliant job of drawing the customer in with fantastic storytelling.
They have many platforms that don't merely sell the products, nor do they just explain what they do for their customers. Their tagline, imagination at work, and their stunning content actively encourages invites their customers to dream of something big and daring — something that may have been an impossibility a few years ago — sound in the knowledge that the engineers at GE will find a way to make that dream come true.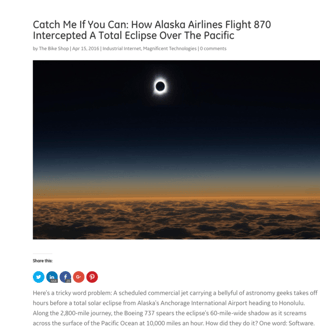 It is fun dammit!
When you think of b2b buying, this is often the perception:
As we mentioned earlier, robots aren't buying your products (though it would be amazing if they were), real humans are. These humans have a little thing called emotions and just because they're at work, it doesn't mean that you can't entertain them, or even make them snort their morning coffee through their noses.
There is absolutely no reason why joy and information have to be mutually exclusive; in fact, we would argue the opposite. If you are putting any type of content into the world, you should be trying your darndest to make it as interesting as you possibly can for your reader.
Their job might dictate that they would like a faster system to file their accounting, so that they can have more time to play with their kiddos, but just because they are accountants, it doesn't mean they want or deserve to trail through reams and reams of boring text.
Xero are the absolute gold-standard for this. For a company that sells an online accounting filing solution, their content is just gorgeous — the little origami animals may seem at odds with such a heavy-sounding function, but what they do is deflate how overwhelming stacks of paper may feel and turn them into something hopeful, beautifully simple and accessible.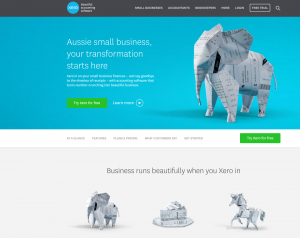 This is further enhanced with professional testimonials from users explaining everything from how they use the systems in their daily lives, to how the functions work.
The thing about entertaining content is that it doesn't necessarily have to be light-hearted. Your content can be intriguing, thought-provoking or timely, depending on who your ideal buyers are. The one thing it can't be is boring!
Slay it
After reading how these companies are using inbound marketing content to attract, entertain and educate their ideal buyers, we hope that we've inspired you to cancel your Cirque du Soleil audition and to have a go at making your business sparkle instead.
Want more great inbound marketing tips? The quick-start guide to inbound marketing for technology companies today.
Brand chemistry is a strategic inbound marketing agency that goes the extra mile to deliver results for our b2b clients. Our inbound marketing specialists are HubSpot certified and use the latest techniques to provide our clients with a steady stream of relevant new leads.