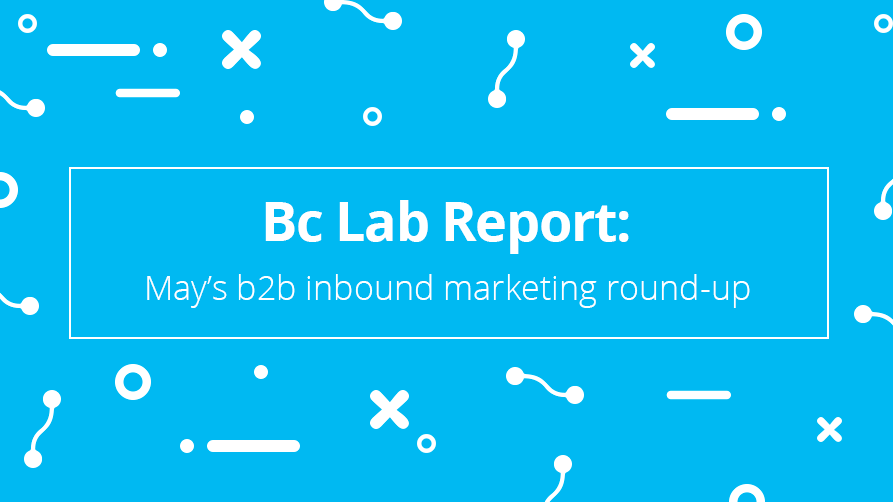 May's been a cracker for us here at Brand chemistry. We've got more fantastic new clients on board, and our existing clients continue to go from strength to strength. We also had the pleasure of attending CeBIT 2016, and were fortunate enough to catch many of the fascinating talks and panels – and we even gave a couple of presentations ourselves! A special shout-out to all those wonderful people we met during the conference.
As always we've been busy little beavers churning out some great content – we urge you to check out this month's articles if you haven't already:

And now on to our monthly round-up of b2b inbound marketing trends – here are a few articles that got us talking in May.
New Google Analytics feature shows individual website interactions
We're pretty excited about Google Analytics' new feature called User Explorer, only rolled out last month, which allows you to see exactly how an individual has interacted with your website – where they clicked, how long they stayed on a page, if and when they returned to your site later in the day, etc. Sounds a little voyeuristic, we know – but don't worry, it's all anonymous! And it's pretty fascinating too. If you'd like to know more, check out this article by Matt McGee, and if you've had a chance to have a play with it, let us know what you think in the comments section below.
How to get traffic to your website with Pinterest
Did you know that Pinterest brings in three times the traffic of Google+, YouTube, Twitter, StumbleUpon, LinkedIn and Reddit combined? We didn't either! At least not until we read this fabulous article by Pauline Cabrera about how to use Pinterest to drive traffic to your website.
We know that a lot of social media focus tends to be directed towards Facebook, Twitter and LinkedIn, so if your Pinterest page has been neglected of late, we encourage you to read this – it give lots of great, easy-to-follow tips about how to optimise your Pinterest page, and it may just change your mind about how you decide to spend your time on social media in future.
The power of storytelling
We at Bc are big believers in the power of storytelling in inbound marketing (we've even spoken about what makes a good story), but it bears repeating. In this article, Shane Snow writes in a compelling way about why storytelling will be the biggest business skill of the next 5 years, and why it's so important not just for businesses, but for workers and leaders too.
Did you come across any other inbound marketing articles that made you sit up and take notice? We'd love to hear about them in the comments section below.
Brand chemistry is a strategic inbound marketing agency that goes the extra mile to deliver results for our b2b clients. Our inbound marketing specialists are HubSpot certified and use the latest techniques to provide our clients with a steady stream of relevant new leads.