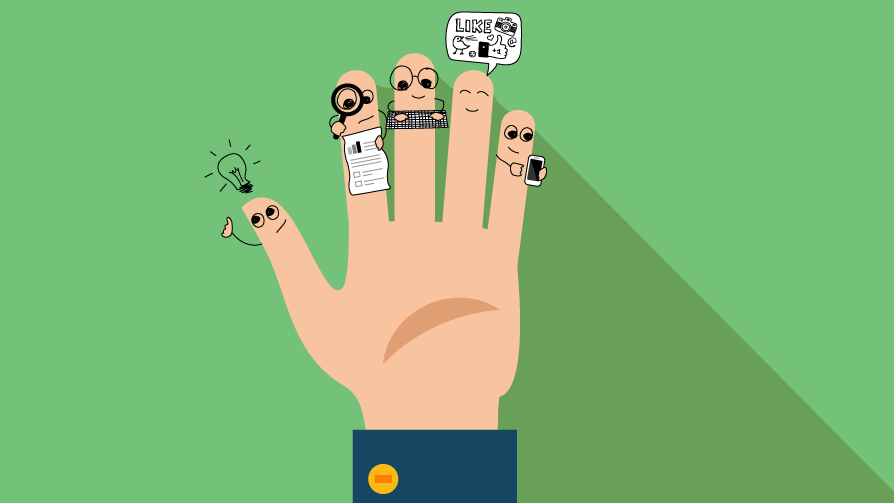 In today's ever-changing digital world, a marketer must wear many hats: data analyst, compelling storyteller, tech wizard and social scientist, to name just a few.
And as markets shift, trends change and new technologies emerge, marketing teams have to adapt quickly to acquire new skill sets, or risk being left behind in the dust. (One example is the recent rapid rise of video marketing, forcing marketers everywhere to add 'videographer' to their resumes.)
Of course, no single person can possess all the varied skills needed to keep up in today's world. That's why you need a marketing team. But too often, staff are hired purely on the basis of their technical skill, without considering the core skills that are also required, resulting in skills gaps.
So how do you work out what skill sets are missing from your marketing team – and what should you do about it?
Here are 5 core skills every well-rounded marketing team needs in the current landscape. Does your team tick all the boxes?
5 core skills your marketing team needs
1. Marketing strategy
Marketing has shifted from being product-centric to being audience-centric, so today's marketers have to be able to develop and apply appropriate and scalable strategies and integrated campaigns that are going to speak effectively to your core audience. It's no good having staff who are technically skilled, if those skills aren't being applied for optimum results.
It's now also important that marketers can create strategies that support business objectives. It used to be that marketing struggled to prove their worth to the company – after all, it's not so easy to track 'brand equity' on a spreadsheet. But now, with so much data at our fingertips, it is much easier to trace campaigns directly to results that matter to CEOs: sales and revenue. But more visibility also means more accountability – marketers have to know how to deliver those results.
2. Data analytics
Today's marketing is all about data: how many visitors does your website have, how high is your click-through rate (CTR), how much engagement has a piece of content generated – the list goes on. And on.
With a myriad of marketing automation platforms, such as HubSpot and Marketo, and other analytical tools, like Google Analytics, Tag Manager and Optimize, there's a wealth of information that is now readily available. This data can be used to deliver market insight, inform strategies, and track campaign success – it just has to be understood and properly applied.
That is why your team needs an analytics whiz, who can properly interpret the data, and translate those interpretations into actionable goals.
3. Content creation
While marketing has undoubtedly become more of a numbers game, that doesn't mean that good old-fashioned creativity is no longer important. In fact, it's arguably more important than ever: according to Invesp, inbound practices produce 54% more leads than traditional outbound practices.
And with more platforms to leverage than ever before, marketers have to be able to shift seamlessly between writing blog posts and whitepapers to writing snappy status updates and tweets. They need to be able to tell a compelling story that keeps people returning again and again, thereby driving traffic and converting leads.
4. Social marketing
The social media beast has become more unwieldly than ever. Gone are the days when 'managing social media' simply meant posting a status update or uploading a photo every now and then; there are now so many platforms to wrap your head around that it seems almost impossible to keep up. As soon as you think you've got it figured out, there'll be another update, another algorithm change, another platform.
As tempting as it is to put social marketing into the too-hard basket, just about everyone agrees it is essential to the success of any b2b growth. According to a report by We Are Social, there are currently 3.8 billion active social media users in the world – that's a penetration of 49%. And those are numbers that are hard to ignore.
Effective social media management encompasses myriad skills – all of the above, for starters, as well as others like digital advertising and pay-per-click (PPC) campaigns.
5. Mobile marketing
If you thought the number of people on social media was staggering, then hold onto your hat – according to the GSMA Mobile Economy report, there are 5.2 billion unique mobile phone users in the world! It's not surprising, therefore, that now more than half of the world's web traffic comes from mobile phones.
That's why your marketing A-Team needs to know how to utilise mobile technology to its full extent, whether that's through mobile web design, mobile ads, or mobile apps.
Hmm, I think my team's missing a core skill or two – what should I do?
If you think you might have found a few gaps, don't fret. Here are some of the steps you can take to bring your team up to where they need to be.
Hire new team members
Hiring someone (or some people) with the necessary skills is a possibility – assuming you have the necessary funding to support a new hire.
If you decide to go down this route, be sure to look for candidates with core capabilities, such as analytics, strategy and content creation, rather than those with merely technical skills, which can always be taught or learnt on the job.
Invest in training
If you don't have the funding for new hires, training programs can be another way to fill in any skills gaps in your team. While this is probably cheaper than hiring new staff, it will still require a substantial investment in time and money, particularly if there are also opportunity costs associated with people having to take time off work.
You should also be prepared for some growing pains – training programs can give a good overview, but your employees may struggle in the beginning to apply their newly found skills to your very specific business and customers.
Outsource to a marketing agency
Outsourcing to a marketing agency has become de rigueur for many companies. After all, with a marketing agency, you get a ready-made team of experts who have a wide range of experience across many different accounts, which you can then leverage for your business.
A marketing agency can help with complex tasks, such as creating buyer personas or developing websites, and they can also do the nitty-gritty stuff, like executing a campaign.
Their outside-in perspective can also be particularly beneficial when it comes to strategy – while you know the ins and outs of your business better than anyone, your total immersion in the business can sometimes make it harder to see the big picture.
You'll want to make sure you pick the agency that's the right fit for your business, though. Luckily, we've got just the thing! Our 7-step checklist to choosing an inbound agency will make sure you ask all the right questions. Why not download it now?
Or to learn more about the marketing skill sets you need, download our eBook, The 5 Marketing Skills Your Business Can't Do Without:
Brand chemistry is a b2b marketing agency winning your customers' hearts and minds through inbound, brand, content, lead generation and digital strategy. Our marketing specialists achieve stellar results with the latest lead generation techniques.