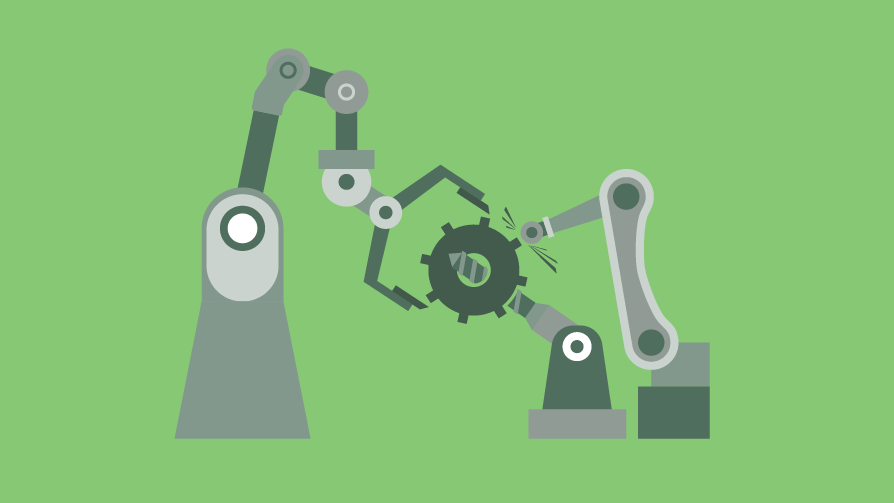 Digitisation has turned the marketing and sales worlds inside out, resulting in a whole new streamlined, data-charged way of doing business. While some industries thrive on the adoption of marketing technologies, some are a little slower to respond, particularly those in which marketing's role has traditionally been to support sales team conversations with brochures and static website pages.
It is essential for such industries to understand that the way buyers research potential solutions to their problems has completely changed. Buyers can now do their own independent research, instead of relying on sales people to give them all the information they need. This means you need to be ready - online and off, to cater to your customers searches and queries, however they come.
Our Managing Director Zoe Palmer dishes up three bite-sized insights every industrial marketing manager should include in their industrial B2B marketing plan right away.
1. Content marketing
The problem: If you come from a more industrial organisation, then marketing has likely been there to manage trade show requirements, pull together materials for sales on request, produce and regularly update brochures and help to write and proof proposals. Marketing may even have supported sales with promotions and campaigns on an adhoc basis - and usually when sales caught wind of something they could grab onto.
How to solve it: When you think about it - most of this is content, so most experienced marketers are well-placed to delve into the more online, data-driven and contextual ways of delivering content to potential buyers.
This involves understanding your customers, their information needs at each stage of the buying process, and their behaviours at each stage of the buying process, so you can both deliver the right content as well as measure your audience's response to it. It is this way that industrial marketers are using content marketing to attract and nurture leads right through to sales-readiness, and then handing them over to sales to close.
A local SEO strategy, for example, may form part of the picture here. If your local buyers for example, need their machinery serviced, or a spare part, they're likely to look for a supplier close-by before going farther afield. Content marketing can ensure that your site is optimised for such searches, and can significantly increase your sales (without costing you a heap of media spend).
Such strategic forms of marketing require solid strategy, good automation tools and solid data skills - something we're increasingly seeing industrial companies invest in today.
If you're not there yet, the good news is that the industry has been generally a little slow to move. This means there is a serious lack of good content out there, and thus, there is an opportunity to write and distribute some amazing content to the market.
2. Brand
The problem: In industrial marketing, senior stakeholders have usually been in business for many years, and have seen it through many phases of growth and change.
These businesses typically boast a relatively small number of very large-scale customers. This has made the role of personal selling crucial to industrial companies. This continues even today.
However, what has changed is the role of an industrial company's brand and website before a salesperson's interaction with a buyer. While in the past, a company's reputation was communicated mostly via its sales and leadership team, now, it is mostly communicated online, through web, social, review sites and also through industry peer networks.
Similarly, while a website's primary role was to provide brochure support for the sales team, its role now is to attract, convert and nurture leads as far as possible along their buying journey.
However, veteran stakeholders (or old-schoolers as they are sometimes referred to), may not be as caught up on these trends as marketers would like, and therefore do not always appreciate the value of a strong brand.
How to fix it: A strong brand and interactive site now helps to establish your credibility and show that you're professional, forward-thinking firm. So if it is a good 30 years since your organisation has spent anything on the 'brand', it might be time to build a business case.
If you're a large company you probably still compete with smaller engineering or local businesses that are cheaper. So brand is really important in terms of communicating high-value standards and assurance across things like safety, compliance and guarantees that put your customers' minds at ease.
3. Account-Based Marketing
The problem: In this environment, a small number of big-spending clients generally means your decision makers are much further up the chain than the regular b2b kind, especially when it comes to deals in excess of $250,000.
Digital and content marketing is a great way to attract the researchers of an industrial product or service, however buyers who make the big-deal decisions are normally a little trickier to reach via digital methods.
How to fix it: Account based marketing (ABM) is a highly targeted form of marketing that treats a target organisation as its own target market. It concentrates your sales and marketing resources on a tailored approach designed to catch you a 'big fish' in a relatively short space of time, and can therefore be just the trick you need to get in front of those senior decision makers.
A clever, personalised and focused effort, it focuses the end-to-end marketing and sales process on just one account. It involves really understanding your offering, your target account and all the potential stakeholders involved in making a decision before you begin an approach. Even then, you'll need a way to measure interest, create some supporting content that will help seal the deal, and all in the name of securing your single, target account.
The good news is, we've seen conversion rates of 20% for such an approach, and definitely think it is worth the time investment.
The final word
When it comes to getting industrial B2B marketing in market, stakeholder engagement and support is key, but it can also be a hard piece of the puzzle to unlock; especially if your stakeholders have had no previous experience of your methods.
We suggest starting small, proving your model and scaling from there. Why not choose an industry vertical to do some account-based marketing? Or improving a few website pages with UX-Design and greater brand focus, and measuring the results against the old?
Whatever you do, these tools are essential for industrial marketing in 2018. So get cracking!
Brand chemistry is a b2b marketing agency winning your customers' hearts and minds through inbound, brand, content, lead generation and digital strategy. Our marketing specialists achieve stellar results with the latest lead generation techniques.