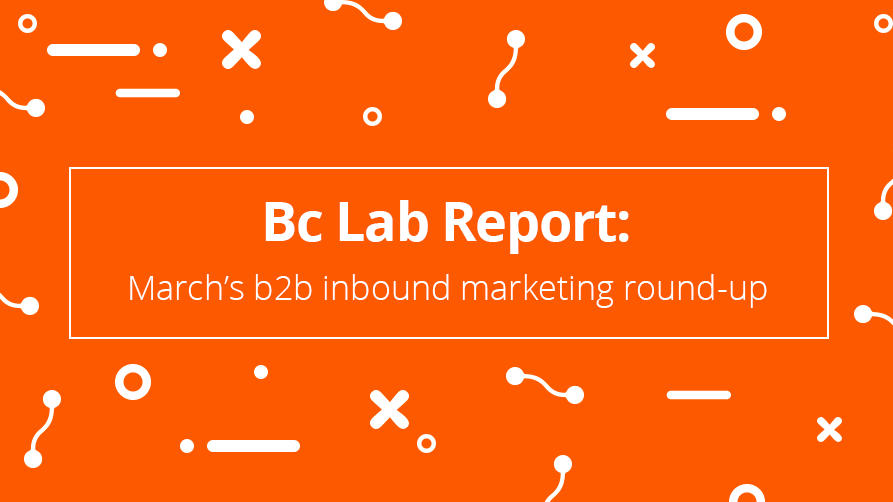 Welcome to the March Bc Lab Report: b2b inbound marketing round-up where we look at the b2b latest inbound marketing trends. This month we focused a lot on the relationship between branding and inbound marketing. In fact, the team here at Brand chemistry wrote a number of posts about the topic such as:
If you checked out some of the posts we'd love to know what you think - make sure to leave a comment!
Moving on to this month's round up. Today we're bringing you the best bits of b2b inbound marketing wisdom our team enjoyed this month. Here we go!
1. Everyone is freaking out about Instagram's algorithm change. Essentially Instagram is following Facebook's lead and introducing an algorithm that will make users see posts from people they interact with. Rather than the chronological order it currently appears in the feed. Jon Loomer sums it up pretty well in this post The Death of Brands that Care about People, "Combined with the now 200,000 active advertisers on Instagram, it's easy to see that competition in the feed is increasing at a furious pace. For comparison, Instagram now has more active monthly users (400 Million vs. 320 Million) and active advertisers (200,000 vs. 130,000) than Twitter."
Check it out if you're interested to have a better insight into the Instagram Algorithm and why it's probably not such a bad thing.
2. Working with freelancers writers can be challenging. But it doesn't really need to be if you manage to find someone who is open to constructive feedback and editing. Without this the relationship just won't work.We love the post The biggest mistake marketers make when working with freelance writers by Brian Maehl. He gives some great personal examples of how of how working with freelance writers has gone for him and gives some great tips on how you can nurture your relationship with a freelancer for the better.
3. Keeping track of marketing efforts such as leads, MQLs, editorial calendars, content, budgets, timesheets etc can be a tedious task. Especially if you're a tiny bit scared of Excel. I stumbled upon this great article by HubSpot in my haste to learn how to do something highly technical, like merge cells.Where to Learn Excel: The 10 Best Resources on the Internet is a great collection of resources on where to get spreadsheet savvy! The timing couldn't have been more perfect. The best part is most of the tips are the same for Google Sheets, which again makes spreadsheet life a lot easier.
Did you spot anything that piqued your interest in the b2b inbound marketing world this month? Tell us by commenting below.
Brand chemistry is a strategic inbound marketing agency that goes the extra mile to deliver results for our b2b clients. Our inbound marketing specialists are HubSpot certified and use the latest techniques to provide our clients with a steady stream of relevant new leads.