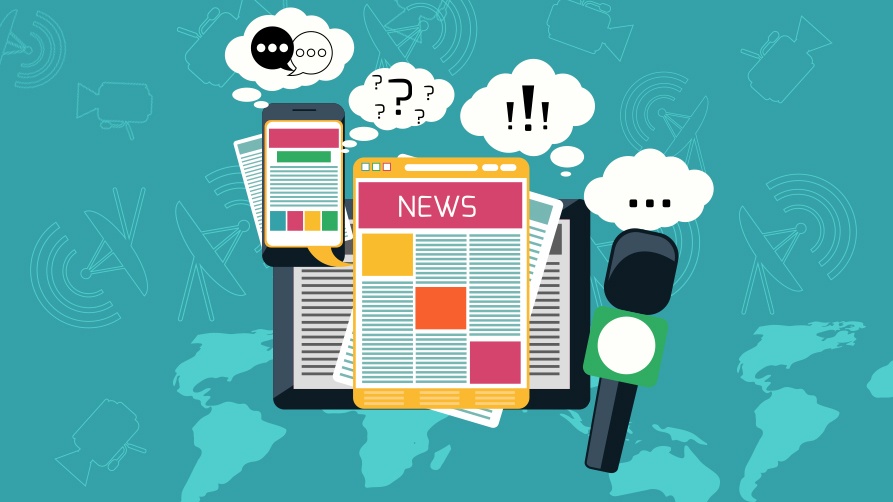 If you're looking to increase your company's credibility, as well as visibility, some kind of media strategy could be just the ticket. Have you ever looked at a consultant or professional services website and seen that their content has been featured in a mainstream news publication? Or that they have been featured on a well-respected TV program or even a wide-reaching podcast?
Consultants or experts from b2b services organisations who are featured in well-respected media get an associated credibility that is hard to beat. You automatically assume that they must know their stuff, right?
This is why inbound marketing strategies for professional or consulting services firms often incorporate some kind of earned media component - and it won't harm their search rankings either.
So where does PR fit into the inbound mix?
Inbound marketing strategies are broken into stages of the buyer's journey. The awareness stage is the earliest stage and is where the prospect is searching for information about their problem.
This is where inbound strategies focus on solving specific problems for leads of prospects in findable content formats such as blogs, videos, infographics and media content. These have a dual impact on prospects:
1. Increase visibility: they increase your findability by corresponding to keyword searches prospects have about their problems. This increases traffic to your website, and backlinks will additionally improve your search ranking.
2. Improve credibility: strong, relevant content creates the opportunity to position you as an expert in a particular area, which means prospects would feel more comfortable about coming to you for advice.
So how do you get the media's attention, to increase your reach and credibility?
Luckily, this doesn't always mean hiring a professional PR outfit, especially not in the early stages. A simple media relations section in your inbound marketing strategy will help you identify the relevant places to proactively seek media exposure, and keep yourself accountable for results.
Here's Bc's tips on how you can achieve this.
Tip 1: Differentiate between a Reactive and a Proactive media strategy
Media relations has a few permutations. If your inbound marketing strategy is already in play, you might be lucky enough to get a call from a journalist seeking a comment on an issue. A lot of journalists will go to Google to search for an expert if they don't already have one in their contact book. This is your opportunity to come up in the search results. Here are a few simple steps you can take to boost your chances of getting noticed by a journalist. First of all, understand the difference between reactive and proactive media strategies.
Reactive: Is where you believe you have the authority to make a comment as an expert on an issue being covered in the news.
Example: If you're a social media consultant and there's a big story about social media's impact on getting small businesses noticed, you could contact that news outlet and give them some comment and tips about how this is, or isn't true. This strategy works well to position you in the journalist's mind as someone who could be consulted in the future too.
Proactive: Is where you create an angle, media release, make contact with a journalist and push the news agenda when you believe something is newsworthy.
Example: If you're a b2b tax accountant and you notice many businesses aren't claiming all the tax deductions they can, write a release and distribute it.
Tip 2: Monitor your industry news and mainstream media
Get reading, listening or watching. Whatever industry you're in, keep on top of what's being said. Once you're across what's being said, start thinking of ways you could comment or make the story better. And if you see something the media isn't covering, write it down as an idea.<br><br>
While you're monitoring your industry news, it's a great idea to start keeping track of the journalists that write about news that relates to your area of expertise specifically.
Note: Create a document with journalists' names, phone numbers, emails, Twitter accounts and previous stories, to make it easier to contact the journalist in the future.
Tip 3: Make sure your story is newsworthy
Writing a killer press release that blows a journalist away is key to your media success. Your release needs to convince the journalist they should spend time writing about your topic and that it will be of interest to their own audiences. Make sure you do your research about the publication and pitch your story in a unique, yet relevant way to each specific journalist. Remember: media isn't a one-size-fits-all scenario.
Newsworthy stories can be difficult to come up with. But one of the best ways of getting your name out there is doing a research-based study. Journalists love facts and figures. An effective idea is to conduct a study and release it to the public and media, and highlight all the interesting and relevant findings.
For example, Brand chemistry's client Grosvenor releases a study every year called the CPO Study. The company surveyed hundreds of top procurement professionals in Australasia to identify the most effective savings tactics in use, and to understand who was using them to the best effect. Our agency used the study to create new content to push prospects and leads further through the buyer's journey, but also to get the media's attention and define Grosvenor as an expert in the industry. The results speak for themselves.
Tip 4: Create an editorial calendar and distribution plan
Once you have brainstormed newsworthy stories, and have the marketing machine churning to get them out, be careful not to bombard the media all in one hit. Develop an editorial calendar with a strategic distribution strategy. Work out when you want to send your releases and get as prepared as possible in the lead up. This means making time for photographs, or better yet, having ones to supply on demand. Make sure you're up to date on the topic and completely across the message you want to convey. It also means you'll start to build a professional relationship with a journalist. Interaction on social media can be a good place to start.
Tip 5: Don't dilly dally, strike while the iron is hot
If the news is happening right now, make sure you act swiftly. If you can offer a comment, contact the journalist writing about the issue and put your opinion on the table. It doesn't always have to be a fancy press release if you're reacting to something making headlines. It could be a simple phone call, quick email or even a tweet. But of course you're going to have a better shot if you've been nurturing this relationship with the journalist for some time.
Final thoughts
Media coverage can boost your credibility as an expert and have a positive effect on your inbound marketing strategy. If your comment is included as an expert comment in a relevant publication, you can reach an engaged audience you may never have reached before.
A media relations strategy is only a small part of a successful inbound marketing campaign for those in the professional services industry. A successful inbound marketing strategy takes a lot of research, and logic, to make waves.
To learn how to pick the best b2b inbound marketing agency for your professional services company, ensure you download the 7-step checklist to choosing your inbound agency to help you achieve inbound success.

Brand chemistry is a strategic inbound marketing agency that goes the extra mile to deliver results for our b2b clients. Our inbound marketing specialists are HubSpot certified and use the latest techniques to provide our clients with a steady stream of relevant new leads.