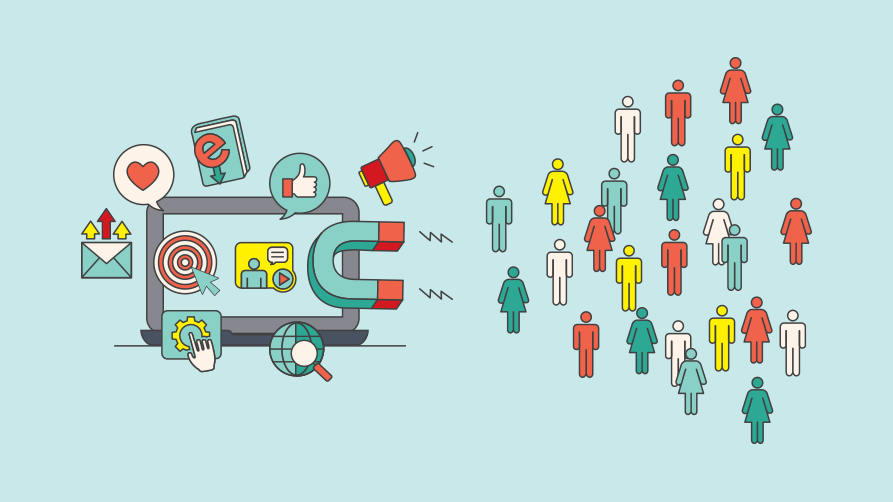 Yep, it's that time of year again. HubSpot have just released their State of Inbound 2018 report, one of the most comprehensive inbound marketing research reports in the world, with data collected from 6200 respondents in 99 countries.
Too busy to read the 55-page report for Australia and New Zealand? We know the feeling.
That's why we've delved deep into the data and pulled out 6 key insights, summarised neatly here, just for you.
Inbound works – but everyone else has figured that out too
This year's report has once again confirmed our suspicions – inbound marketing produces tangible results, with 51% of marketers seeing a higher ROI from inbound marketing tactics, compared to only 11% from outbound tactics.
But it seems everyone else has figured that out too – 63% of marketers also said that generating traffic and leads was their biggest challenge, while growing SEO/organic presence (62%) and creating blog content (55%) were their two biggest inbound marketing goals.

These results signal that the market is getting more crowded, and businesses are finding it harder than ever to stand out.
Marketers may find that the same efforts produce less results and they may need to explore other channels in order to continue reaching an ever more fatigued and disengaged audience.
Indeed, there is some indication that some businesses are doubling down on their inbound marketing strategies, with 39% of marketers saying they have a higher budget than last year.
Proving ROI remains a significant challenge for marketers
While the vast majority are convinced that inbound marketing does work, many are still unsure of exactly how well it works.
Proving ROI remains hard, with around 40% of marketers citing it as one of their biggest priorities, as well as biggest challenges. Startlingly, 18% of marketers said they either could not or do not calculate ROI.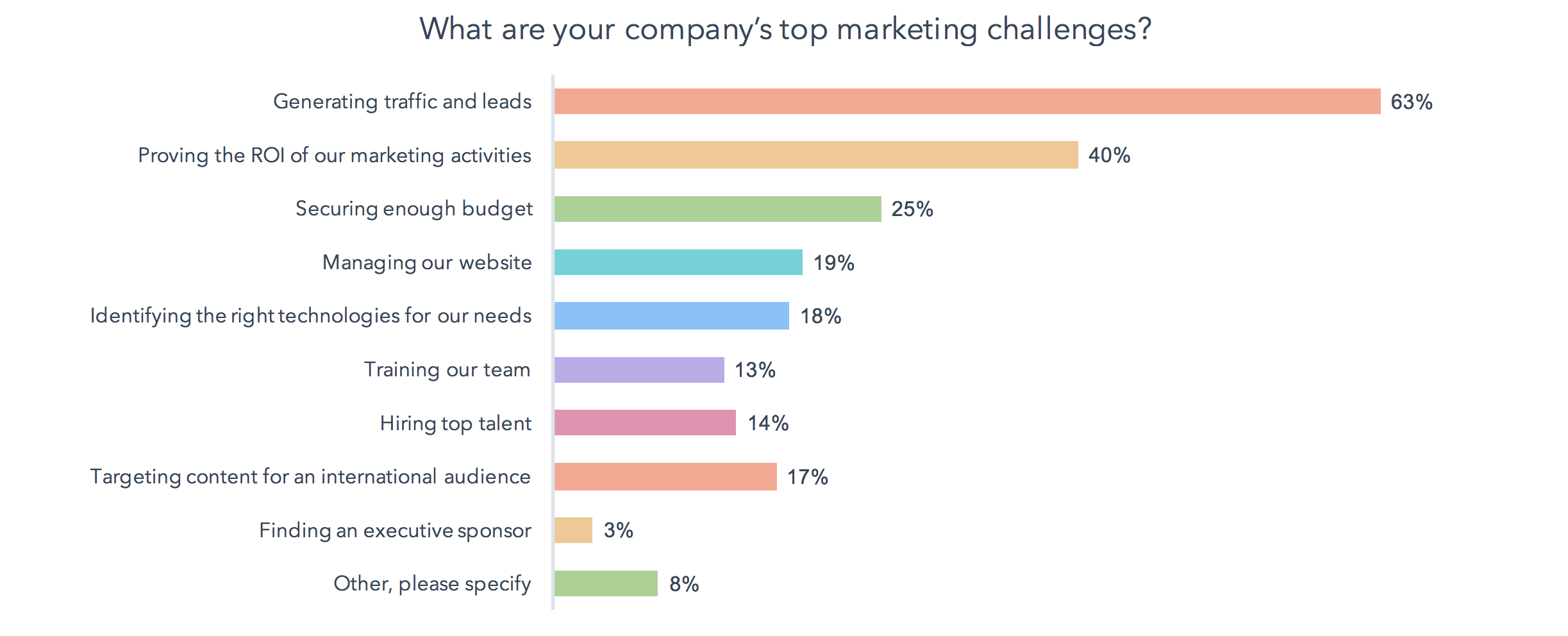 Marketers need to familiarise themselves with the right metrics for their business, and on marketing reporting best practices, in order to demonstrate their value to the business in dollar terms.
It may be worth taking a closer look at messaging apps
Marketers have well and truly jumped on the video bandwagon, with 49% of marketers adding YouTube to their marketing efforts in the next 12 months, and 41% adding Facebook video. But rather than flock to the same channels as everyone else, it may be worth looking to other avenues.
Only 16% of marketers said they were planning on adding messaging apps (like WhatsApp and Facebook Messenger) to their marketing strategies.
Interestingly, though, senior leaders (C-level executives, VPs and directors) showed they are more receptive to these channels than perhaps once thought, with around a third of them citing messaging apps as their preferred method of business communication.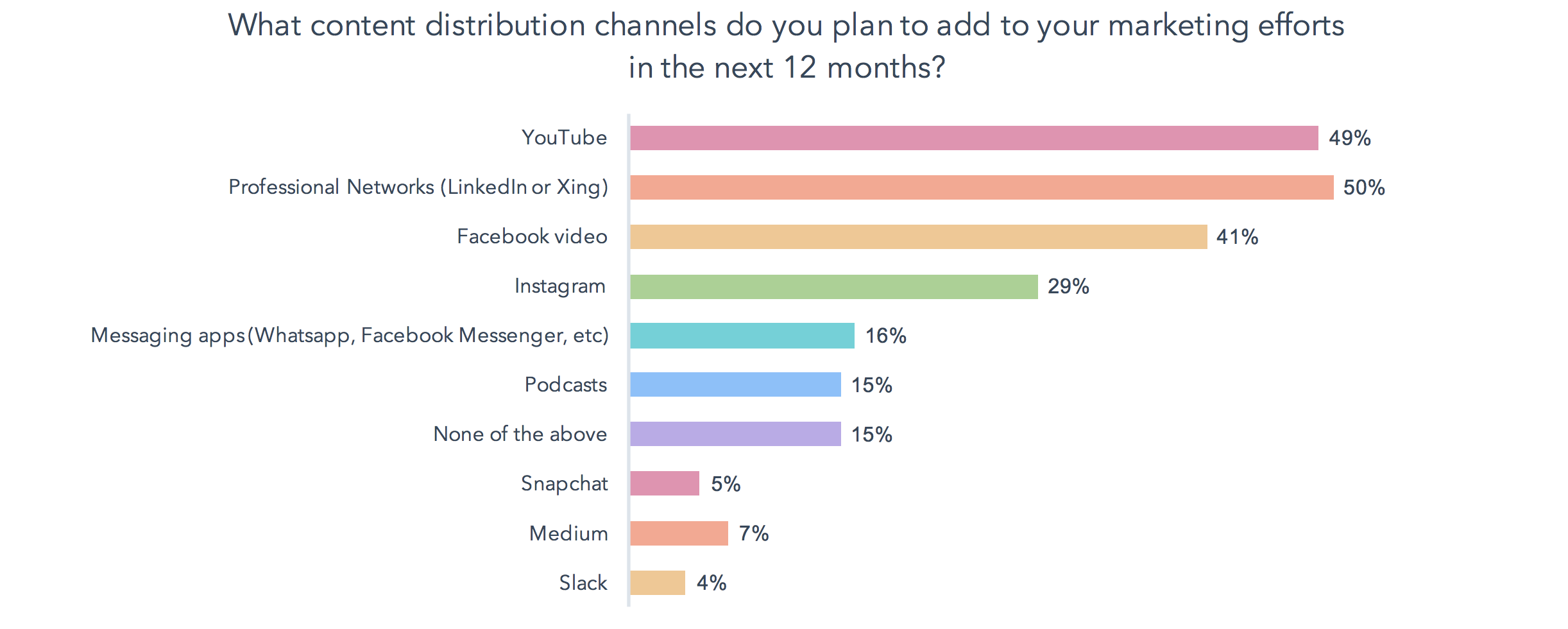 There could, therefore, be an opportunity here for businesses to not just differentiate themselves from their competitors, but also reach a captive audience of decision-makers.
Not to mention becoming well-versed in these channels will set you up to target mobile-happy Gen Z'ers, as they enter the workforce and move up the ranks.
If you haven't got an SLA yet, it may be time to get one
As in previous years, the report shows that sales and marketing teams with strong alignment have the edge, with 83% of teams with service level agreements (SLAs) saying their organisation's marketing strategy is effective (compared with only 8% of those with misaligned teams), and 70% reporting a higher ROI from inbound marketing.

Despite this, only 29% of sales and marketing teams in ANZ say they have an SLA, so there's definitely room for improvement.
Those with SLAs aren't entirely in the clear, though. While 62% of marketers with SLAs said that their inbound practices provided the highest-quality leads for sales, only 31% of salespeople with SLAs reported marketing were their top source of leads.
In fact, 38% of them said they were the best generator of leads. It seems even the most tightly aligned teams don't agree on everything.
If SLAs haven't been revised in a while, it might be time to revisit them and redefine exactly what a marketing-qualified lead (MQL) and a sales-qualified lead (SQL) are, so that marketers can make sure they're the top lead generators in the business.
Marketers need to delight
While marketers are clearly highly focused on the 'Attract' stage of the buyer journey (as they cited generating traffic and leads as one of their biggest challenges), this report underlines the importance of the final stage of the journey: Delight.
According to the report,
65% of respondents in ANZ said they rely on word-of-mouth referrals when making purchasing decisions for business software;
47% of respondents in ANZ said they rely on customer references; and,
71% of salespeople rated leads from referrals as high or very-high quality.

Marketers, therefore, need to ensure the customer experience (CX) beyond conversion is a key part of their strategy, and focus on ways to turn their customers into their biggest advocates.
PR could be making a comeback, while social might be falling away
While paid advertising (print, outdoor, broadcast) was far and away the most overrated marketing tactic at 40%, many marketers also seem somewhat wary of social, with 20% rating either organic social media or online paid advertising (like social media ads and PPC) as overrated.
This could be because building an effective social media strategy is a relatively long game – it takes time to collect the data you need, and extract the right insights. That said, we still believe a strong social presence is an important part of a well-rounded inbound strategy.
One in ten marketers also see public and analyst relations as being overrated. Interestingly, though, 38% of respondents said they relied on media articles when making purchasing decisions, while 28% relied on analyst reports, so PR could very well be making a comeback.
Have these insights set off any alarm bells in your head? Could you use a hand exploring new channels, establishing an SLA or delighting your customers? A b2b marketing agency like ours could be the panacea you need. Make sure you choose the right one for your business with our 7-step checklist to choosing your inbound agency. Download it now!
Brand chemistry creates inbound marketing strategies and tactics to attract, engage and delight prospects, creating traffic, generating leads and, ultimately, converting more customers.