Social media is a very powerful tool. And like all things powerful, it can be used for great good and for great evil. However, the majority of us aren't online causing global monstrosities (well, hopefully you're not…) but we do need to be mindful of the impact our online activity could have.
This is especially true for businesses, as social media is their strongest chance to interact with a broad audience, to show a bit of personality and to offer online support to their customers.
Some, however, can veer slightly (Ok, more than 'slightly') wide of the mark and instead of creating a rapport, they attract derision and even disgust for their efforts.
Today we'll at some companies who have executed their social media customer service strategy brilliantly and what we can learn from those who didn't.
The Telstra outage of 2016
As the SMH so perfectly put it : Telstra is the Volvo of the telecommunications world – you pay the extra fee because you want a service that never breaks down.
Because of this, hospitals, businesses and governments rely heavily on their systems, so when it broke down in February, to say there was a frenzy is like saying that Jaws is a little bit nippy.
Businesses lost significant amounts of money , and there was widespread confusion and chaos. In terms of brand damage, the SMH went on to say:
So simply put, this cannot happen again. Mobile networks are just as crucial as electricity and water infrastructure; imagine if half of Australia's power grids simply failed for three hours.
And then it did. Twice.
Given that they were managing a significant PR disaster, you would think that all hands would be on deck, and while a lot of the communication absolutely followed the 'three R's' espoused by Telstra's social media team, Representation, Respect and Responsibility , there were a few that added fuel to an already raging fire. Take this query: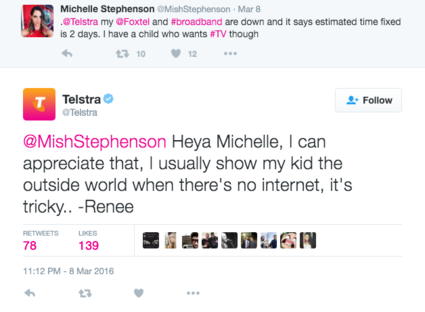 This exchange happened between Renee (the telstra worker) and Michelle Stephenson, who happens to be a journalist. Renee's attempt at a bit of light-hearted humour went quickly awry: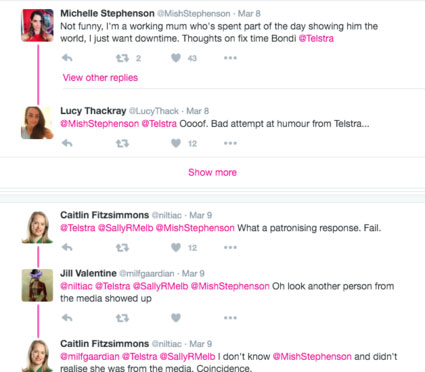 On top of an already significant social media controversy, this was the cherry on the top of an incredibly difficult couple of months.
This example demonstrates the power of social media to amplify feelings around a brand. If people are already feeling irritated, it's more important to tread lightly. And while a sassy approach can definitely work in certain contexts, a gentle approach works best in these scenarios.
Dan the Optus manager
Unlike their competitor, Optus' social media interactions have garnered much love and support. The Melbourne Facebook manager, known as Dan, isn't afraid to tackle some very tricky issues.
This was one of the comments about multi-lingual signs Optus displays in Casula mall in Sydney: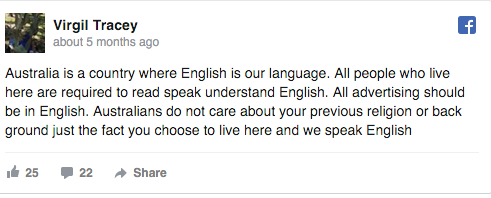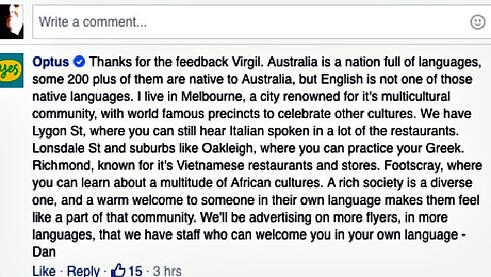 This exchange attracted over 273,000 likes , and was inundated with positive comments like:

What this comment particularly highlights is that the power of a helpful, prompt and above all polite exchange can have more power than an expensive advertising campaign.
The best: The funniest complaint letter of all time
Possibly my favourite ever piece of social media interaction is from Virgin. A customer wrote one of the funniest letters of complaint to Virgin founder, Richard Branson about the terrible in-flight food he got on a flight to India.
Richard Branson, who is no stranger to a marketing opportunity , publicly commented that he had a great laugh at the letter, and cunningly acknowledged that 'the award-winning Indian cuisine served might not be to an Englishman's palate', dispelling the criticism it had received.
He also phoned up the author of the letter and offered him a job as the taste tester. The original publication of the letter has been shared over 100k times on Facebook alone. It has generated such happy buzz for the brand, that some industry insiders wonder if the whole thing wasn't a brilliant Virgin publicity stunt in the first place.
Rules for great social media usage
So what have we learned from these tales of social media happiness and heartache?
Most of the rules that apply to the real world equally apply to your online interactions. If you are having a conversation with someone, context is everything. It's basically the rules your mum laid out for you:
Be respectful
Listen to what the other person is saying
Be polite
Be yourself
Social media is a fantastic way to interact with your customers and the public. Whether your social media is tragic or triumphant will entirely depend on how fully you realise that it is one of the most powerful tools at your disposal. Use that power for good!
Want to know more about how your business can use social media for good? The quick-start guide to inbound marketing for technology companies will give you some more great tips. Download your free copy today.
Brand chemistry is a strategic inbound marketing agency that goes the extra mile to deliver results for our b2b clients. Our inbound marketing specialists are HubSpot certified and use the latest techniques to provide our clients with a steady stream of relevant new leads.