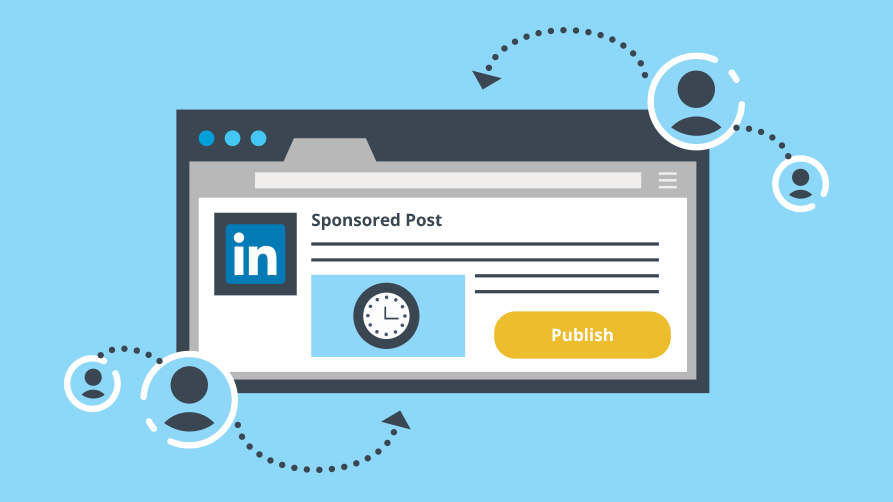 Social media may not be the first marketing medium that comes to mind when you're looking to generate new leads for b2b tech companies. However, did you know companies that use Twitter get twice as many leads per month than those that don't? And revenue increases for 24% of business when they utilise social media for lead generation? When used strategically, social media is definitely much more than just a set-and-forget tool for businesses.
There are many ways technology companies can use social media to generate leads, both organically and paid. In this blog post, we'll hone in on one of the best lead generation tools for a b2b tech company. Yup, you guessed it - LinkedIn Sponsored Updates!
While LinkedIn Text Ads yield an average click-through rate (CTR) of 0.03%, Sponsored Updates return a CTR of about 0.3%. At Brand chemistry, we've achieved CTR as high as 0.7%. Based on our first-hand experience, LinkedIn is a great way to reach your target audience while attracting relevant new followers to your Company Page and Showcase Page.
LinkedIn Sponsored Updates vs LinkedIn Text Ads: What's the difference?
LinkedIn serves two types of ads. LinkedIn Sponsored Updates are the ads that come up on your news feed, appearing like any other updates your connections posted but with the word "Sponsored" below the company page name.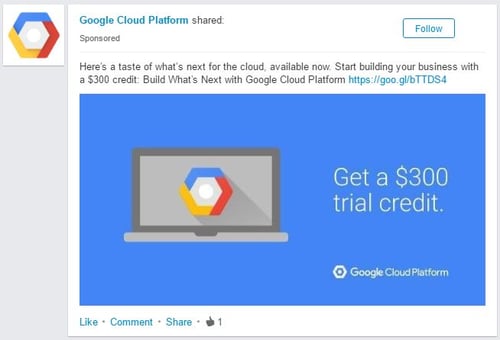 Text ads are ads served anywhere else bar your newsfeed.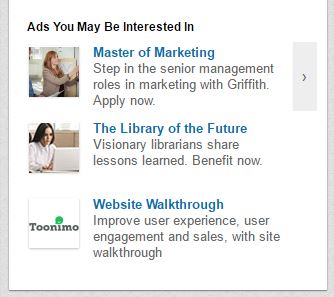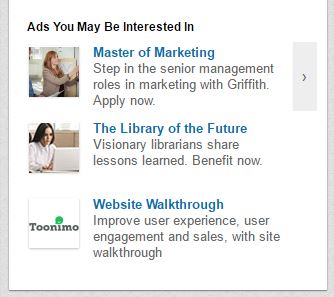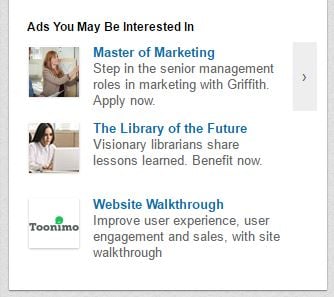 Text ad on the right side of your newsfeed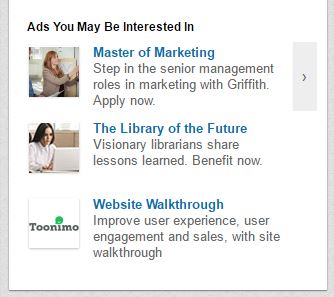 Text ad above your newsfeed
Today, we'll be focusing on LinkedIn Sponsored Updates. Let's get started, shall we?
1. Set up a company page and account
In order to run Sponsored Updates ads on LinkedIn, you'll first need to have a company page to run the ads from. If you don't have a company page on LinkedIn, you need to set one up right now (after you read this blog post of course!)
Once you've done that, you'll need to set up an ad account, and here's a good guide on how to do that. When you set up your ad account, make sure that you assign people who will be managing your ads with you to the ad account. The main roles range from Account Manager, Campaign Manager, Creative Manager, Viewer to Billing Admin.
Once you've done this you can move on to the next step.
2. Determine the goal of your Sponsored Updates ad
Before you set up an ad campaign, you need to determine what it is that you'd like your ad to achieve. For this blog post's purpose, your goal is to generate leads. Other goals could be to build brand awareness and to drive traffic to your website.
These goals have a direct impact on your budget, target audience, ad copy and creative assets. The clearer your goals are, the more relevant your ads will be to your audience.
3.Creative assets and messaging
One of the best things about LinkedIn Sponsored Updates is its ability to customise updates that are used for advertising purposes only. This means you can create a few variations of the ad, to test their respective effectiveness or write copy that is targeted to very specific industries, without inundating your Company Page feed.
There are 4 components to a LinkedIn Sponsored Update ad:
main copy
headline
description
image

When creating variations of ads for testing purposes, we recommend that you test only one component for every campaign you run. This is so you're able to accurately gauge the effectiveness of that element, without being affected by others.
For example, if you'd like to know if a question-type copy or a statement-type copy works better for your audience, change only the main copy for each ad variation, while making sure that the headline, description and accompanying image remain the same for all variations.
Pro tip: To encourage your target audience to act on your ad, use action words in your copy e.g. Download now, Get the free guide today.
4. Targeting
LinkedIn has a comprehensive range of targeting options for you to reach your target audience: geography, job titles, groups, company size, job function and skills to mention a few.
Does your target audience have a specific job title or job function? Do they have certain skills? Or located in a specific location?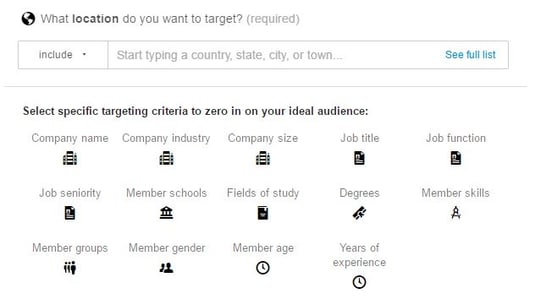 If you're a tech company that caters to a group of people with specific job titles, for example Chief Information Officer, start with the Job Title targeting filter. Once you've inserted Chief Information Officer in the job title field, LinkedIn gives you suggestions on similar or related job titles that you may want to target as well.
LinkedIn also tells you the estimated size of your target audience as you refine your targeting filters.
There isn't an ideal or not-ideal target audience size, depending on how niche your target market is. LinkedIn's minimum target size is 1000. Bc recommends to always review the performance of your campaign after a day or two, and adjust your targeting filters if necessary. This practice will help you keep the average cost-per-click low while also increasing the chance of visit-to-contact conversion.
5.Setting budget and time frame
LinkedIn may not be the cheapest pay-per-click advertising option out there, however if done right (with the right ad copy, imagery, targeting options, bid strategy), you'll be one step closer to reaching your goals.
Before you set a campaign up, you'll want to decide on the following:
the total budget you want to invest in your campaign
the total number of campaigns you want to create based on your total budget
your daily maximum spend
whether you want to run a CPC or CPM campaign and how much you're willing to bid, and;
whether you want your campaign to run continuously or for a specific time frame
There are 2 payment methods:
CPC: is cost-per-click, where you'll only get charged when someone clicks on your ad.
CPM: is cost-per-thousand impressions, where you'll only be charged every time your ad is shown 1000 times. This is a good option if you're running a campaign with brand awareness goals, and are more concerned about the number of times the ad is shown, rather than the number of clicks the ad receives.
6. Review, analyse, improve!
Last but not least, it's important to review and analyse the results of your campaign. Did you use the best creative? Which ad copy variation received the most click-throughs? Which targeting combination worked best? Analyse the effectiveness of the ads to the conversion rate on your landing page so you can apply these learnings and improve your next campaign!
Final Thoughts
Social media is an essential component of an inbound marketing strategy. To learn about how social media and inbound marketing can help catapult your tech company to success, download this quick-start guide to inbound marketing for tech companies ebook now.