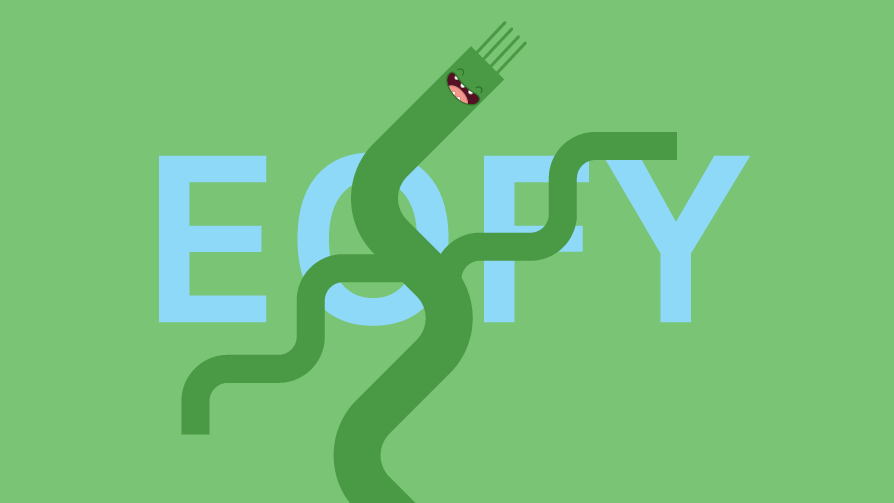 Ah, EOFY … That wonderful time of year when the inflatable tube men come out from basements and sheds to spread wacky joy, and when TV commercials start SHOUTING AT YOU EVEN LOUDER THAN USUAL FOR SOME REASON. (Seriously, has anyone ever bought a product because their TV yelled at them?)
It's also that time of year where you might find you have some money left in the marketing budget that needs to be spent by June 30. You may even find yourself doing some arm-flailing and nonsensical shouting if you haven't figured out what to do with it.
Don't throw your money at an inflatable tube man or a shouty ad. Here are 3 sure-fire ways to get some quick wins out of your remaining marketing budget that will have you going from this: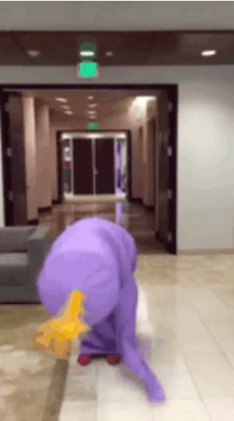 To this: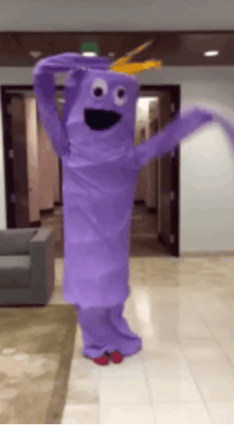 1. Invest in a quality social media scheduling tool
A social media scheduling tool allows you to post relevant content at the best times of day, depending on the engagement of your audience. This means you can save time, post faster and more responsively, reach a larger audience, and recycle content more easily.
Hootsuite and Buffer are two of the biggest players in the social media management game, but there are a slew of other available options, so before you dive into one, it is important to consider what you want to get out of it. Think about:
What sort of platform coverage you need – are you just on Facebook and Twitter? Or do you require Instagram and Pinterest coverage too?
What key features you'd like – do you need team functionality, analytics, bulk image upload, content discovery etc.?
How many people will need to access the tool – this will likely have an effect on which pricing plan will apply to you.
How pricing varies by usage – be careful not to set your limits too low, as going over will mean having to upgrade to a more expensive plan or even switch to a different service.
These tools can be great for getting maximum value out of your content and creating a strong social media presence. There is, however, a caveat: if you are not dispersing engaging, relevant content, you may actually do more harm than good. Resharing a poorly received blog post 10 times is not going to make your audience any more likely to click on the link – in fact, it might make them feel like you're spamming their feed and compel them to click the 'unfollow' button. So proceed with caution!
2. Invest in a heat mapping tool
If your website's conversion rates are on the low end, a heat mapping tool can be a great way to work out why visitors are leaving your site before clicking the 'buy' button. A heat mapping tool gives you an even more detailed picture of how visitors are behaving on your website (did you know, for example, that a lot of users click on things that aren't even links?). It can show you where visitors are clicking, how far down they are scrolling, and even where they have been referred from, and which sources are the most profitable. With this data, you'll be able to tweak your website without resorting to guesswork, meaning a greater impact and better ROI.
One of the most widely used tools is Crazy Egg, whose heat maps give valuable insight into what's working on the page and what's not, even in its Basic tier. There is also Lucky Orange, which provides slightly more features than Crazy Egg, including live recordings of visitor sessions, and arguably a more user-friendly interface. Clicktale is also considered a very powerful analytical tool, but is geared towards websites with at least 500,000 page views a month.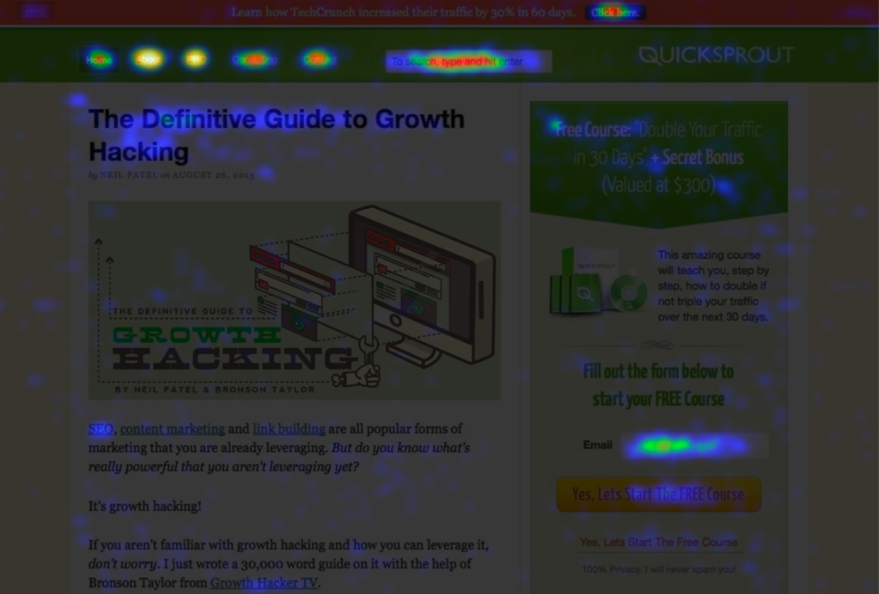 An example of a Crazy Egg heat map
3. Start a new project with your marketing agency
This could be a great opportunity to work out some kinks, experiment with a new tactic or simply put a few more notches in the win column before the financial year is up. The possibilities are almost endless, but here are a few suggestions:
Repurpose old content
You spend a lot of time creating useful content, so why not try to squeeze the maximum amount of value out of them? Maybe your most popular blog posts can be grouped together into a downloadable ebook that can be used to generate new leads; maybe that PowerPoint presentation you created for that sales conference can be edited for your customers and uploaded to SlideShare; or maybe statistics from that whitepaper or report can be presented in an infographic for Facebook or Pinterest. Your marketing agency can advise you on what content is best suited to repurposing, and what ways it can be repurposed.
As long as your content is evergreen, there's no harm in trying to reach a new audience and remind people why you're a thought leader.
Refine your personas
Personas are a powerful way of understanding your audience's hopes, needs, problems and fears, so you can in turn empathise with them, and present them with solutions that address those very same hopes, needs, problems and fears.
But people change – and so do personas. If it has been a year or more since your personas were last vetted, it may be time to assess whether they are still relevant.
A marketing agency can offer a lot of insight when it comes to developing and refining personas, so ask your agency what can be done.
Add relevant CTAs – or update your existing ones
Call-to-actions (CTAs) are a proven way of getting more qualified leads in your sales funnel, so if you've been neglecting them of late, now may be the time to give them some much-needed TLC. Where your CTA is placed, what kind of language you use, how it's designed and even what colour the button is can all have an effect on conversion rates. However, what works for one brand doesn't always work for another – your marketing agency can help perform tests to see what tweaks will have the most impact.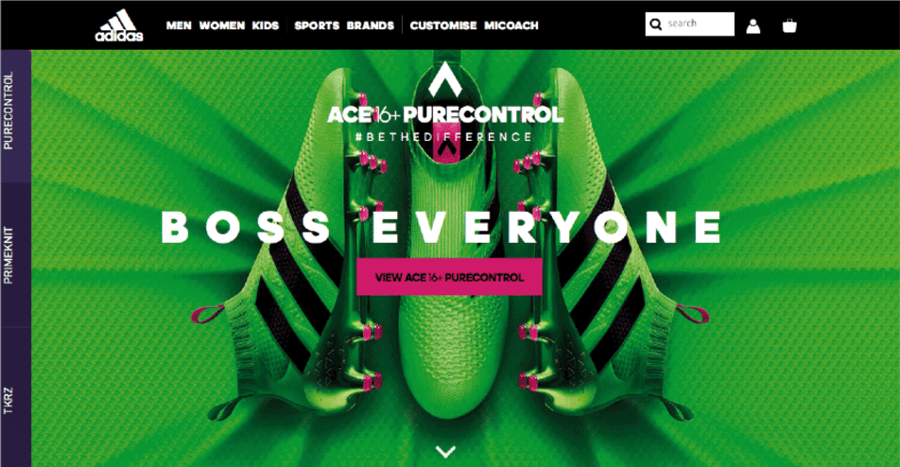 Adidas draws attention to its CTA using complementary colours
Create an online tool for your website
An online tool is an interactive webpage that allows visitors to enter data and receive a calculation based on that data. This might be total cost of ownership (TCO) or return on investment (ROI) – consider what your visitors would find most useful. Online tools can be a great way of showing people, with cold, hard data, why they need your services.
You can even have a little fun with it. Tech company DataRobot offers a machine learning automation platform, which, granted, doesn't sound all that exciting. But they used their expertise to create a relationship calculator, which predicts the likelihood of you and your partner staying together for 2 more years. (Try it at your peril.) Not only does this demonstrate their capability, it is also super shareable.
While online tools can take a bit of effort to put together, the results are worth it. When To The Web performed an experiment using online tools, they found one of their tools generated 53% more traffic than the homepage. They also found that the tools generally ranked higher than educational content, such as blog posts, and that they significantly improved SEO.
There's no time to waste! Act today!
These quick-win ways to spend your remaining marketing budget are sure to have you finishing the financial year with a flourish, so you can go out feeling like this: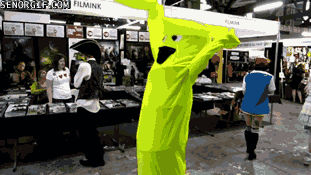 A marketing agency can help make sure you're getting the biggest bang for your buck. If you don't already have one on retainer, check out our 7-step checklist to choosing your inbound agency today.
Brand chemistry is a b2b marketing agency winning your customers' hearts and minds through inbound, brand, content, lead generation and digital strategy. Our marketing specialists achieve stellar results with the latest lead generation techniques.