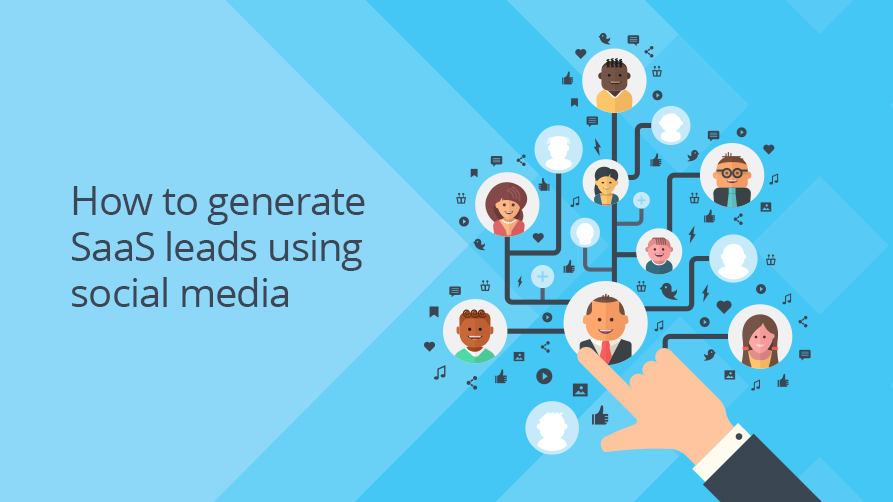 Content marketing is an inbound marketing strategy used by many Software-as-a-Service (SaaS) companies to generate leads, and many are succeeding. But this strategy doesn't stand alone, it is much more than just churning out search engine optimised content and repurposing it.
For good content to be seen and used to convert your readers into leads, they must first be distributed to relevant people, your target persona(s). And here's where social media comes in. Social media plays a crucial part in inbound marketing, and is usually in the first part of the journey to move your leads down the sales funnel.
So how can SaaS companies use social media for lead generation?
Grow your social media followers
As often as follower count is considered a vanity metric, you do need it in the initial stages of your social media strategy so that you have the volume to expand your reach organically at a later stage.
Your social media followers follow you because they are interested in what you have to say and give, making them qualified consumers of your content. If your content resonates, your social media followers will also be the one who'll promote your content for you: by retweeting and sharing your posts, resulting in boosting your content's reach to a second-degree audience (your followers' followers).
Pro tip: Your website should be designed and set up to capture leads as they come in. Bc recommends to design your website with a clear customer journey and optimal user experience in mind.
Follow relevant company pages and channels
Start following relevant company pages, accounts and influencers on different social media channels. If you're on LinkedIn, follow company pages of your target audience and join the groups they're in. Seek opportunities and contribute to discussions by showcasing your company's core expertise. By engaging with different members of these groups, you are, first of all, improving your social credibility as a thought leader in your field, and second of all, social nurturing these prospects into possible leads.
If your company is on Facebook, like and follow relevant company/product pages, and start engaging with posts by liking, sharing and commenting on them - this will help you amplify your own message.
If you're on Twitter, again follow accounts of your target audience, as well as influencers, and engage with these accounts by retweeting, liking and replying to interesting and useful tweets that are in sync with your own message, and that your target audience will find useful and valuable.
If you have a target audience that spans across a few verticals, differentiate them by adding them to respective lists for your own reference (lists can be made public or private)!
The benefits are two-fold:
By engaging with your target audience, you're putting yourself on their radar and hence, increasing the chance of them engaging with you in return, giving you the opportunity to nurture them into leads.
You'll also be able to monitor their social posts, and identify trending topics and possible pain points for your next content piece.
Research your hashtag(s)
Hashtags are useful to make sure your content can be found by your target persona. Hashtags are also key to getting your content out beyond your follower count. Use hashtags to tune in to relevant conversations about your industry!
Ensure you research and identify the right hashtags to use on each social media channel you're on. A hashtag that is popular on one social media channel may not be as commonly used on another. When you've done that, remember to listen and engage, and don't be shy to jump into conversations where you're able to showcase your expertise on the topic.
Run paid social media campaigns
From Bc's experience, LinkedIn takes the cake when it comes to paid advertising on social media. This works especially well for b2b businesses who want to generate leads. Albeit its higher PPC(pay-per-click) rate in comparison to other social channels, its precise targeting options ensure that your ad campaign is reaching your target persona and can provide a solid return on investment when planned strategically and managed carefully. Combined with point number 1 and 2 above, you're on your way to getting the best results from LinkedIn at a reasonable cost!
Having said that, even the best ads with the highest CTR (click-through rate) may not generate leads if your landing page isn't optimised to entice your visitors into filling in the form. Check out these great tips on boosting conversions on your landing pages.
Pro tip: LinkedIn doesn't recognise hashtags, hence be wary of this if you're using a social media management system to schedule a post across a few social channels.
Final thoughts
Being part of inbound marketing strategy, social media marketing is a long-term game of clout building, reputation refining and relationship nurturing. It's not a tool that you can just set-and-forget. Engage with your audience every day, share valuable content and tune in to important conversations with hashtags.
Download the quick-start guide to inbound marketing for tech companies to learn about b2b marketing and how you can boost your social media presence.

Brand chemistry is a strategic inbound marketing agency that goes the extra mile to deliver results for our b2b clients. Our inbound marketing specialists are HubSpot certified and use the latest techniques to provide our clients with a steady stream of relevant new leads.