The world of social media can be a scary place. It's hard enough catering to people's ever-shortening attention spans, let alone trying to keep up with all the latest acronyms (which IMHO are getting a little OTT). Not to mention having to compete with the thousands of cat videos out there.
Sure, it's hard to be heard over the noise, but we alchemists are here to help you think outside the square. Here's a little inspiration to show that when it comes to creativity in social media, examples of b2b viral marketing rank among the best.
Jobsite hijacks trends to maximise exposure
Ever seen any TV ads for recruitment agencies? There's usually someone in a nice suit, lots of smiling people shaking hands … in other words, they're pretty dull. And most millennials would agree. Which is why professional recruitment company Jobsite decided to scrap their TV advertising and instead come to millennials on their home turf – the digital space.
To promote 'The Advantage', a campaign to win the ultimate job interview package, Jobsite created this fantastic, very shareable spoof of popular reality TV show The Apprentice, capitalising on the show's success:
And they didn't just stop there: to maximise the campaign's exposure, Jobsite capitalised on pop culture hashtags already trending on Twitter.
One of their most successful tweets piggybacked on the hype surrounding the Sherlock finale. It was retweeted and favourited over 4,000 times: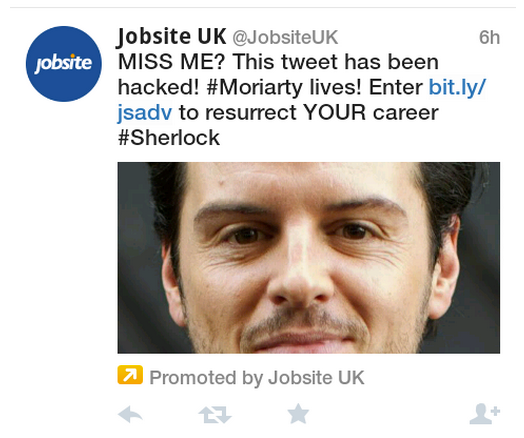 The result? Over 740,000 views of the video, and 11,000 entrants to the competition. Not bad, hey?
AmEX is giving small businesses a helping hand
Starting a small business is tough. No doubt many a small business owner has had the '60% fail in the first year' statistic quoted to them at one point or another. So American Express OPEN, the sector of AmEx that provides credit cards to businesses, has decided to give them a bit of a helping hand.
Their website, OPEN Forum, is dedicated to providing tips and insights to help businesses succeed. The site is frequently updated with new blog posts and videos, which are posted on their social media channels to generate traffic. OPEN Forum also includes an 'Idea Hub', where members can connect and share ideas with each other. AmEx have created a community their customers want to engage in regularly, by providing knowledge and support. And less businesses failing means more customers!
Juniper networks taps into nostalgia
The phrase 'data centre architecture' doesn't exactly get people excited – but Lego sure does!
To get the word out about their new data centre architecture, Juniper Networks invited influential bloggers to participate in a 'Build the Best Lego Data Centre' competition. The entries included Star Wars-themed and Back to the Future-themed centres, but our absolute favourite has to be the unicorn-powered data centre.
Not only did the competition generate heaps of shareable content in the way of blog posts and photos, but Juniper were also able to gain access to the influencers' networks through their blogs and Twitter handles. We also thought that the prize – a donation to a charity of their choice – was a particularly nice touch.
Bc's tip: next time you need to come up with a creative idea for a social media campaign, try to think about what makes your audience tick. Are there any current trends or TV shows you could piggyback on to boost your campaign's success? Talk to your partner agency to develop the big idea that will get real cut through.
If you'd like to learn how inbound marketing can help you create viral social media campaigns, download The quick-start guide to inbound marketing for technology companies today!
Brand chemistry is a digital marketing agency focused on delivering quality leads and measurable results for our b2b clients. Take a look at our client case studies to find out more.