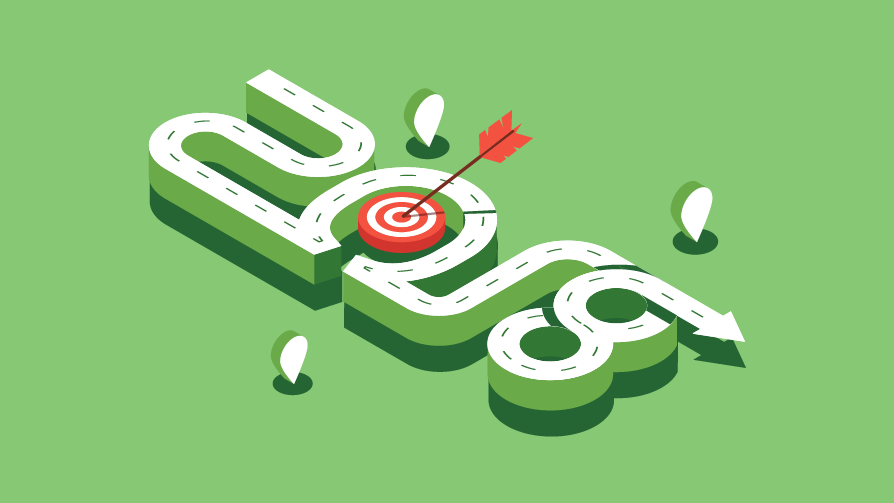 The new year is here which means it's time to say goodbye to a killer 2017 (or a year that almost killed you) and start relishing in what a fabulous butt-kicking marketing genius you really were in 2017. Hooray! With 2018 here, marketing resolutions for the new year are right alongside the long list of New Year's Resolutions. Right?
If 2017 left you a little battered and bruised, don't worry. We've pulled together five easy marketing must-haves for 2018 that will have you celebrating conversions and sipping bubbles in no time.
#1 Start blogging with purpose
If the word 'blog' has you reaching for the closest brown paper bag to breathe into, then you really need to take a long, calming exhale (or hire a professional blogger) because it's going to be just as important - if not more so - in 2018. If you haven't already, get blogging with purpose and do up a proper strategy with rich or engaging topics that get to the heart and soul of your target market. If you're still not sure what we're talking about, check out these 5 tech companies killing it with content.
Forget about generating generic content that is fluffy in essence just for the sake of getting something live; those days are well and truly over. Develop your content to be specific and really look to your buyer personas when asking your 'why' and choosing your topics. You can also keep things fresh by turning your staff members into problogger superstars, or interviewing industry heavyweights to feature on your blog.
#2 Get marketing automation
Okay so it's clearly 2018, and time to get on the marketing automation bandwagon if you're not already riding it. If you're still sending out generic email blasts to your database and you haven't yet wrapped your head around the concept of nurturing, not selling, then make 2018 the year you do.
Marketing automation is a god-send on those days when you have back-to-back meetings all day and you have emails to send and reply to; blogs to upload and a long list of to-dos. If you get a good marketing automation system it won't clone you, but it will free up some more time in your day. It will also allow you to personalise your comms and deliver more detailed and tailored content while nurturing leads the whole way through the funnel.
#3 Get your website ready for conversion
A healthy set of new year marketing resolutions wouldn't be complete without a website overhaul to make 2018 the year of epic conversions. If it's been awhile since you've poured your peepers over your site to make sure it's optimised for better conversions, you'd better get to it. Before making any big changes, ensure you have the foundations in place, like killer CTAs, appropriate SEO to target the right audience, good content and effective mobile optimisation.
#4 Align with your sales team
A marketing and sales marriage is really the stuff conversion dreams are made of. If you've tried everything in your power to align with sales but haven't quite got there yet, consider centralising goal setting and integrating your CRM with your new automation system so it gives your team some transparency across the whole process from initial lead generation to close. You may want to implement a lead score system where leads are qualified using a metric scoring system to rank them accordingly.
If the sales and marketing gap is super wide and you feel like you'd have more luck communicating with aliens on a distant planet than with your sales team, look to fill a new role with a fabulous person who can be the mediating go-between for both departments.
#5 Be agile and upskill
We live in a world full of data and with that comes the opportunity to be agile and adaptable. So if you haven't already, start honing your ninja-like reflexes for 2018 and be highly responsive to what the numbers are telling you. It's also a good time of year to reflect on what you can do, and what you can't. Ongoing training and upskilling will make sure you and your marketing team are analytical, data-driving, content gurus not to be messed with.
Want more marketing ammunition to get 2018 fully firing? Our Marketing Skills ebook might be just the thing you need.
Brand chemistry is a b2b marketing agency winning your customers' hearts and minds through inbound, brand, content, lead generation and digital strategy. Our marketing specialists achieve stellar results with the latest lead generation techniques.