It's fair to say that the world of b2b marketing doesn't have the best reputation when it comes to creativity.
Unlike their b2c counterparts, b2b marketers don't have tremendous freedom to experiment and present things in more abstract ways — invariably needing to present their pitches to the managerial level, they're required to stick closely to the language of business.
But that doesn't mean that it's impossible to make interesting and engaging b2b content. It's really about finding the right balance between entertainment and information. Why don't we take a look at some examples of how to do it well? Perhaps 7? Sounds like a good idea — let's do it.
1. Slack's Stories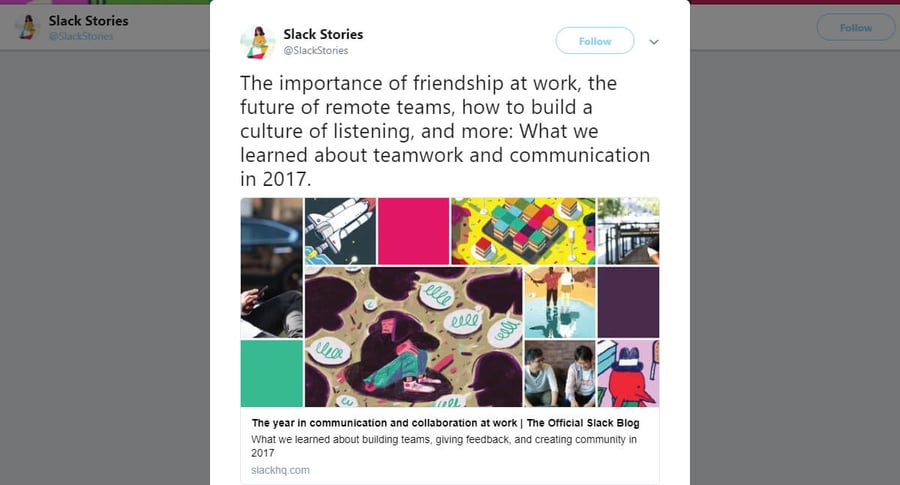 Slack's team communication software was only launched in 2013, but it can feel like it's been around longer because it's turned into such a fixture in the digital landscape, even commonly becoming a verb (e.g. "Slack that file to me").
One of the reasons behind this is the presentation of the package — the Slack team really know their marketing.
What they've done with the Slack Stories project (as used so effectively on Twitter, as seen above) is move past the essential functionality of Slack (which might not seem very interesting in isolation) and concentrate on narratives and themes that will resonate with business people.
Every story they provide gives further insight into how companies work and communicate, leading the reader to empathise with the subjects and feel that Slack as a company has a fantastic understanding of what really matters about internal discussions.
2. Yotpo's Videos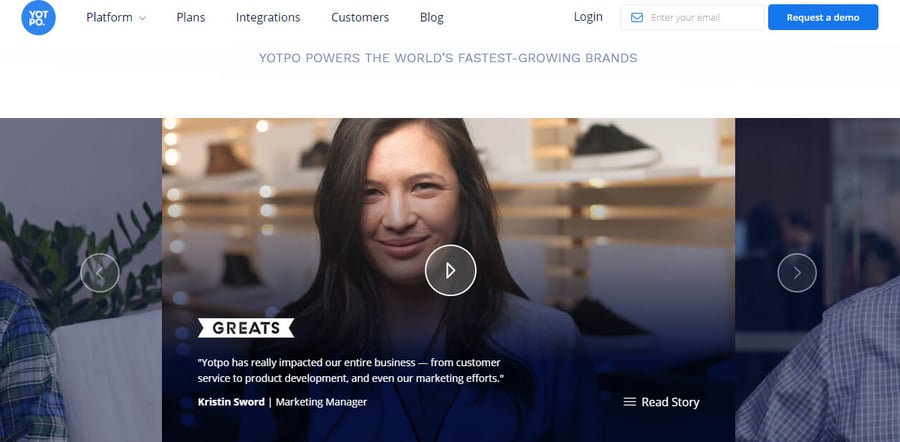 Yotpo is essentially a customer loyalty generator, offering (in its own words) "a full suite of solutions for customer reviews, visual marketing, loyalty programs, and referrals". In essence, it's all about turning prospective customers into customers, and customers into brand advocates, all through leveraging social proof and incentives.
If you scroll a short way down the Yotpo homepage, you get the above slider of client videos. Each thumbnail offers a happy client and a positive quote to get you interested, and the videos themselves are terrific.
They're stylish, slick, and quite simple — you hear the client explain why they started using Yotpo and what it helps them with. And since they're short and punchy, they couldn't really be boring even if you had no interest in them.
3. Cisco's SuperSmart Comic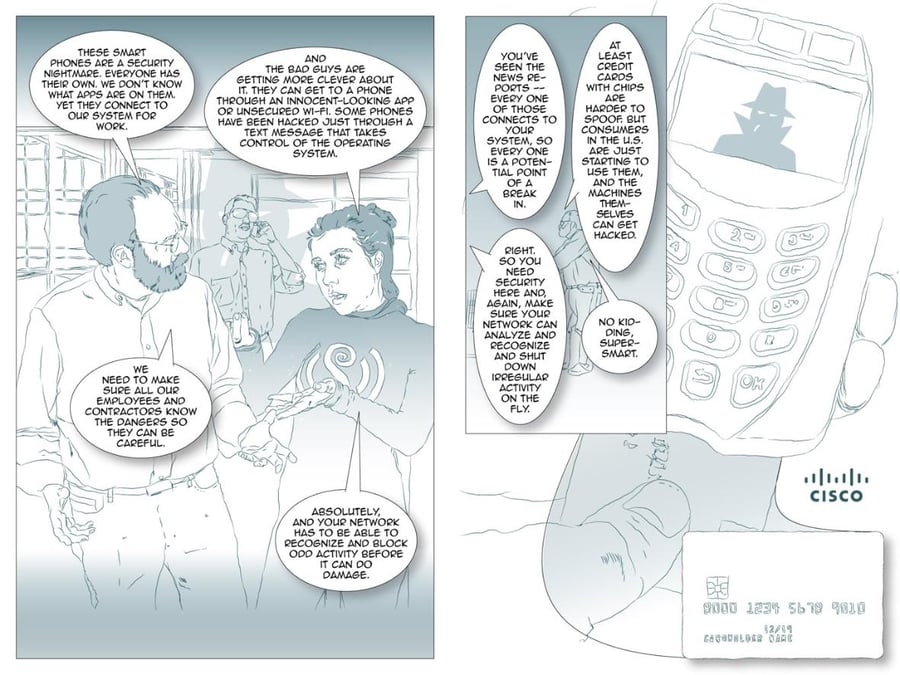 Cisco is a massive IT and networking company, so it has countless products and services, but one of its main concerns is security in this world of ever-increasing technological complexity.
The problem with communicating the importance of security to businesses is that it often feels like a problem that can be dealt with later — there's no motivating urgency to drag focus away from other everyday business activities.
To combat this, it created the character of SuperSmart, a superheroine who flies around the world fighting hackers and those who would stand in the way of IT security, and produced a comic all about her adventures (as seen above). The comic is succinct, and it's smart without being too technical for the somewhat-savvy office worker.
Writing a story around the issue of security was a really smart move, because reading the short comic isn't just entertaining — it also gets across why security is something you should be concerned about.
4. Intercom's Chat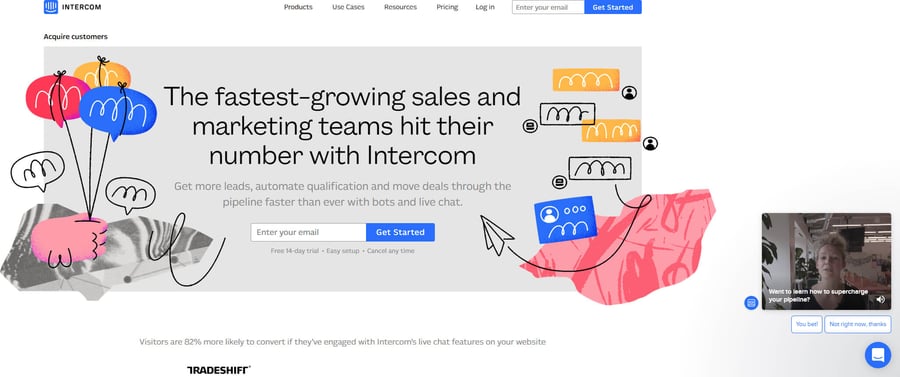 Intercom (as the name suggests) is a marketing funnel package that uses bots and live chat systems to drive leads, and what I love so much about the Intercom website is that it uses that system to entice you. That's obvious, of course — why wouldn't they use it? — but it's no less excellent for it.
There's a strong clarity to the lead image and text that catches the eye right away, and then a chat window pops up at the bottom right.
Using rich media, it shows a muted video with a message on it and some options below — curious to know what it said, I unmuted it and heard an introduction that made me want to know more about the software.
This really shows that even a limited amount of user interaction can hugely enhance b2b content.
5. Salesforce's Stats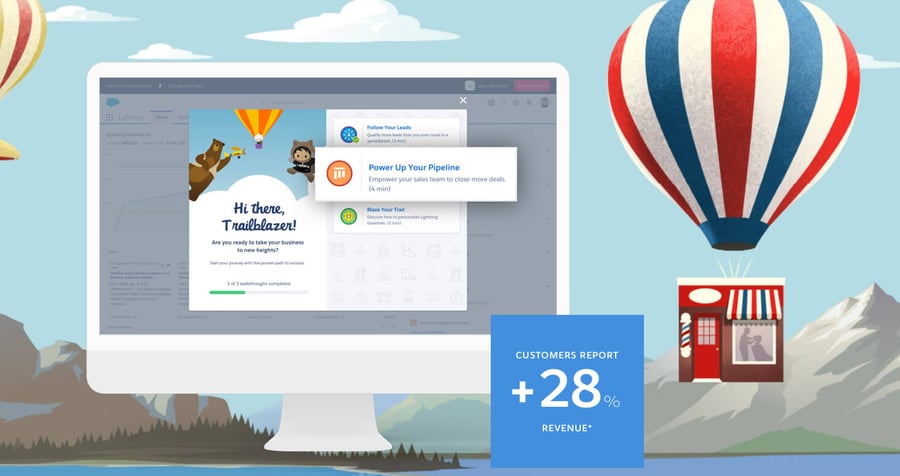 A CRM system handles Customer Relationship Management, and that's just what Salesforce provides as the top software package in its industry.
Because CRM is an incredibly complex and wide-reaching field, it would be difficult to focus on specific elements for promotional content without dragging things out and/or reducing the impact of any given point.
What Salesforce does throughout its site is stick to crisp visual aids enhanced with bold stats, as seen above.
With each panel you encounter throughout the linked page, there's a highlighted stat that gives an overall idea of what the end result of using the Salesforce package would be.
That makes it a vastly easier sell to upper management who might not be able to inclined to understand the granular details of the software — anyone can get the impact of +28% revenue.
6. WPEngine's Style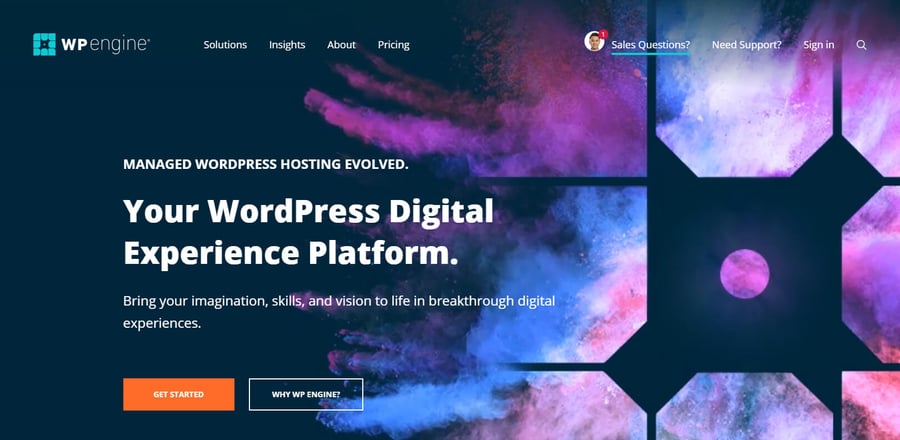 There's a lot of competition in the CMS world today, and it makes it very difficult to stand out.
Anyone interested in starting a blog can find innumerable free easy-setup systems to support that, and aspiring ecommerce entrepreneurs can not only choose from comparable retail systems but also choose from pre-made businesses that can quickly and cheaply be adapted as needed (for example, check out the Australian listings on Exchange — they all run on the same CMS).
This challenging environment pushes CMS companies to find ways to stand out, and WPEngine does a really nice job with its b2b content to appeal to startups.
What I like so much about the content of the WPEngine site is that it's presentation-heavy but keeps the vital elements front and centre so you can't miss them.
It gets across the essence of the product in its wording ("WORDPRESS HOSTING", "WordPress Digital Experience") but also adds some creative flair to the prospect with additions such as "breakthrough digital experiences".
It's oddly close to the content of a cinema website, but in a complementary sense — the creators clearly understood that atmosphere can make all the difference.
7. Zendesk's Alternative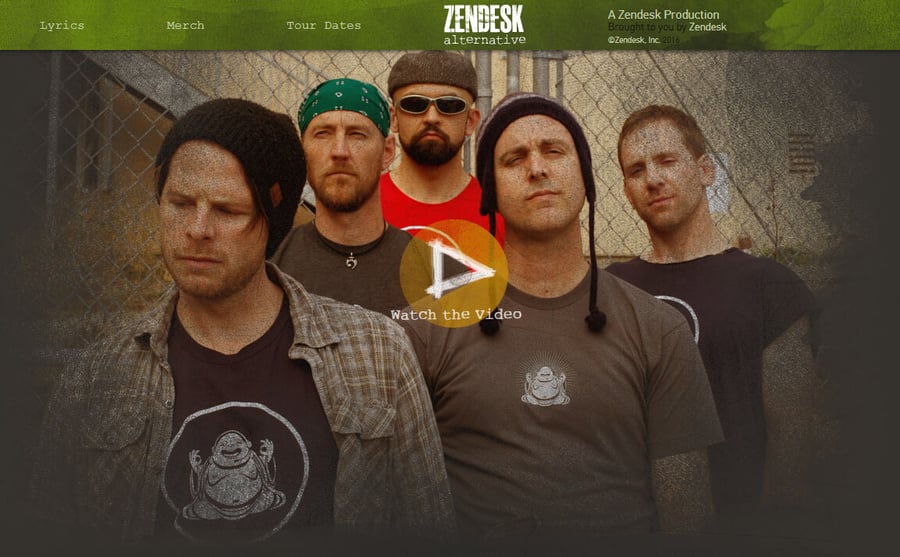 Zendesk is a well-established customer support package, and has had a firm foothold in the industry for quite some time now, having been around since 2007 (quite a while in the SaaS world).
Because of its excellent reputation in its field, it was able to take a very creative approach to marketing with its production of Zendesk Alternative, a website for a fictional band of that name with lyrics all about the thrilling world of customer support.
In other circumstances, something like this could have been disastrous. The page isn't clear about the product, even within the narrative of the conceit, and there's no compelling CTA. But that's actually immaterial in this case. Why? Because people already knew about Zendesk. The point of this page wasn't to win over the unfamiliar, but to pull in the people who were aware of it but just hadn't tried it yet. By showing personality and getting some buzz, they did just that.
Well, there you have it — 7 very different examples of how b2b content (whether in websites, social media platforms, or resources) can be engaging and useful at the same time.
If you're trying to get your b2b company some more attention, think about how you could show some more personality and more clearly get across your value proposition without getting too technical or losing attention. Good luck!

Patrick Foster is a writer and ecommerce expert from Ecommerce Tips — a top advice-centric blog that makes a priority of supporting aspiring entrepreneurs and businesses. If you're looking to grow your company, check out our latest posts on Twitter @myecommercetips.
---
And if you're looking for an agency who can help you create amazing content but not sure where to start, check out our free7-step checklist to choosing your inbound agency. Download it now!