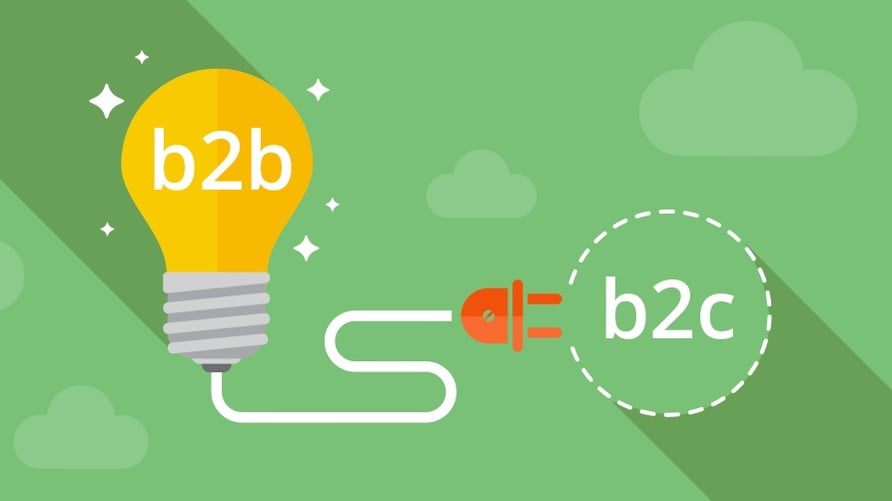 History has shown us that inspiration can come from the most unlikely of places. A bop on the head with an apple. A full bath. Even googling the phrase 'hurdlers without hurdles' can provide it.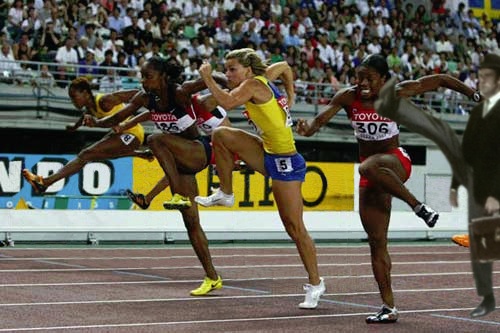 You're welcome
For b2b marketers, you don't need to spend all night wildly googling, practising zen meditation or communing with dolphins to get it. For you, it could be as simple as looking over the fence into b2c land.In the recent past there was a perception that b2c products, by their nature, are a little more glitzier and more riotous to market than the staid offerings of their b2b counterparts. Yet b2b companies are now asking: why should b2c have all the fun?
Today, we're looking at 4 key lessons b2b marketers can take from b2c land to make their content inspire and to provide a fantastic brand experience (and some b2b companies who have taken those lessons and are schooling everyone else!)
1) Voice

Contrary to popular belief, the word 'voice' doesn't just relate to the talent show or the seminal song by John Farnham. It's more democratic than that; we've all got one, and companies are no exception.
Where it can get tricky is establishing what the voice should be for your business. What makes a voice a good one?
If the great b2c companies had a voice, they would sound like Adele: clear, consistent, their messages pour into their target audience's ears like honey wrapped in velvet.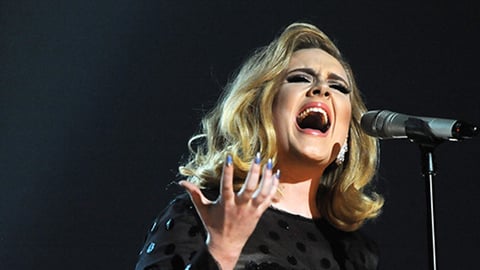 We could've had it alllllll-llll-llllllllllllllll
A case in point is the t-shirt company, Threadless. Threadless doesn't have the same vibe as Adele, it's a bit more casual than Adele's glamour, but what it does well is have is some seriously cool street vibes happening.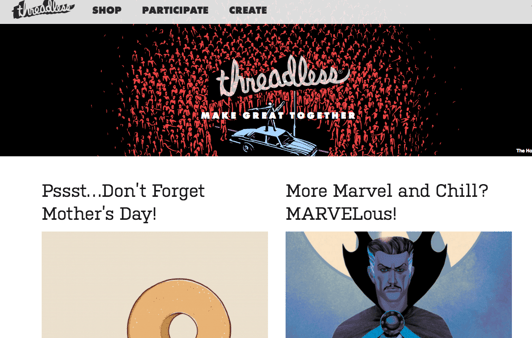 Their array of excellent content includes a popular blog that directly appeals to their community of comic-book nerds, pop-culture lovers and funsters. The content is engaging and funny, and given their reputation as a community hub for artists, the artwork is suitably impressive.
The interesting thing about the blog is that the focus is not so much on schilling t-shirts as it is on connecting to their community. A great example of this is the recent Mother's Day post where members of the Threadless team each shared a touching memory about their 'threadmoms'.
Their voice isn't just used to sell a product, it is about creating a community of the like-minded, reflected in their slogan 'make great together.' For them it's not just about the products, it's about being a company that creates, supports and buys awesome art. Having a strong voice, also ensures that your voice will be heard above the crowd.
And it's not just Threadless that have a strong and cool voice. MailChimp is a b2b company that specialises in marketing emails, which sounds like it could be snoozeville, but thanks to a fantastic brand voice, it lures you in with gorgeous poppy graphics, fantastic and interesting content, and a lot of humour. While the product is very different to Threadless, it's interesting that there are very similar brand elements, which is probably because their target audience has a crossover: young, creative professionals. What MailChimp understands is that just because people are at work, they don't shed their fun skin, they want to be entertained and informed in a voice that resonates with them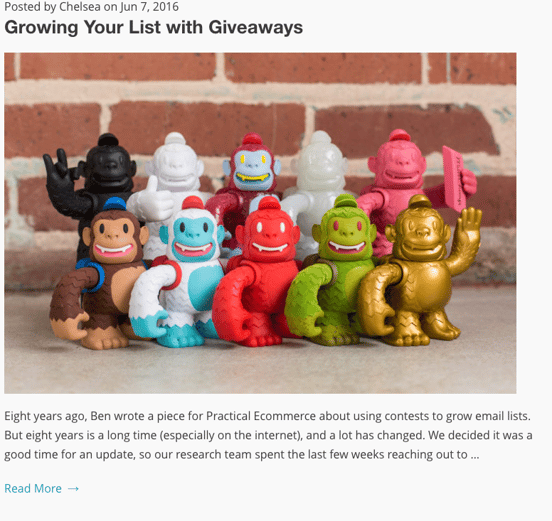 2) Visuals
Here at Bc we truly love a lush online presence. Digital platforms are one of the most powerful ways you can give a prospective customer a literal glimpse into your world.
A b2c company that beautifully dmemonstrates this is the Sydney based florist Little Flowers. They have an excellent website that not only showcases their bouquets, but makes the process of buying them incredibly easy. A couple of clicks and you have a lovely little treat on its way to a loved one.
Little Flowers also use their Instagram account to invite us into the lives of the florists, the couriers and the lucky recipients. The world they create online is whimsical, local and hopeful. One can find oneself wishing to be on the receiving end of a delivery, and seeing the stock images of joy when random people receive their flowers compels you to think about sending a special something to a special someone.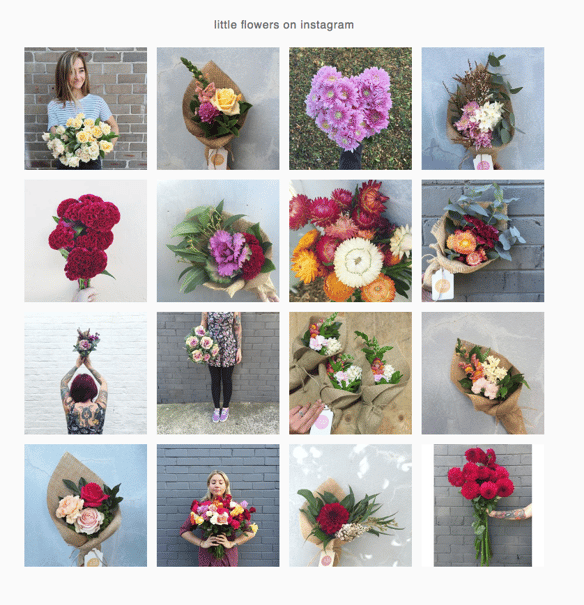 3) Don't talk shop
A common theme among the examples today is that your online presence shouldn't be a boorish sales pitch. Rather, it should focus on building a positive (and vocal) community around common interests and values.
We love how Lorna Jane, a sportswear company does this. Their slogan 'Move. Nourish. Believe.' is complemented perfectly by their blog, which is a collection of recipes, training exercises, inspiring stories and details of community events. They aren't just marketing a crop top or leggings, they are speaking to their target market about how to live a happier, healthier fuller life.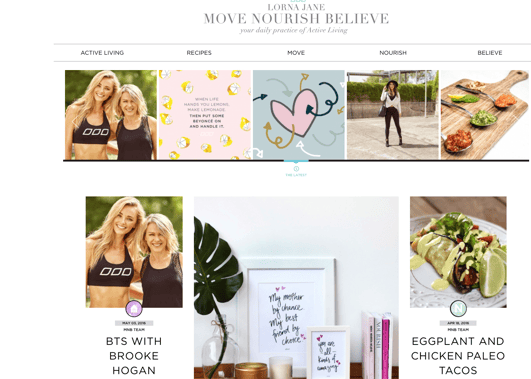 4) Tell a great story
Another thing the above examples have in common is that they use voice and visuals to tell a great story with the brand's inherent values woven throughout.
One of the best stories in the business can be found at Louise Love, Australian fashion designer Alannah Hill's new label. Given that her former financial backers Factory X have the trademark to her name, Ms Hill has used her backstory to inject a vivid personality into the new brand and by doing so she made it feel as though Alannah Hill™ was the cocoon and Louise Love became the butterfly.
On her website, Ms Hill keeps a 'secret diary' about her glamorous rags-to-riches story, infused with baroque glamour, dark humour and a bohemian delight in creation. The way she writes, you can hear the expensive rustle of silks and can imagine how gloriously transformative clothing — her clothing can be.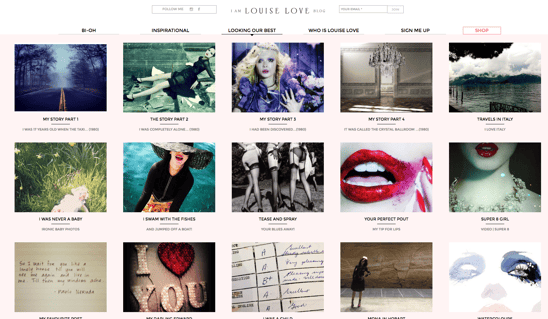 Humour is the great leveller, and everyone likes to have a giggle no matter where they are. Lots of b2c companies use humour to great effect, but the gold-star for a truly funny moment definitely belongs to a b2b company, Adobe. Their creative, surprising and hilarious commercial, give us an insightful look into what they do and how it impacts businesses, but it is also one of the funniest ads out there.
They should also get bonus points for turning a potentially dry matter into a laughing one. And they are not a one-trick pony. They have a deck of hilarious ads, if you have a quiet room and some spare time you can check their commercial about Photoshop here and Adobe Marketing Cloud here.
How can b2b apply these learnings?
There are several damaging perceptions that b2b companies must combat in order to apply the above:
b2b products aren't as glamorous as consumer products, then there isn't such a need to put on the razzle dazzle
You are marketing to businesses, so glitz might not seem professional
People only want fun on their off-times, at work it's nose to the grind
This paradigm fundamentally ignores a very important point — that business decisions are made by real, actual, fleshy people. People who increasingly work on personal devices at all hours of the day, who want to be informed, entertained and assuaged. People who have problems and want a solution to those problems. It doesn't matter if you're wearing a suit or uggies at home, these things don't change.
In fact, the argument could be made that because b2b products and systems are so complicated, the need to get creative about your brand is even more important than it is in b2b land. Making something that is already glamorous a bit more glamorous, really isn't a huge leap; the true challenge lies in making something complex and abstract, relatable, enjoyable and human, as Adobe and MailChimp demonstrate.
We hope that the above examples can inspire you to create and consolidate an outstanding online presence. If you need more tips on inbound marketing, you should check out our Quick-start guide to inbound marketing for technology companies today