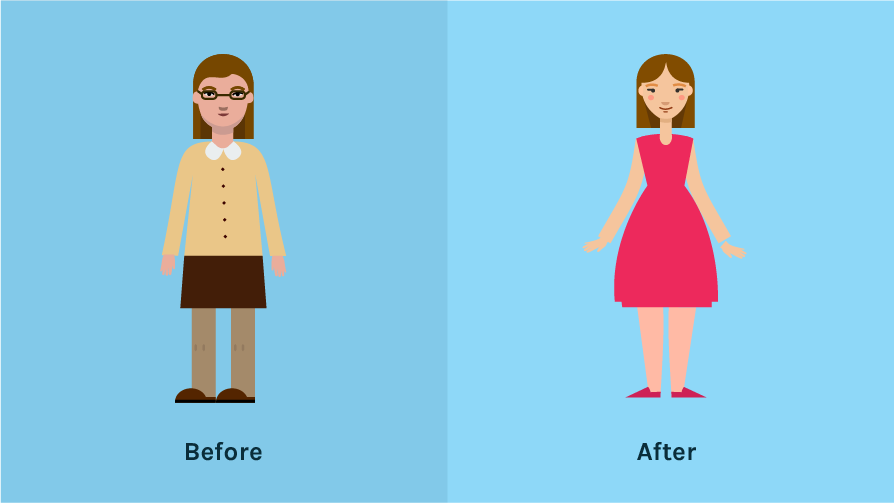 LinkedIn definitely has a place in a b2b marketing strategy. According to one source, 80% of b2b marketing leads from social media come through LinkedIn. This staggering statistic is partly due to the comprehensive range of targeting options LinkedIn gives for Sponsored Posts, allowing you to filter your audience by job titles, job functions, industries and geography, just to name a few – and we've seen for ourselves just how well this works in terms of reaching your target audience.
Yet, despite being such a strong performer in b2b marketing, if the social media landscape was a teen movie, there's no denying LinkedIn would be the nerdy chick who's always being outshined by her prettier, cooler, more popular friends like Facebook and Twitter. But with the latest redesign (the biggest since its original launch in 2003), LinkedIn has taken off her glasses, let her hair down and given herself a makeover, and she is looking fine.
The main feed (under 'Home') is now more similar to Facebook's news feed, with stories curated by both human editors and algorithms, and they have also improved their search interface so it's easier to find jobs, people and companies (more on that later). They've also added a chat interface to the bottom of the screen, so you can quickly get in touch with a contact when you need to.
And the makeover seems to be working. Since the recent changes, there have been improvements in LinkedIn Sponsored Updates (i.e. the ads that appear in your now new and improved LinkedIn news feed). According to LinkedIn, the click-through rate of Sponsored Posts has gone from 0.3% to 0.45% – that's a 50% increase – and their engagement rate has gone from 0.3–0.5% to 0.45–0.5%.
So if you've been neglecting your LinkedIn marketing of late, there's no time like the present to give your SaaS company's page a makeover too. Here are 5 quick tips to spruce up your page so you can turn more heads.
1. Start with some zhooshing
Everyone loves a good makeover plotline (why would there be so many in movies otherwise?). And any good makeover starts with some zhooshing – new hair, new clothes, new make-up.
Now you can give your LinkedIn company page some extra zhooshing too. The new design means you now have the option to add a background image to your profile (kinda like Facebook … I think I'm starting to see a pattern here), which is a great way to inject some personality into your page and underline your brand identity. And if you haven't already got your company logo on there, get onto that quick smart – according to LinkedIn's 'best practices' page, company profiles with logo images attract six times more traffic.
2. It's not just how you look, but also what you say
Remember the end of Grease when Sandy turns up at the fair in her new look, complete with tight leather pants? Sure, she looked great, but it was her now iconic line that really sealed the deal for Danny: 'Tell me about it, stud.'
Your profile also needs to be using the right keywords in order to pick up relevant leads. Google previews up to 150 words from your 'About Us' description, so make sure it's chock-a-block with terms people are using when they research your industry. (But make sure it still sounds like it was written by a human – there's nothing worse than keyword-rich but unreadable copy.)
And remember the updated search interface I mentioned? People can search LinkedIn for companies by keyword, so having an SEO-optimised description will also ensure your company comes in at the top of the list.
3. Be seen
As Cady Heron says after her post-makeover induction into the Plastics in the movie Mean Girls: 'Being in the Plastics was like being famous. People looked at you all the time and everybody just knew stuff about you.'
In the end, a good makeover is about being seen and talked about. And if you want to be seen on LinkedIn, you need to post regularly – daily, if possible. You can share your own content or someone else's, whether it's blog posts, articles, infographics, statistics – just make sure the content is interesting and relevant to your followers. This means less self-promoting and more actively engaging with the community in a way that benefits them.
If you're feeling overwhelmed by the amount of posting you have to do on all the different social media channels, bear in mind there are automation platforms like Buffer and HubSpot that allow you to schedule and share posts in bulk.
LinkedIn advises to keep headlines and intros short and snappy, and to make sure to include images in order to attract more engagement. And with the new design, links to YouTube videos now play directly in the feed (again, much like Facebook), meaning much higher engagement – something worth considering if you're thinking of dabbling in video marketing.
4. Assemble a support crew
In the movie Miss Congeniality, it takes a team led by beauty pageant coach Victor Melling to turn FBI agent Gracie Hart into Miss USA contestant Gracie-Lou Freebush.
So don't think you have to go it alone. Empower your employees to have some ownership over the company page by making them administrators so that they too can post company updates (here's how). As well as spreading the workload, it also allows you to tap into your employees' connections to further broaden your network.
5. Always try to be the best version of yourself
Ultimately, a makeover is about trying to be the best version of one's self. And this means constantly striving to improve and evolve even beyond the makeover.
Similarly, your LinkedIn company page can always be doing better. That's why it's important to stay abreast of your page's analytics (here's how to access them). Your analytics let you track your engagement metrics for your posts and understand more about who your followers are and what they're doing. This means you can optimise your future updates to improve your engagement over time.
Be the star of your own makeover plotline!
Take inspiration from LinkedIn and the many, many, many movies with makeover plotlines and work some magic on your own company's page today. The results will be worth it.
Still not sure how LinkedIn fits into your overall marketing strategy? Our quick-start guide to inbound marketing for technology companies can help. Download it now!
Brand chemistry is a b2b marketing agency winning your customers' hearts and minds through inbound, brand, content, lead generation and digital strategy. Our marketing specialists achieve stellar results with the latest lead generation techniques.