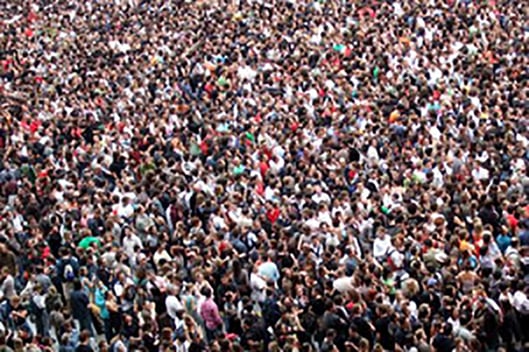 Have you ever stared at a blank Word document waiting for the inspiration for your next blog post to finally emerge from the eternal whiteness in front of you? The clock on your computer screen is slowly ticking on, bringing you closer and closer to deadline and you still haven't written a single sentence?
Don't worry: it happens to all of us! Coming up with creative ideas and insightful commentary about your industry on a regular basis can be hard (and what about those pesky email alerts that keep interrupting you?). But here's the good news: you don't have to come up with new ideas by yourself all the time. Crowdsourcing can be a really engaging way to create great content for your newsletter.
Here are Bc's tips for harnessing the power of community for content creation.
Engage with your audience on social
You probably already know that social media is a fantastic tool for content distribution. But have you considered using it for content creation as well? Engaging with your audience on social can create fantastic debates: with the added benefit that you might be able to use some of the comments in your next article.
Industry groups on LinkedIn are a good place to get started when it comes to crowdsourcing for b2b. Spend some time in the group to gauge the general tone of the conversations. Once you feel comfortable that the group is a suitable place for you to get involved, start a discussion about a problem your industry is facing, asking your peers how they would go about solving it.
Keep a close eye on the debate and facilitate it further by asking more in-depth questions related to the group members' responses. Are there any comments in the discussion that you could include in your next blog post? Ask the commentator for permission to use it and send them the link to the article once it's finalised. They might even want to share it with their network, giving your article an additional boost on social.
Surveys and polls
No matter if it's the latest developments on The Bachelor (how about that dirty street pie comment?) or trends in the industry: we humans love to share our opinions with our peers. This is a great opportunity for marketers to generate insightful and entertaining content.
Surveys and polls are an easy way for your audience to share their opinions and an interesting way for you create unique content for your newsletter.
What's more: survey results can be turned into fun and shareable infographics adding another piece of content to your resources library.
Ask industry experts for their input
After years in business you have built a great network of contacts: some of them with unique and detailed knowledge in your industry. So why not ask them if they want to share their opinions with your audience?
Come up with three questions that you can ask a few industry experts. Once you got their responses, you can turn it into one content piece per question, adding three new articles to your forward schedule.
Plus: the arrangement benefits both of you. Your contact receives added exposure through your newsletter and the newly created articles add depth and diversity to your content portfolio.
One thing to keep in mind with crowdsourced content is that it can take a little bit of time to get the ball rolling. So just make sure you allow for plenty of time in your editorial calendar and your first crowdsourced article will be a huge hit.
If you haven't got an editorial calendar set up - we're here to save the day. Our free template will help you effectively manage your content so you can spend more time brainstorming those ever-important ideas. Download it today.
Brand chemistry is a strategic content marketing agency that goes the extra mile to deliver results for our b2b clients. Take a look at our client case studies to find out more.