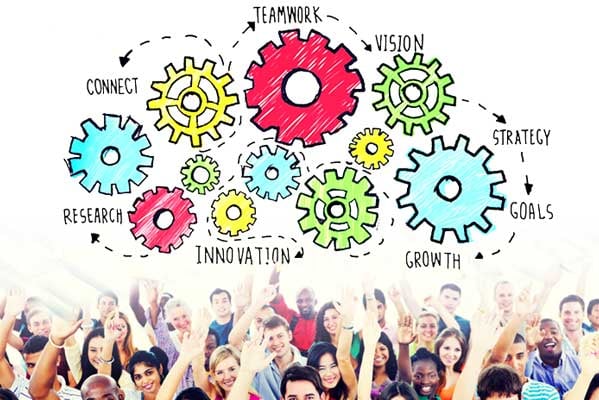 In 2014, the Merriam Webster dictionary announced that "culture" was the most popular word of the year. And in 2015 it's becoming one of the most popular words in boardrooms, too.
The reasons for this are twofold:
Firstly, employee engagement and retention has become one of the top challenges facing business leaders.
Secondly, businesses are wising up to the importance of the overall brand experience when it comes to attracting and retaining customers.
In a nutshell, corporate culture is big business. And if you can get brand and culture working together, you're really onto something.
So what's the link between brand and culture? And how can they be used to power each other?
Let's start by analysing the relationship between the two. Enter Zappos.
The famous Zappos case story: brand, culture or customer service?
Most brand and marketing professionals are familiar with the feel-good story of the meteoric success and all-round brand love-in of the online store Zappos.
But very few people can agree what category the story fits into: is it a story about brand? Customer service? Culture? (Google 'Zappos case study and you'll see what I mean)
Let's hear what Tony Hsieh, CEO of Zappos, has to say:
At Zappos.com, we decided a long time ago that we didn't want our brand to be just about shoes, or clothing, or even online retailing. We decided that we wanted to build our brand to be about the very best customer service and the very best customer experience. We believe that customer service shouldn't be just a department, it should be the entire company.
Sounds to me like brand, customer service and culture are all part of the same thing: and that thing is something customers can't get enough of.
How brand drives culture

There is no doubt that a great brand strategy, developed in an inclusive, intelligent, customer-centric way, can certainly drive culture.
Just the simple act of knowing what your company stands for, and what difference it intends to make in the world, can provide a waymarker and real point of pride for employees.
How to use your brand to drive culture
Remember that your brand isn't just a logo or a strapline: it's about how customers experience your organisation, from every angle, from beginning to end.
Never skip your mission, vision and core business purpose when building your brand: they'll form the bedrock of the culture you want to build.
Use your mission and vision in recruitment: in the ad (people love to feel inspired) and when you are evaluating candidates.
Communicate your brand values clearly through training and internal comms: be explicit about the behaviours that support them.
Let your brand values inform performance reviews and KPIs.
Allow your brand values to guide how you communicate, both inside and outside the office.
How culture drives brand
Conversely, a lot of people - including Tony Hsieh - believe culture should drive brand. Here's what he has to say on the matter:
What's the best way to build a brand for the long term?
In a word: culture.
At Zappos, our belief is that if you get the culture right, most of the other stuff — like great customer service, or building a great long-term brand, or passionate employees and customers — will happen naturally on its own.
We believe that your company's culture and your company's brand are really just two sides of the same coin. The brand may lag the culture at first, but eventually it will catch up.
Your culture is your brand.
How to build a culture-based brand
When building the brand, start with customer research so that the real customer experience feeds directly into the brand creation.
Involve employees in the act of brand building. Not just the executive team but also (and most importantly) the customer facing guys who are on the coalface with the customers every day.
Let the brand build itself. The openness and transparency of the digital community allows your customer's experience of your organisation to direct the way your brand grows. Scary or exciting? Depends on how good your customer experience is.
Brand or culture: Which comes first?
This is a real chicken and egg question. And like all good questions, the answer is this: it depends.
It depends on a company's leadership model, the size of organisation, its organisational structure, and the company's history.
Where an organisation already has a strong culture which aligns with the customer's needs and desires, it makes sense to build the brand off the back of it.
We did this for our lovely clients Grosvenor, in 2014: pretty early in their brand workshop, it became clear that they had this amazing internal culture of integrity and personal responsibility: there was nothing we could have created to trump that! So their culture simply became their brand: with the simple addition of the end benefit that their clients experienced: "Absolute confidence in both journey and outcome".
Allowing culture to drive the brand tends to be most effective in smaller organizations that have a history of strong, consistent management, with a clear mission, a strong focus on customer-centricity, and a hands-on approach to recruitment and training.
For the majority of organisations, though, it's not that simple.
Many businesses - particularly larger ones - are left with a fuzzy or fragmented culture, due to a history of organic growth, hands-off senior management, or siloed departments. For these organisations, the brand has to come first, with the brand strategy providing a great framework for articulating what the organisation stands for.
Once you you have your brand values in the bag, it's a short hop to articulating the attributes and attitudes your people need to share: and these are the building blocks of that elusive, awesome thing called culture.
Brand chemistry is a strategic brand agency. With more than 10 years experience building brands, we know what it takes to stand out amongst your competitors. Take a look at our client case studies to find out more.