Last week, Skype launched Skype in the Workspace (SITW), kind of a LinkedIn-meets-video-conferencing, pitched as a b2b marketing tool for small businesses and entrepreneurs.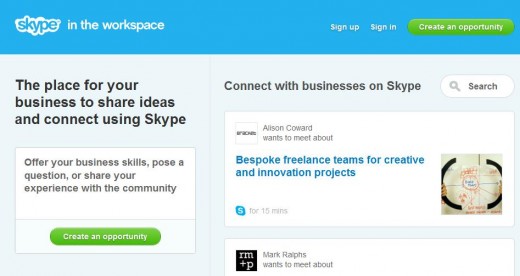 We thought this sounded interesting (apart from the horrible name!), so we took a look. From what we can tell, Skype in the Workspace could help small businesses to:
Find: Find the services you need from a global community of experts.
Promote: Offer your services and grow your business.
Share: Make new connections, collaborate and share inspiration.
Meet: Set up instant business development meetings with other users.
Sounds good....! So we took a closer look and this is what we found:
At the moment, SITW seems to cater very much for the small business and is particularly popular with one-man-bands and freelancers. While you won't hear Skype call SITW a social network, it does feel kind of social and is linked with all the usual Social suspects: LinkedIn, Twitter and Google+ (interestingly, Facebook is conspicuous by its absence).
The core feature of Skype in the Workspace is the "opportunity." : kind of a meeting request or sales pitch. Businesses create 'opportunities' and other users respond to the ones that interest them. When you create an opportunity, it appears under a standard intro of "[Your name] wants to meet about ..." The business then enters a title, a suggested meeting duration such as 15 minutes, and a description of the proposed opportunity. Opportunities also can include a photo or short video.
Once the opportunity is sent, both users are connected on Skype and can schedule a meeting at a time that suits them. Analytics are available where businesses that create opportunities can track the number of times they're viewed, the number of users who have expressed interest, and the number of users who have marked the opportunity as a favourite. When you create an 'opportunity' you can simultaneously promote it across LinkedIn, Twitter and Google+.
A couple of other things we noticed: There's not much in the way of a filtering system, so it'll be interesting to see what happens if and when SITW gets bigger: we wonder how easy it will be to find content that is relevant to you. Also there is no 'rating' system for contributors, which we think would add another helpful dimension and perhaps encourage help and collaboration amongst users.
So what do we reckon? SITW is an interesting concept: It still feels a bit BETA, but if it takes off we could see it nurturing collaboration and partnership development, as well as generating and qualifying leads and helping with recruitment, demos, presentations and q&a sessions. And the numbers certainly add up: Skype boasts 280 million active subscribers, and there are nearly 2 million small to medium businesses in Australia alone: many of whom are already using Skype.
So let's see. There's definitely potential there, and we love the idea of a collaboration / marketplace tool for small and medium businesses. Let's hope the small business community really engages with it – both giving and taking - so it doesn't end up just a fancy bulletin board or Gumtree-for-small-businesses.
Want to learn how including webinars can help with your inbound marketing? Download The quick-start guide to inbound marketing for technology companies today!
Brand chemistry is a b2b marketing agency focused on delivering quality leads and measurable results for our clients. Take a look at our client case studies to find out more.