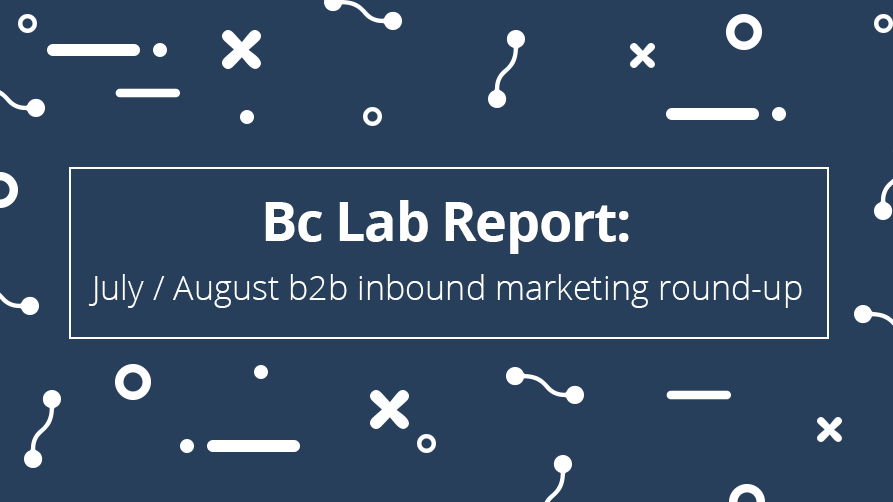 Happy end of winter! The flowers are blooming, the sun is shining (well … sometimes …) and we are looking forward to longer days and not arriving at work looking like the Michelin man in our oversized outerwear.
Spring also is the time for new beginnings. A time to start fresh. To meditate on your processes. It's got our team thinking about routine things tech businesses may be doing to hinder their chances at success. These ruminations lead to the following pieces:
90% of agencies say they understand their client's business, but only 65% of clients agree. You may be one of them… check out this post to understand if it may be time to inject some new life into your relationship with your agency.
We also examined:
9 examples of tech jargon that must be stopped (please, under any circumstances, do not use the term ideate.)
Are your landing pages killing your conversion rates?
What are the 3 most common marketing mistakes software companies make?
We also looked deep into the internet's soul to find some inspiration and we were not disappointed.


California is in the worst drought in 1000 years. The solution: This amazing product and fantastic awareness campaign:
Seriously simple, inspiring and cool. We want some stat!
The common thought in tech design is that there has to be a marriage between functionality and beauty. Just think of companies like Apple and Netflix. However, the article: It's Ugly but it Works turns the notion on its head. It argues that sites like Wikipedia, Reddit and Craigslist have not significantly changed their design since their inception, yet it hasn't affected their popularity. According to the article, these instances prove that technology function is much more important than form. We're not entirely convinced. We'd love to know what your thoughts are on this divisive issue. Tell us in the comments below.
Buttons!
And on the topic of online aesthetics, we came across this great article on email CTA buttons. What colour? How big? How much text and why haven't they changed all that much since 1986? This article addresses everything you wanted to know about the subject (but were perhaps afraid to ask).
Did you read a b2b marketing article recently that got you inspired? Please share it with us in the comments below. In the meantime, we hope in the upcoming weeks, you get to make the most of the early spring-time weather.
Want to know more about the latest in marketing? You need to download The quick-start guide to inbound marketing for technology companies today!