Phew! 2018, what a year for marketers, amirite? We saw the GDPR come into effect, Facebook was hit by scandal after scandal and the robots are coming for our jobs!
Anyone else exhausted?
No rest for the wicked, though.
2019 promises to be another big year. Here are 8 marketing trends to keep your eyes peeled for in 2019.
Users will be guarding their data closely
On the back of the GDPR coming into effect, and several Facebook data breaches coming to light, people are more protective about their data than ever – and you can bet they'll be giving you the side-eye every time you try to direct them to a lengthy landing page.
And we don't expect these concerns about data privacy to go away any time soon, with rumblings from the Australian Competition and Consumer Commission (ACCC) about imposing GDPR-type regulations upon Australia.
This means marketers will need to be especially diligent in terms of securing data, to avoid data breaches that can cause reputational as well as financial damage. Marketers may also have to work a bit harder to convince users their data is worth parting with, which leads me to my next point …
Leads will need juicier bait
As people become more wary about parting with their data, marketers will need to focus more on developing trust with potential leads, and giving them more reasons to part with their data.
This may mean giving away a little more value for free, requesting less data in earlier stages of the customer journey, and developing deeper and highly specialised content for certain industries or personas.
Goodbye funnel, hello flywheel
Look, we had some good times, us marketers and the sales funnel. But we can do better. It's time to move on.
In 2019, it's all about the flywheel.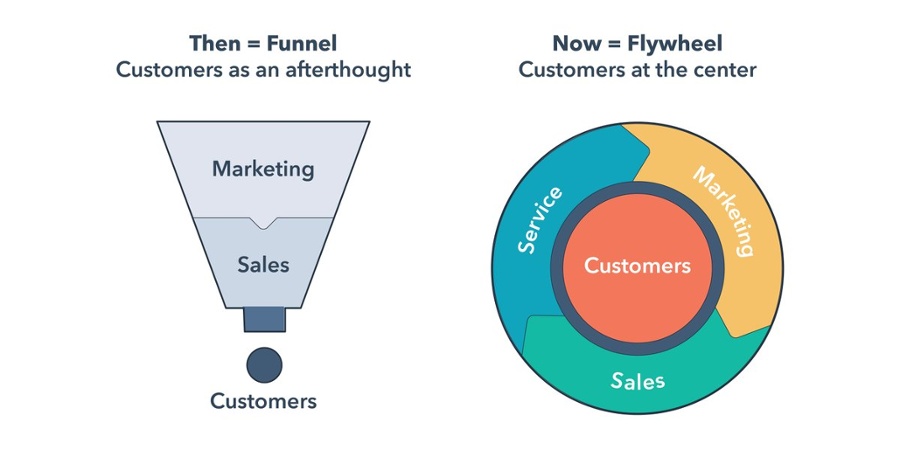 Source: Hubspot
While the funnel is a great model for customer acquisition, it is, by definition, linear. Once that customer gets spit out of the end of the funnel, they become someone else's problem, at least as far as marketing is concerned.
But – and we've been saying it for years – those customers are actually potent weapons of growth themselves. Word of mouth is the most powerful marketing tactic there is, so it makes sense to prioritise delighting customers and turning them into brand advocates just as much as you would lead generation.
The flywheel – with the customer at its rightful place in the centre – helps business keep that momentum that was built to acquire that customer, and use it to acquire even more, making the wheel spin faster and faster.
This movement towards a flywheel model of customer acquisition will also see the blurring and eventual breakdown of divisions between marketing and customer service, in order to create a more seamless end-to-end customer journey.
Customer success rather than customer service
This customer centricity will also lead to more of a focus on customer success, as opposed to customer service.
In other words, it's not going to be about just handling complaints and troubleshooting issues, but rather actively helping the customer get the most value from your product or service.
This will help foster stronger relationships with customers and encourage positive word-of-mouth.
Voice search will shake up SEO
Did you know that over half the Australian population now use voice search? And you can expect this number to increase, as people unpack the Google Homes and Amazon Alexas they got for Christmas.
This has the potential to shake up SEO in a big way. Voice searches tend to be very different to text searches – they are typically longer queries phrased in the form of a question. And the results are very different too.
Rather than providing hundreds of results, with 8­–10 results per page, a device may only provide 2 or 3 results at most – and the majority of the time, they will only provide one. This means it's more important than ever for brands to rank number one.
Marketers will need to look ahead at how to incorporate voice into their strategies – or risk getting left behind.
We may have reached peak Facebook
Facebook's had a tough year. In 2018, reports of several Facebook data breaches came to light, their share price took a tumble, and younger generations have been leaving the platform in droves.
While Facebook remains a powerhouse for the moment, marketers may need to keep a close eye on how effective it is in terms of your brand's strategy – your target market may soon start drifting away from the platform as well.
Even if people don't necessarily leave the platform, it's likely they'll be spending much less time on it – meaning marketers will need to explore other distribution channels, such as native advertising, in order to get their content out there.
It's time to get creative with content
There's no denying that content marketing works. But now that everyone has caught on, marketers may have to start getting a little creative in order to be heard above the noise.
Video is still going to play a big role – according to Hubspot, videos on landing page can increase conversion rates by 80%, while the word "video" in an email subject line can increase open rates by 19%.
And it doesn't have to gouge your budget either – turns out people prefer lower-quality "authentic" videos or ones with a high production value, meaning you can get started with just a smartphone and a smile.
But content is also going to become much more diversified, with formats like podcasts, audiobooks and live streaming gaining traction. And we may be venturing off-screen more as well, distributing more physical copies of material with products or salespeople, or holding more events.
More adoption of AI
The AI hype isn't over – prepare to hear a lot more about it in 2019.
The discussion will be more measured, however – turns out AI isn't the magical cure-all for everything that ails us, but rather another tool in the marketer's belt, one that works best when geared towards empowering the marketer rather than replacing them.
Expect to see applications that will help us get better at understanding attribution, tracking customer journeys, corralling unstructured data, and supporting customers. We also predict chatbots will become more ubiquitous and sophisticated, further alleviating the burden on human resources.
Does the thought of keeping up with all these trends have you quietly weeping into your morning coffee? Never fear – help is at hand. Get in touch to find out how you can make 2019 a banner year.
Brand chemistry is a b2b marketing agency winning your customers' hearts and minds through inbound, brand, content, lead generation and digital strategy. Our marketing specialists achieve stellar results with the latest lead generation techniques.