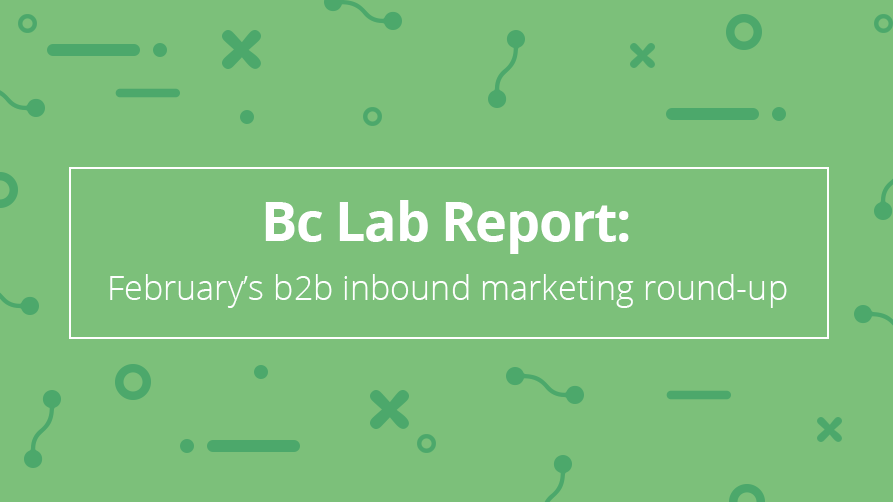 This month Brand chemistry is introducing our monthly report on all b2b inbound marketing trends. Basically, it's a post dedicated to awesome inbound marketing tidbits and nuggets of wisdom you should know about.
Welcome to the:
February b2b Inbound Marketing Round-Up
Our February agency theme was inbound marketing and why it can work so well for the professional services industry. This is a unique space for b2b marketing so, let's see what pieces of wisdom and advice you should consider taking onboard if you're in the professional services industry.
1
"Research is the bedrock of any modern marketing effort...By conducting research, you'll know your clients better - which puts you in a position to serve them better". These Lee Frederiksen words couldn't be anymore true - without researching you will have no idea what questions your clients need the answers to!
2
Spend about 80% of your time executing while dedicating at least 20% to planning. - Nathan Ellering explains there's no point in creating an incredible content piece without giving it the time it deserves to be executed and distributed. We would add that there is no point writing a content piece unless you've done your keyword research and planning to ensure it will resonate with your audience. While the 80/20 rule might not work for you, carve out a chunk of for each project that enables you to plan for success and analyse opportunities to optimise.
3
"Not all blog posts headlines are created equal. In fact most of the headlines I see from guest posters are extremely boring." Read this fun post by Adam White for some very helpful headline tips to assist getting your targets to open and read your content.
4
"Upcycling is a trend to reuse and rebuild previously published information to extend shelf life and boost visibility." Dan Newman writes about some interesting ways to upcycle content in this article. Use the content you've already created and upcycle it by making it into a Slideshare. Re-publish it on LinkedIn to help keep the momentum flowing and ensure your content isn't left for dead in the dark depths of the world wide web.
5
"Writing a killer press release that blows a journalist away is key to a successful proactive media strategy." - We wrote about this in a blog post recently and believe it's worthy of a share because it can really boost your professional services inbound marketing strategy. Read the post to get more of an understanding of how.
---
Well, there you have it folks. Our first roundup of the year. We hope this wisdom is just what you needed to help turn your b2b inbound marketing up a notch.
Did you read any interesting b2b marketing pieces this month you think we should share? Please let us know in the comments below.
And don't forget, this month we released our 7-Step Checklist to Choosing Your Inbound Agency. Download it to help you make the right inbound agency decision.
Brand chemistry is a strategic inbound marketing agency that goes the extra mile to deliver results for our b2b clients. Our inbound marketing specialists are HubSpot certified and use the latest techniques to provide our clients with a steady stream of relevant new leads.