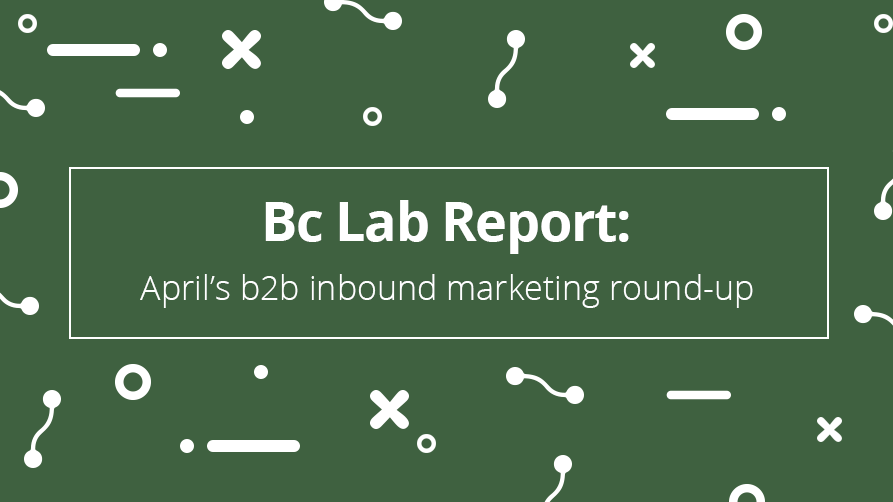 Holy smokes! How quickly did April whiz past? We had a massive month here at Brand chemistry. We've started working with some fantastic new clients and we've continued to help our existing clients exceed their marketing goals.
We also wrote some incredible pieces of content you should check out:
This month a few article caught the team's attention around the web, and we wanted to share them here with you. Settle on in and enjoy reading our April b2b inbound marketing round-up!
We started looking into using Facebook Live Video for one of our clients. Unfortunately, initial research was pretty painful. The information out there was so convoluted that it was almost impossible to figure out how to set up live streaming for a business page. Thank goodness this post popped up. If you're looking at giving Facebook Live Video a try, read this article for an easy-to-understand explanation.


When looking to improve SEO and search rankings, link building is usually one of the first steps. But SEO does take a bit of patience and it usually doesn't take long for the question of "how long will it take to see a difference?" to come up. This article by Kristina Kledzik answers all of those questions and more. Be sure to check it out if link building is on your never-ending to-do list.


While we're on the topic of SEO this great post by Neil Patel goes into incredible depth about how you can use long-tail keywords naturally in your blog posts. His post gives you tips, tricks and tools and it's something our writers at Brand chemistry will be working towards in the next few months.
What were some of your favourite inbound marketing articles on the web this month? Let us know in the comments below!
Brand chemistry is a strategic inbound marketing agency that goes the extra mile to deliver results for our b2b clients. Our inbound marketing specialists are HubSpot certified and use the latest techniques to provide our clients with a steady stream of relevant new leads.