Last month, the New York based Insight Partners released The Periodic Table of B2B Digital Marketing Metrics. Now, we do admit that seeing a periodic table containing b2b marketing metrics had us at hello.
But on second glance, what got us really fired up is this plugging of a b2b black hole. No longer do we need to endure the void of industry statistics for b2b digital marketing. Thanks Insight Partners.
From SEO to social, email marketing to content it's the b2b metrics we've been waiting for.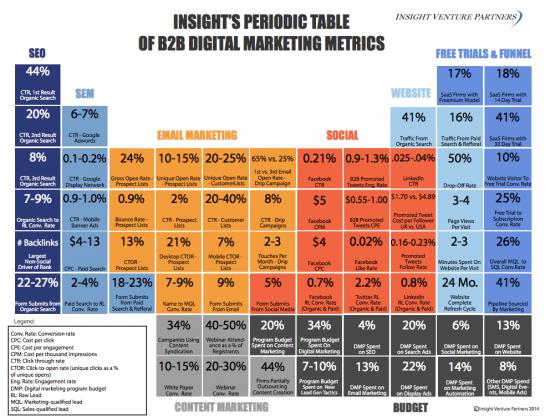 Download the PDF here.
What we think
This table is concise and valuable. It's the benchmark that b2b marketers have needed for years. But for us to be able to use it, we felt it needed local Australia context. The table was produced in the US, so we've reviewed it to translate it for Aussie b2b. It's also worth pointing out that this is just that – a guide. It can't therefore include the context of individual organisational circumstances like industry, competition, budget or products and services offered, but it can be used as a general marketing guide.
SEO Stats
We agree with the table on the SEO side of things. Being on page 1 vs. being page 3 of Google delivers by far the highest CTRs – after all, SEO is location, location, location. Being found on page 1 of any search engine will trump a page 3 position any day. We were slightly surprised that page 3 triggered a CTR of 8% - and based on our experience, would have pegged it at 6% in our market.

SEM Metrics
Insight's standard for PPC mirrors pretty much what we see in Australian PPC campaigns. We tend to see slightly reduced campaign CTR than the benchmarked 6-7% for Google AdWords, but we do agree whole-heartedly on the conversion rate of 2%-4%. Note: this depends on what counts as a conversion – usually in b2b it's a lead or sign up, but if you are looking for sales you need to consider the complexity of the sale you are driving and this may affect your conversion rate estimation.
Email marketing guidance
The Insight guys have nailed the email metrics. B2b email is vital for effective lead nurture. We look for nothing less than 25% open rates from our client lists and 15% open rates from prospect lists. We do find that after prospects have been exposed to several touches they either unsubscribe if the content isn't valuable or relevant and then the ones that stay convert to open rates closer to that of clients.
Social metrics
This is where we think there is the biggest difference. The metrics discuss promoted tweets – which is something very new to the Australian market. In fact it's so new that it isn't available to Australia unless you want set your location and billing settings to the US.
The Facebook metrics are slightly skewed – and we know why. In the US, b2b marketers are much more active on Facebook than in Australia so the competition is greater. In Australia we're still getting our heads around Facebook for b2b which has reduced the CPC. Some of our campaigns are experiencing CPCs of $0.35 - $0.80 – much lower than the Insight Partners' estimation of $4.00 per click.
Website benchmarks
Some of the metrics expressed here, differ slightly in the Australian market. We think a complete website refresh every two years might be a little extreme for some clients (despite it being great for us!). We recommend a website refresh cycle to include ongoing tweaks and a complete overhaul every three to four years, depending on the client's objectives and budgets.
NOTE: Updating content such as copy and images should be done on an ongoing basis and never left for the website overhaul!
Free trials insight
Ah the old Free Trial offer! Our experience tells us that Insight Partners' metrics are pretty much on a par with the Aussie market.
Content marketing stats
Every day, content marketing is growing in popularity and commonality. While content marketing didn't feature as heavily this time round, we believe this was only because of the lack of data available. Content marketing has grown so quickly that it's been hard to get an industry gauge of its effectiveness. We bet this time next year, content marketing metrics will feature twice as heavily in this table.
Budget guide
We love how this table breaks budgets down and shows average percentages of program budgets that go to content marketing, digital marketing and more. We believe this table provides a good sanity check for the breakdown of your b2b digital budget.
Do you know how to measure your marketing performance? When it comes to actually reporting on important marketing metrics make sure you're picking stats that are relevant to your boss. Download our free guide "The 6 Marketing Metrics Your Boss Actually Cares About," to learn more.
Brand chemistry is a b2b marketing agency focused on delivering quality leads and measurable results for our clients. Take a look at our client case studies to find out more.