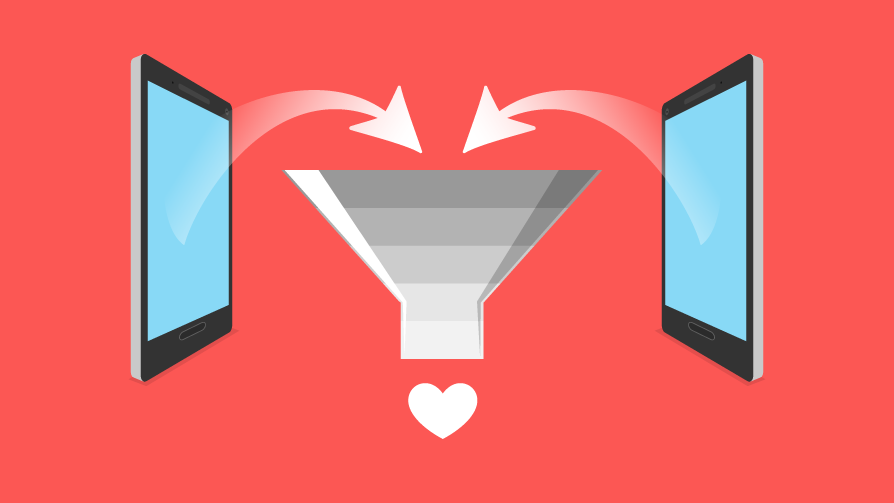 Ever heard the term 'marketing is like dating'? We think it is true for so many reasons. But when you apply concepts of inbound marketing to online dating specifically, it's only then that you realise just how similar the entire process is.
We took a quick office poll to see if certain common behaviours of b2b marketers (that's all of us by the way), are similar to those of the online daters in the office (JUST two of us admittedly, but we've been talking about it for a while, so we still think the data counts). Findings of our comprehensive study are below.
Do you, at regular intervals:
Hope that someone sends you a message when they see your profile? [tick, tick]
Wonder about how you compare to the competition? [tick, tick]
Become more aware over time about what constitutes a good, a bad and … er, very bad fit? [tick, tick]
Try to make yourself as attractive to a good match as possible, from your looks, to your personality and even down to the kind of tea you drink? [tick, tick]
Prefer not to waste time on tyre-kickers and people with no respect for your … talent? [tick, tick]
Clearly, these two are stealthily proven to be … identical. So, now armed with the data, we decided to take a closer look.
What do inbound marketing and online dating have in common, and, perhaps more importantly, how can you use your inbound marketing skills to land the perfect partner?
1. Personas: know your type
Every inbound marketer understands the value of buyer personas for targeted, relevant engagement. This is simply about knowing exactly what you're looking for - that is, what kind of person is the best fit for you?
Without a clear understanding of this, you're going to waste a whole heap of time and quickly become disappointed! Eventually, you'll find yourself leaving dates unceremoniously.
Just like inbound marketing, the starting point of online dating is understanding the kind of person you'd like to meet. It includes demographic traits (age, gender, location, employment status, living situation) as well as personality traits (their behaviour when they're dealing with you) to create a strong picture of your ideal match.
Once you've profiled the ideal match, having a firm idea of who is not a good match is also super helpful, so you don't find yourself doing this on your date:
In both inbound and in dating, this comes from cold, hard experience. In marketing, we call these negative personas, and they help you automatically filter out the, well, the losers, as we call them in the dating game. (Luckily, your loser is another poor soul's winner - so don't feel bad about this.)
2. Go-to-market strategy: putting yourself out there
The first question single people have is: but where do I meet people? Likewise, inbound marketers are always asking: where can I reach prospects?
The dilemma for both online daters and inbound marketers, is that there are so many channels you can use to get yourself seen. Knowing which ones are actually going to move the needle can be tricky.
When it comes down to it, you need to assess your channels using the same key criteria:
How much it will cost (free is good!)
Would your target persona use it (is it popular with that specific audience?)
How targeted you can be (what can I filter by?)
What are your promotional options (how will they match you?)
The follow-up process (what's the next step after I vett them on the app?)
And just like online dating, marketers will find themselves testing on multiple free (and maybe even paid) channels, widening the net as far as possible, until they find something that works really well for them.
3. Optimising your online profile: how to get them to swipe right
Whether you're marketing yourself to a pool of prospective suitors or marketing your b2b business to your buyer personas, first impressions matter - so make them count.
Just like inbound marketing, your prospects need to get a real sense of who you are within seconds, so you need to let your visuals say as much about you as possible.
This has as much to do with personality as it does looks, so choose your imagery carefully! Some guidelines: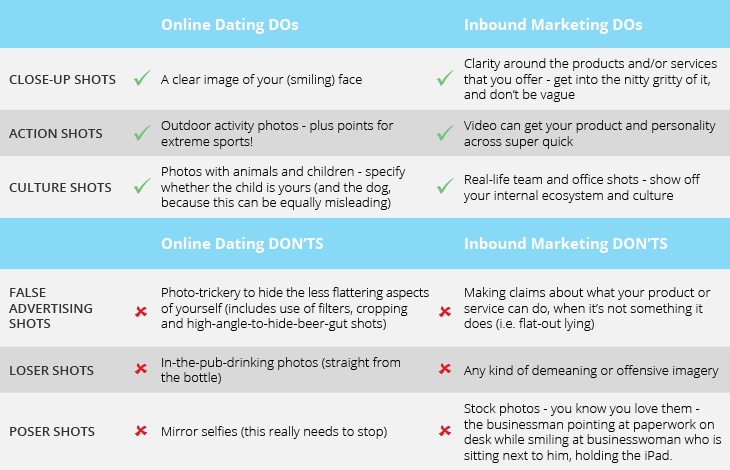 But that's not all - on your profile page, you have some space to write a little introduction. This is where you can showcase your personality and stand out from the crowd. You don't have much space, so make sure you say all the right things to pique interest.
The voice and tone of your copy is your key to getting attention - think of these as meta descriptions, enticing users to click through from the search results page.
4. Filling the top of the funnel: how to spray and pray in a targeted way
Ok, you're all set. Now it's time to get stuff done. Like marketing, engagement will depend on how much effort you put into it - how much activity you can manage to fit in. If you blog/swipe 5x a week, then you'll see your traffic increase. If you blog/swipe 1x a month, not so much.
Inbound marketing blogs work via keywords and relevance to push you to the top of search engines. So the more you blog, the more traffic you'll see.
The popular dating apps work by matching people who indicate that they're interested in each other (by swiping or liking). So the more you swipe, the more matches you'll get, and the more engagement you'll see.
See?! Identical!
5. Building the pipeline: how to be your own SDR
Now, you have to be your own sales development rep.
A lot of people will match with you, and not say anything. Some people might chat for a bit and then fade into obscurity. Don't let that deter you. Remember all of those Email Opens that never resulted in click-throughs? It's kinda like that. Invest your time in the people that more actively engage with you.
This is the first round of screening - and because you're set up so well, it's kind of done for you.
In inbound marketing, you'd only start reaching out to people with a high lead score or deep engagement. In online dating, you can chat with people who have shown plenty of interest in the early stages and shown sustained interest since then too.
Once you have that personal interaction, you can use your own criteria to qualify and disqualify them based on how good a fit they are. This is important, because no matter how much demographic and behavioural data you collect on them, there will always be things you can only find out about them in person.
6. Nurturing them through your funnel: or getting to that 1st date
This made me giggle, but does apply, and not in a rude way.
First, they opt-in by showing interest. Then if they pass the initial screening process (i.e. they can hold a decent conversation over a period of time), they'll get closer to actually meeting you.
This is what an online dating funnel might look like: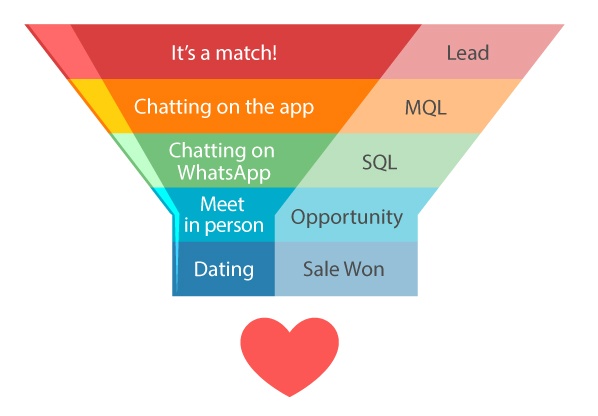 Imagine updating your internal CRM. Opportunity Lost. Reason? Douchebag (drop-down select).
Anyway, as any b2b marketer will tell you, a huge part of nurturing is lead scoring. From the moment you look at their profile to the moment you meet in person, everything is observed and taken into consideration.
In the beginning, it will be demographic traits:
Living situation
| | |
| --- | --- |
| Own place | +100 |
| Own room | +10 |
| Lives with mother | -100 |
Love of dogs
| | |
| --- | --- |
| Has a dog | +100 |
| Wants a dog | +10 |
| Is a cat person | -100 |
Later on, it's all about the little things (behavioural traits).
Texting style
| | |
| --- | --- |
| Making me laugh | +100 |
| Seems like a decent human being | +20 |
| Said "how ru 2day?" | -100 |
Date etiquette
| | |
| --- | --- |
| Offered to pay | +100 |
| Barely offered me water | -50 |
| Was rude to waitress | -100 |
You get the idea. Every interaction you have with them is scored internally. In your head, you're adding and taking away points for little things.
This is a good thing because in the end, a lot of prospects will be disqualified because they're not worth your time. Hopefully though, at the end of all this, you will find your match.
If you want to learn more about the subtle art of getting the information you need out of someone, download our eBook on the art of the interview. Who knows, it'll probably help you ask those tough probing questions on all the dates you'll be on.