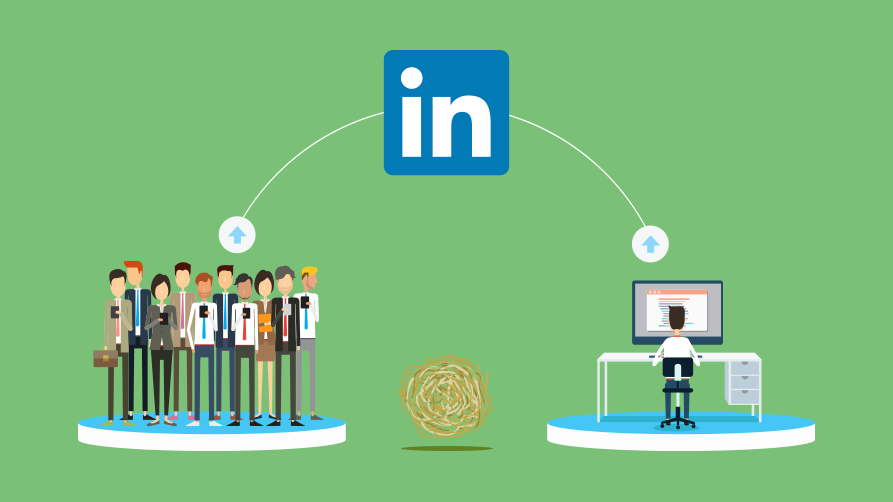 LinkedIn groups are tricky business. Many of them remain as lifeless as your office pot plant after an extended summer holiday - even after almost a year of your utmost attention and TLC.
The fact is that LinkedIn members tend to join only 7 groups on average, across both professional and personal interests. These users are unlikely be active in all of them. Hence, it is a big ask to get someone to join a new group. If they don't see an instant benefit in being part of your community, they won't be motivated to be an active member or even just a member.
In this post, we let you in on a few best practices to help you build a successful LinkedIn group and to avoid the risk of it turning into a barren wasteland.
1) Nut out a social media strategy
A social media strategy spawns from your overarching marketing strategy and defines how your organisation will use social media to achieve its marketing goals. It supports and amplifies every step of your marketing plan, and ensures that your social media plan is well-aligned with your other marketing channels.
Without a social media plan, your social efforts will not have a goal. Without a goal, you won't know what you should be focusing on. Without a focus, you won't be able to execute your tactics effectively, resulting in a waste of time and budget spent on your social media efforts.
Once you've done your due diligence and are informed that LinkedIn groups are one of the tactics that will get you closer to your goal, and that it should be included in your social media strategy, we move on to the research part of building a successful LinkedIn group.
2) Do your research
One of the first questions you should ask yourself before creating a LinkedIn group is, "Is there an existing group serving the same purpose?". If there is, find out how well the group is doing by researching the group's core purpose and benefits, size and the engagement levels of its members. A group may have members in the thousands with a low level of engagement, or in the hundreds with a high level of engagement. You want to measure success by quality over quantity, where a thriving group provides more value for its members than a less active one.
One of the greatest lies a marketer can tell oneself is that their new LinkedIn group will be better than the established ones in the same category. This may come true given time and perseverance, but choosing to compete against an established group is an uphill battle. Instead, focus your attention and efforts on looking for an opportunity to fill in the gap in your niche, and creating a new group that caters just for your audience. Which brings us to our next point...
3) Make sure your group has a focus
And that focus should not be for self-promotion (rookie mistake!).
Before you create a group, you should have strong and clear answers to the following questions:
Who is your group catered for?
What will your members get from joining your group?
What value are you providing for your group members?
To make sure that your group's purpose and benefits are communicated effectively, make use of relevant keywords that highlight the key points, as per your answers to the questions above, in both your group name and description.
If your group's key point is to provide social media marketing advice for accountants, make sure your group captures those keywords in the group name e.g. Social Media Marketing for Accountants or Social Media Marketing for Accounting Professionals.
Following that, it is important that the purpose, benefits and value your group will provide for its group members are clearly stated in the description. LinkedIn group search function picks up these keywords in your group name and description, so make sure you optimise them to be found!
4) Selective membership
The quality of a LinkedIn group is mainly determined by the relevance of its members. If you have a social media marketing for accountants group filled with software developers wanting to learn about digital marketing in general, the members will not find the group useful for them and you won't fulfill your goals.
There are a few ways you can keep the membership of your group to only the audience it's catered for.
a) Invite like-minded connections
As you build your network on LinkedIn, there is a high probability that your connections are mostly made up of people that will find your group beneficial. Use the "Send Invitation" group function to invite these contacts to your group. You can also invite contacts who are not on LinkedIn. Recipients who accept your invitation will automatically become a member of your group.
b) Manage your group consistently
Moderate your group for requests to join daily. Completing this task daily will encourage group growth.
5) Keep your group engaged
Last but not least, it is important to keep the quality of your group at a high level. There are a few ways you can achieve and maintain this.
a) Encourage high quality discussions
Start discussions with open-ended questions to encourage feedback beyond one-word answers. Respond to comments and likes to keep the conversation going! You can also maintain the group's freshness by posting timely content and closing discussions and other content that no longer needs comment or likes.
b) Say no to spam
Spam is one of the top reasons people leave groups. To avoid falling victim to this silent group killer, keep your group spam free by reporting spam and reviewing flagged content in your moderation queue.
c) Using group announcements
Announcements are a great way to keep your members in the loop on the latest happenings in the group. Send an announcement highlighting the 3 most popular discussions of the week. This will encourage those who missed out to get involved and remind those who have contributed to revisit for new comments. You can also send announcements to celebrate group milestones e.g. reaching X number of members.
At the end of the day...
Building a successful LinkedIn group isn't something that happens overnight (we wish!). It takes time, patience and commitment to strike the right balance of content posted per week (you don't want to inundate the group, but you also don't want the group to be quiet and non-responsive), and the effort needed to maintain the group's health and its changing dynamics as it grows.
Social media is a key part of an inbound marketing strategy. If you'd like to learn more about how inbound marketing can help fast-track your company's growth, download our Quick-Start Guide to Inbound Marketing for Technology Companies today.
Brand chemistry is a strategic inbound marketing agency that goes the extra mile to deliver results for our b2b clients. Our inbound marketing specialists are HubSpot certified and use the latest techniques to provide our clients with a steady stream of relevant new leads.