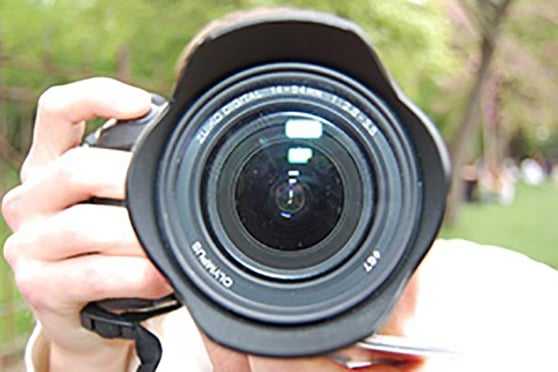 A picture is worth a thousand words: and that's probably why selecting the right images for your brand can lead to such wordy (and emotional) arguments within the marketing team. It seems like such a subjective process, right?
The fact of the matter is that image selection is one of the most powerful tools in your branding arsenal. Because we humans are judgy types! Before we even read a headline, Facebook post or brochure we are already forming an opinion about your brand, just based on the images we see.
Luckily, you don't have to rely solely on your gut feeling when it comes to picking pictures for your next brand project. Here is our Alchemist's guide to choosing imagery that really speaks for your brand. And it might even boost your conversions!
Step 1: Is it relevant?
Now, we know that grumpy cats are popular on Facebook. They might even get a few likes for your company page. But in a market that is completely saturated with content, you need to be original to stand out from the crowd.
Using random or irrelevant images can distract your customers and create doubt and uncertainty. Has your business gone into cat food wholesaling? Instead of going with the mainstream, try using images that reflect your company's philosophy or are directly product related. If possible, choose images of your actual business. You're doing great work so don't be afraid to boast about it a little bit!
Step 2: Is it surprising?
We don't mean the kind of surprise that leaves you gasping in shock or make you choke on your sad desk lunch. We are talking about whimsy.
You know, that subtle smirk you get when you see something new and clever, while all at once knowing exactly what is going on? That's what we want. Using surprising, original images instead of cheesy and predictable stock photos of people with headsets working on laptops will help you take your brand to the next level.
Step 3: Does it fit into context?
Everybody loves a good story. But you won't get many reads if your visual hook is not getting the right message across (bugger, all that hard work in vain).
Context sets the mood and tone for what the customer is about to spend valuable time reading. When it comes to images, this can be as subtle as lighting or tone, or as complex a subject matter as race symbology.
So, what story does your brand want to tell? Make a list of the key elements that make up your brand story and try to include these where possible in your selections.
Step 4: Does it represent your audience?
Did you know that using images of the right people can boost conversion rates by more than 95%? Images of people help creating emotional connections with your brand. The trick is to find images that represent your audience without falling into clichés. Be wary of using too many stock photos. Their inauthenticity can repel people instead of evoking real emotions.
Our tip: where possible, use photos of real humans, ideally customers or staff (no airbrushed models, please). Show them using your product or at work: this also allows you to create some unique content, killing two birds with one stone.
Step 5: Is it consistent?
Consistency is the cornerstone of all visual communications.
When you're grabbing a drink from the fridge at your corner shop, do you look at every label? Or do you see a familiar red colour, perhaps a swirl of white letters and reach towards the brand that you know, you trust and you understand? Before you have even read a single letter, you're using learned visual cues to make assumptions and recognise the brand.
The same concept applies to your choice of imagery. We can distinguish a Chanel ad from a Roberto Cavalli ad before we've even seen the label on the perfume bottle. It all comes down to the messaging in your images. So before you start setting up your new image library, have a think about what messages you'd like to convey. Do you want to come across as fun and innovative? Or is safety and reliability more important to your customers?
Once you've determined your message make sure the images you choose consistently tick all the right boxes. Over time your customers will be able to recognise and gravitate towards your brand before even reading a single word!
Now it's time for you to take action and get out of the generic brand imagery trap. So go ahead and turn generic into genius!
Want to know more about the different types of brands? Download our free "Explorer, Hero or Outlaw: Which archetype is your brand?" ebook today.
Brand chemistry is a strategic brand agency. With more than 10 years experience building brands, we know what it takes to stand out amongst your competitors. Take a look at our client case studies to find out more.