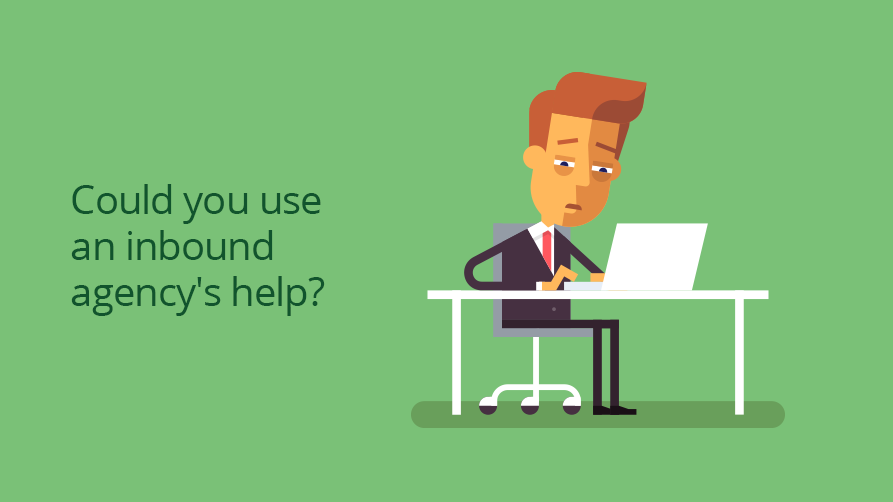 Marketing a b2b software company is a lot of work, especially if you want to get traction with inbound marketing.
Inbound marketing is a hungry beast and many software marketers struggle with the ever-growing demand to produce content, generate backlinks, report and analyse effectiveness, as well as continuously adjusting the strategy based on results. If you're a one-person show, have a small team, or are the Managing Director who is also trying to take care of marketing while running the business, the workload can quickly become overwhelming and you might want to consider outsourcing to an agency for help.
Budget, internal skills and resources, as well as time are obviously important factors when you're thinking about outsourcing to an inbound marketing agency. But it really should only be part of your decision-making process. The other part is about assessing how well you're currently doing with your software marketing strategy. Because let's be honest if you've already invested in the platform and are putting a lot of time in your content creation process, you want to make sure it's delivering results.
When businesses who have already started their inbound marketing journey come to us for help, we often find that they were missing out some strategic steps in the beginning that prevent them from reaching their full inbound marketing potential. Luckily it's not too hard to find out whether you're on the right track and there's no need to despair if you're not. With a few tweaks an experienced inbound agency will have you back on course quickly. But how do you know you need one to help you?
Here are 5 tell-tale signs that mean you need to hire an inbound marketing agency.
1. You're not sure who your content is for
If your answer to 'who are you writing for?' remains in the realm of job titles and industry verticals, you clearly haven't done your buyer persona homework.
Most software companies have a number of buyer personas that are involved in the decision making process that leads to a sale. For instance, if you're selling accounting software, your buyer personas might be the operations manager who will eventually sign on the dotted line, the CIO who needs to assess the product from a technical perspective, as well as the accountants who might not have the final decision-making power, but who will clearly influence the operations manager.
Understanding the pain points, needs and motivations of your buyer persona at every stage of the buying journey is a vital step — it will enable you to produce content that delivers measurable results. An inbound agency will guide you through the process and will help you see the wood before the trees. Because let's be honest: it can be hard to think about your buyer's needs if you're so ingrained in your product that all you can think about is features.
2. You don't have a clear inbound marketing strategy
From the outside, inbound marketing can seem like a deceptively easy process. You write a few blog posts, offer a few downloads and schedule everything regularly on social media. That's why many businesses launch into it without much of a plan or a clear goal in mind. The result is usually content that focuses too much on one stage of the buyer journey and therefore fails to deliver results.
For instance, you may notice that your blog is absolutely smashing it in terms of driving traffic to your website and your organic search ranking has got a real boost, but sadly none of these visitors are converting to leads. Whoops!
Planning and documenting your inbound marketing strategy will help you stay focused in your inbound marketing efforts. It's all too easy to fall into the trap of trying to tackle every stage at once and then not covering any of them properly. An inbound marketing agency will help you prioritise your most important tactics and ensure you're addressing all stages at the right time. PLUS: you will get regular progress reports and recommendations on next steps.
3. You're not sure what kind of metrics mean success
Increased traffic to your website is great, but it's really a vanity metric that has no real significance unless you can prove those people are moving further down the buyer's journey.
Think about it, let's say 1,000 people looked at your website last week and you captured 10 emails with your pop up form. This week only 300 people have visited your site, but 40 of them have downloaded an ebook. It comes down to a quality vs quantity debate. The second example is the aim, you're getting more details from a lead when they download an ebook and and there was a higher percentage of visitors converting.
If you're slightly boggled by this, it's worth getting an agency onboard to at least help you setup your systems and give you the right advice about what metrics matter.
4. You think everyone on your website is there to buy from you
Sure, some are. But most aren't. Think about it - how many times have you personally looked at website just to price match? Or check out the features just to go to a competitor's website and make a comparison? And sometimes people just want to check you out and see if your company is legitimate. Today customers are savvy and will go the extra mile to make sure the software they've found really is going to solve their problems.
If you (or your higher-ups) think everyone is on your website to buy immediately, and that's the only call to action that can be found, it might be time to call in an agency to help you ensure that the whole leadership team is onboard with inbound marketing, understands its nuances and the transformative effect it can have on the business.
5. You don't know how to convert leads to sales
Once leads have subscribed to your newsletter and are downloading content from your site, it can be very tempting to let things just roll on from there, or let the sales team pick up the phone. But these people are only part-way through the buyer journey and converting to marketing qualified leads, let alone customers.
If you're getting a lot of leads every month, but none of them are turning into customers, your lead nurturing and sales enablement needs a little bit of love. An inbound marketing agency has a clear understanding of the type of content it takes at each stage to convert a lead into an MQL so it can be handed over to sales. They can also help you set up lead scoring and define what constitutes a MQL for your business.
This process will help better align your sales and marketing efforts, ensuring that your leads are managed appropriately at every stage, increasing the chance of conversion.
Final thoughts
Inbound marketing is a complex process and it can take a lot of time and effort to get it right. Hiring an inbound marketing agency can help you get your strategy on the right track and ensure you're publishing content on a regular basis.
Think about inbound marketing agency as your outsourced marketing department that you can dial up or down as you need it. Your strategies are created by experts with years of knowledge and experience, content specifically catering to buyer personas will get you ahead of your competition and you'll have a stronger lead nurture game than you've ever had before.
Want to know even more about inbound marketing? You need to download The quick-start guide to inbound marketing for technology companies today!
Brand chemistry is a strategic inbound marketing agency that goes the extra mile to deliver results for our b2b clients. Our inbound marketing specialists are HubSpot certified and use the latest techniques to provide our clients with a steady stream of relevant new leads.