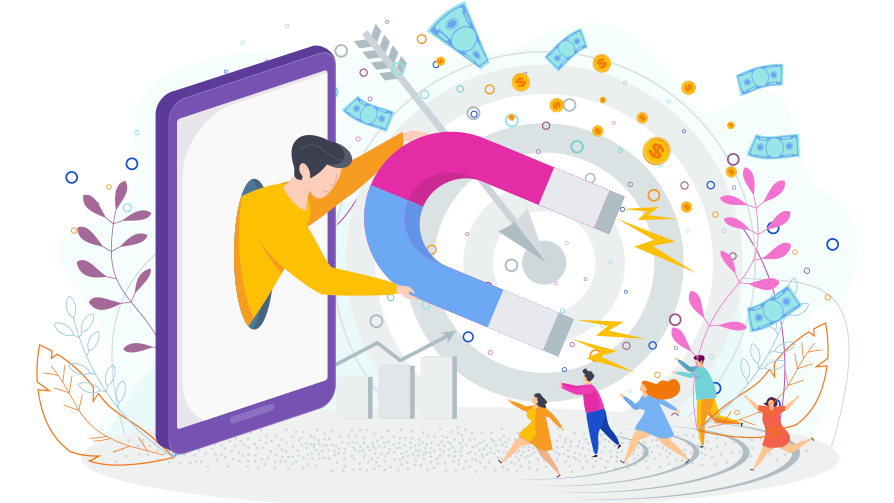 Marketers are facing many challenges these days. Not only has the global pandemic turned many sectors and business models upside down, the digital space is also undergoing seismic changes. And while all this can no doubt be exhausting and make it difficult to stay ahead of the curve, it's also a good opportunity to reboot your marketing efforts with some fresh tactics, strategies and marketing trends. That's what we're doing here at Bc, and we wanted to share our ideas and methods for levelling up your marketing in 2021.
1. Diversification and experimentation
As Google strikes deals with news publishers to stay in Australia, Facebook bans news sites from sharing content, privacy regulations tighten, and we consider marketing beyond cookies, we see an invitation for more diversification and experimentation.
It's never been a safe bet to take a single-channel approach to drive business results. As the saying goes, don't put all your eggs in one basket - an omnichannel marketing strategy is better. This way, you can distribute risk and prepare for the challenges of inevitable disruption.
It's an unfortunate truth that many of the channels marketers use aren't our own. And without 100% ownership, there isn't 100% control or authority. From Google Search to social media accounts, we can't assume these channels will remain the same or be available to us in the future. Spreading our efforts across many channels and always emphasising the channels we do own (websites and email lists) is key to long-term success.
So if we can't do what we've always done, what are our options? Here are some things we have on our mind for this year:
Advertising on podcasts
Posting on LinkedIn from individual accounts, rather than business accounts
Putting the focus on brand and standing up for something (ie. not shying away from having an opinion)
Looking into alternatives to the tech giants, like Bing search engine
Now is the time to start testing new strategies while we can still rely on our 'old' ways of doing things (like re-marketing). Rediscover the joy of exploration!
Take action: Brainstorm a fresh hypothesis, set a metric for success and give something new a go!
2. Focus on conversion, not just traffic
At Bc, we're always interested in optimising our content process for clients. Many of our clients now have hefty libraries of blog and article content, and as content marketers, we know these resources are a treasure trove of optimisation opportunities. But just as important as the content assets themselves is the data you collect about them.
Start by analysing your traffic, lead gen and conversion metrics. Use these insights as your guide for future content creation and optimisation. Lean into the topics you can see are converting well by:
Maintaining traffic to high traffic, high conversion topics
Adding content to low traffic, high conversion topics
Considering retiring content with 'empty traffic' (low, non-converting traffic) - just make sure you've given this content its best chance by optimising for conversion first!
Take action: Audit your content and focus on high conversion topics.
3. Prep for the Google Algorithm change in May
Last year, Google announced that from May 2021, they would incorporate page experience signals in Google Search ranking. Google says these signals "measure how users perceive the experience of interacting with a web page beyond its pure information value". Signals include loading performance, interactivity and visual stability of the page.
These page experience signals join their existing search signals (mobile-friendliness, safe-browsing, HTTPS-security intrusive interstitial guidelines) as part of what determines ranking.
At Bc, we're preparing to review client sites before the rollout and planning for how we will monitor afterwards to ensure sites aren't penalised.
Take action: Review your website before May 2021 and optimise for page experience signals.
4. Build the relationship between marketing and sales
It's not news that fostering a healthy relationship between marketing and sales is good for business, but this year at Bc we're strongly invested in improving this connection to boost results.
Some of the ideas we have brewing include regular meetings or shared documents between sales and marketing to pool information. Another template we'll be developing is a standard email from marketing to sales sharing new content and resources which the sales team can use to support their work.
Take action: Reassess your relationship with sales and devise methods to make it stronger to better your results.
5. Being inclusive to multicultural audiences
2020 was a year that challenged the world, and for many people, those challenges were even more remarkable than many of us can imagine. At Bc, we learnt that we need to be more aware, inclusive and diverse.
The Black Lives Matter movement, among many other vital happenings, highlighted that it is not okay for brands to step back and ignore what's happening in society. We have seen a significant shift in branding, from alienating people by having an opinion, to alienating people by NOT having an opinion.
Take action: Don't shy away from taking a stance on an issue - your audience is waiting for your view.
Want to learn more about how the digital world is transforming and what your B2B business needs to do? Register for our webinar, The digital world is changing: What B2B marketers need to know, today.
Brand chemistry creates brilliant content to get your brand in front of the right people. With lifecycle strategy, whip-smart word wrangling and striking visuals, our content marketing gets you results.