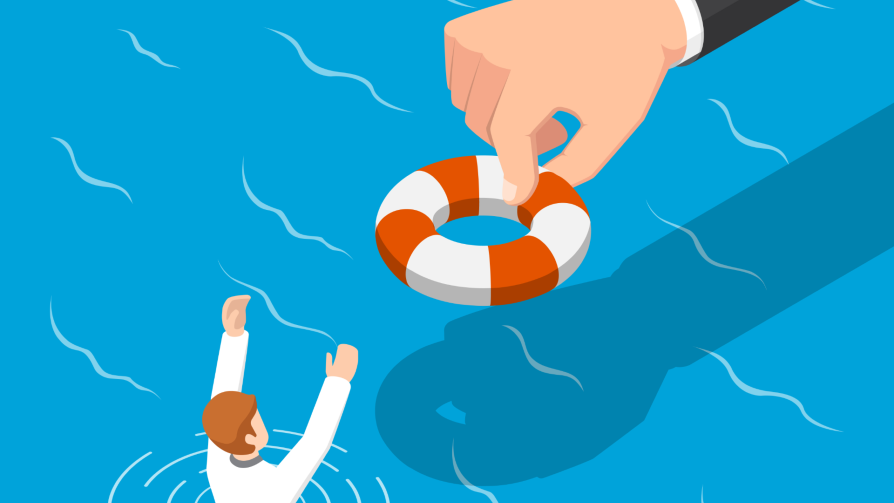 It's not an understatement to say that COVID-19 has had a sudden and dramatic impact on our world. In the space of a few short months, we've gone from a bright, hopeful outlook on the new decade to a very muddled view of our health and economic prospects in 2020.
While some industries have felt the effects more than others, almost 90 percent of Australian businesses are expected to be impacted by COVID-19 in the coming months. While there's no denying that the situation we find ourselves in is unique, this isn't the first economic downturn we've ever seen.
In the midst of such uncertainty, it helps to look at what has gone before. The Global Financial Crisis (GFC) of 2007–09 provides some encouraging examples of what businesses in a downturn can do to not only survive, but also come out the other side ahead of their competitors.
We'll identify four lessons on marketing in a recession that we can take from B2B businesses who thrived in the last economic downturn.
1. Invest your way out
Despite initial cutbacks when the GFC started in mid-2007, including closing four plants and 6000 redundancies, Intel's long-term strategy for surviving the recession was to invest in creating faster, smaller and more energy-efficient computer chips.
In early 2009, towards the end of the GFC, the computer microprocessor inventor and manufacturing company announced a $7 billion investment in upgrading their manufacturing plants.
By aggressively improving their product and fast-tracking its market release, Intel pressed its competitive advantage and were able to stay miles ahead of their competition at a time when the industry was struggling. When their clients began buying again, the pent-up demand saw their profits soar to a 10-year high.
Not only was Intel's product now notably better, but they had communicated strength during a time of uncertainty to stay in the forefront of their market's mind.
Intel's spokesperson, Chuck Mulloy said "You never save your way out of recession. You invest your way."
The marketing lesson?
Don't stop investing. While most of us will need to make cutbacks, think about what your customers will need most when budgets are freed up again. This may require an adjustment in the form or quality of your offering, as well as a review of your brand marketing tactics.
2. Make every dollar count
At a time when money was tight, businesses during the GFC were forced to be careful with every dollar. For software crowdtesting company, uTest, this meant placing a priority on high-impact tactics. This can only be achieved when a company can measure the ROI of each dollar spent.
"Not having access to capital forced us to say no to many of the ideas we thought were great at the time," said Doron Reuveni, founder and CEO of uTest, now known as Applause.
Not only did the company survive the recession, but they experienced such phenomenal growth in subsequent years that they were named number seven in the 100 Most Promising Companies by Forbes in 2014.
The marketing lesson?
When times are tough, make every dollar count. Invest only in the marketing strategies and tactics that have the biggest impact, and prioritise strict goal-based measurement.
3. Look for new growth opportunities
Despite almost going under during the GFC, Queensland fruit packing business, Family Fresh, managed to push through and find new opportunities for growth that would protect them from another economic downturn in the future.
The family-owned business focused on expanding the range of products they supply to supermarkets. Responding to the increasing market demand for plant-based products, the company has succeeded in selling a wide range of dairy-free products under the brand Dairy Free Down Under.
As well as diversifying their portfolio, they increased their number of distributors to protect themselves if one goes out of business. The company is now in a much better position to see out another recession.
"I don't think we'd be here if we didn't have that experience [of the GFC]. It really made us push and try to look for different product ranges to expand into," said owner Kevin Flanagan.
The marketing lesson?
Look for new growth opportunities, especially if one of your product areas is struggling. Is there a new growth market or industry you can serve? Is there a new product you could resell or valuable service you could deliver to your current audience? Are there contingencies you can put in place to ensure you can still deliver your offerings in a downturn?
4. The SaaS business model is resilient in a recession
51 percent of organisations already run most of their operations using SaaS applications and that number is growing fast. As remote and flexible working increases, especially in times of crisis, SaaS becomes the logical solution for many businesses.
Not only is uptake high, but the SaaS business model itself insulates against large swings in revenue and profits thanks to its pricing plan that requires ongoing regular payments from clients.
An analysis of the performance of SaaS companies during the GFC demonstrated that the software-as-a-service business model is resilient to economic downturns. Of the 16 public companies studied, 80 percent continued to grow during the GFC, though at a slower rate. The others were tied closely to cyclical industries, such as auto dealers, advertising and recruitment, and while they didn't experience growth, all of them survived the recession.
The marketing lesson?
Now's the time to shift your marketing efforts to focus on your SaaS offering—or relaunch one of your current products as a cloud-based service. Potential customers will appreciate the lower upfront cost, while you'll lock in a secure revenue stream to see you through the recession.
So there you have it—four lessons from B2B companies that survived the Global Financial Crisis. If you're worried about your business surviving this next economic downturn, why not book a free strategy session with Brand chemistry's managing director, Zoe Palmer, to discuss what opportunities may be open to you.
Brand chemistry is a b2b marketing agency winning your customers' hearts and minds through inbound, brand, content, lead generation and digital strategy. Our marketing specialists achieve stellar results with the latest lead generation techniques.