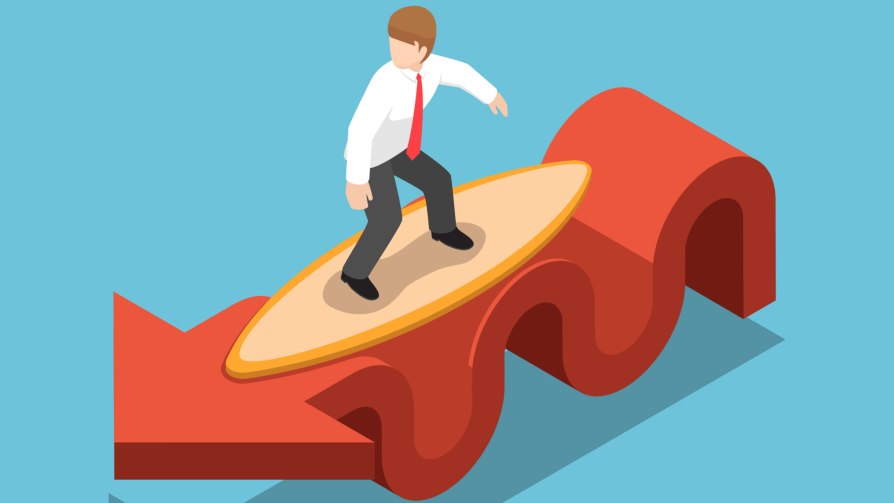 A downturn in 2020 is now almost a given in Australia, with the coronavirus making it fairly certain that we'll see some economic slow-down.
At a time when many Australians are tightening their belts, it may surprise you to learn that the last thing you should do is cut your marketing off at the knees.
It might seem counter-intuitive, but research shows that businesses which cut their marketing budgets during an economic downturn actually do worse, both in the short-term and the long-term. McGraw-Hill Research analysed 600 B2B companies and found that those who maintained or increased advertising grew significantly … both during the recession and the following three years. The result was sales growth of companies that advertised aggressively came out at 275% over those that didn't.
Advertising and marketing are staples in any business—that's how people learn about your brand, after all, and this doesn't change just because the economy is crippled. In fact, maintaining, or even increasing, ad spend in a weaker economy leads to increased sales and market share, both during the recession and afterwards. This is due to:
Less competition in the ad space
Projecting an image of corporate stability
Lower cost of ads due to a "buyer's market"
Increased "share of mind" in the consumer consciousness
In other words, when the going gets tough, the tough keep marketing.
So we've devised four tips to help you build a downturn-proof marketing strategy to see you through the next few months.
1. Agile marketing: adapt or die
Declared the black swan of 2020 by Sequoia Capital, the biggest venture capital firm in the Silicon Valley, the coronavirus is now affecting 60 percent of Australian businesses, many which are still recovering from the effects of fire, flood and drought.
This is a make-or-break moment for marketing teams. The businesses which adapt most effectively to the current crisis and ensuing economic fallout will be the ones to survive. As Sequoia writes, based on their own five decades of experience, "nobody ever regrets making fast and decisive adjustments to changing circumstances".
We're already seeing this quick-thinking marketing at play in China, where quarantine laws have been in effect for weeks. Successful B2C brands are catering to these conditions with livestream events on Chinese TikTok and 360-degree interior views of new cars.
In the days, weeks and months to come, B2B brands will also have to demonstrate this agile marketing, responding quickly to a constantly evolving situation.
2. Digital marketing's time to shine
In February alone, there was a 500 percent surge in event cancellations and postponements globally, which then rose to 875 percent by 10 March. The total economic cost is running into the billions of dollars and there is likely more to come.
For some B2B marketers, exhibition and industry shows represent up to 40 percent of their marketing budget and a significant loss to their overall marketing strategy. However, instead of cutting budgets, as most B2B businesses did following the 2007–08 Global Financial Crisis, now's the time to shift your strategy—and budget—to digital marketing.
Not only does digital marketing not require any face-to-face interaction—a definite plus when mass quarantines are common—but it's also highly measurable, making it easy to identify which marketing activities are generating the most ROI.
3. Direct sunk costs to ABM marketing
With many industries feeling the effects of fire, flood, drought, COVID-19 and the economic downturn, now is the time to start account-based marketing, particularly if you can direct some sunk costs, such as employee hours, towards it.
Account-based marketing (ABM) is about zeroing in on specific accounts that are high value and likely to buy. And in a recession, this also means considering whether you can direct your ABM efforts to the industries that are least impacted by the economic downturn.
According to IBISWorld, the industries least affected by the economic impact of the coronavirus are construction, professional, scientific and technical services, administrative and support services, and public administration and safety. If you have contacts or leads from 'big fish' organisations in these industries, now's the time to give them another look.
4. Data, data, data
This one isn't specific to a recession. Data is important ALL the time… but it's never more important than when budgets are tight. Data is what you use to measure the effectiveness of your marketing strategy, as well identify and target high-impact marketing tactics that will move the needle - even just a bit, quickly and cost-effectively.
In good times, you may be able to get away with marketing efforts that could be described as vague or untargeted. But if you can't show the value of a marketing activity to your boss in tough times, then it's going to get slashed. And as we've already said, cutting the budget is not going to help you survive a recession.
Like some free advice on how to pivot your marketing during downturn?
Brand chemistry is a b2b marketing agency winning your customers' hearts and minds through inbound, brand, content, lead generation and digital strategy. Our marketing specialists achieve stellar results with the latest lead generation techniques.