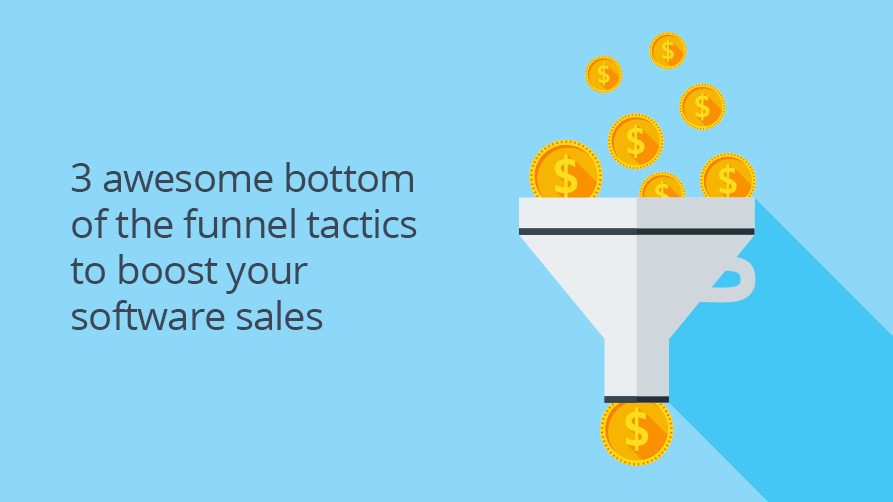 Congratulations. Through a combination of wile, discernment and hard work you've managed to get some really promising leads. But don't pop the champers just yet. We're not quite there.
Marketing teams spend a lot of time and resources snagging a hot list of engaged leads. But like the dog who managed to catch his tail, there can be some confusion as to what to do once you've got it.
This is where Bottom-of-the-Funnel tactics can come into play; it's time to convert interested parties into actual customers.
What is Bottom-of-the-Funnel (BOFU)?
Bottom-of-the-Funnel is simply a term marketers use to describe the content that nudges engaged leads into customers. It is often known as the 'business end' of the funnel and features content that assists with decision-making processes to improve sales.
What should the goal look like?
The big question that BOFU content should be answering is:
Why should I buy your product?
To answer this question you must:
Distinguish yourself from your competitors by demonstrating the unique benefits of your offering
Inspire confidence in your expertise
There are a variety of ways you can do this. For software companies, the below examples tend to be particularly effective:
Case studies
A case study is great because it gives you the chance to demonstrate the way you go about solving a problem. This allows the prospective customer to empathise. In order for case studies to be effective, they must be very detailed and specific in how exactly your solution delivered results for a company.
A great example of this is Jive, a company that creates collaboration software. On Jive's website, there is an entire tab devoted to case studies. If you hover your mouse on an individual case study, then the primary challenge comes up. If you click through, you can download it.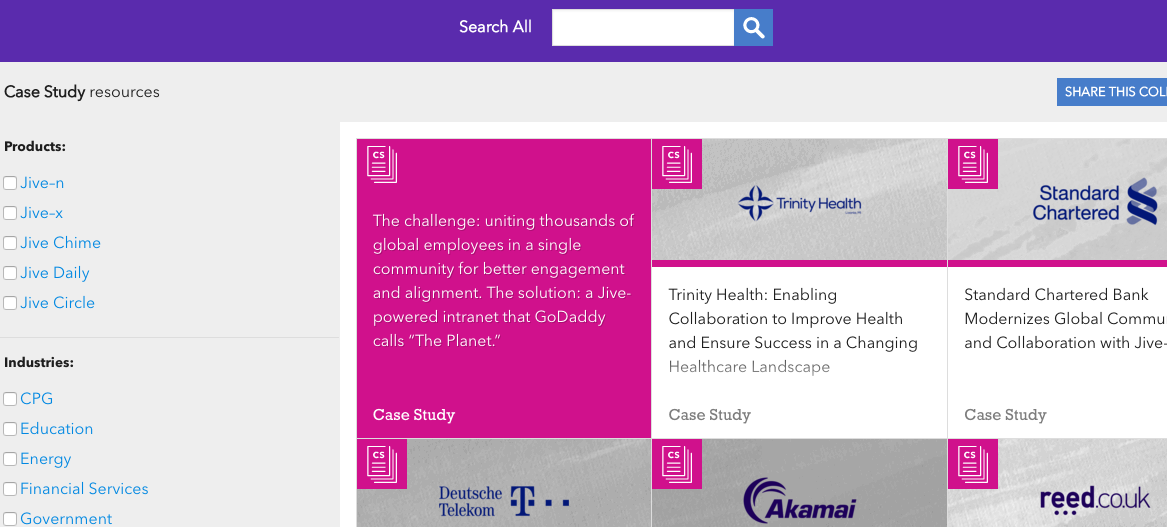 Jive gives very clear and a very thorough account on how they solved the problem, with a whole page devoted to the results. This approach suggests that they are innovative, responsive, transparent and solution-focused.
Free demonstration
This can take many forms but is particularly effective for software companies as their products can be complicated.
Free demos offer businesses a tremendous opportunity to demonstrate their expertise. Your business can preempt any concerns that a customer might have, and having a real-life person deliver it signals that they are a priority for you.
Free trial
This can be a valuable tool because not only is there an immediacy that you don't get with a free demonstration or a consultation, ie the customer clicks and has the program. But you are providing an opportunity for the customer to feel empowered without the stress of a sales rep breathing down their neck pressuring them to make a decision.
In order to do a free trial well, you need to have:
A clear set-up process
An intuitive dashboard
An easy to use system
Content that helps the user really make the most of the software during this period
A way to measure engagement with the how-to content during the trial
A company that does this well is FlexBooker, a scheduling program. It's very easy to sign up for the trial (it's a quick, three-step process,) there is a large, clear FAQ that takes the pressure off the customer, and the program itself is very easy to navigate. Not only is it an enticing prospect for the customer, but the wonderful thing about free trials is that you don't need extra staff to sell the product, the product sells itself.
The content in this instance is also very important. If the software is very complicated or involved a user manual it can help the user seamlessly navigate a program during the trial period, so that the program is showcased really clearly and to the best of its advantage.
Use it!
Knowing how to create great BOFU content and how to use it, is that crucial step between having promising leads and winning valued clients. It's that one step closer to uncorking the champagne.
Finding effective, measurable marketing strategies for tech companies that need to scale quickly can be challenging, but our latest guide book: The Quick-start guide to inbound marketing for technology companies, will help you get there.
Brand chemistry is a strategic inbound marketing agency that goes the extra mile to deliver results for our b2b clients. Our inbound marketing specialists are HubSpot certified and use the latest techniques to provide our clients with a steady stream of relevant new leads.