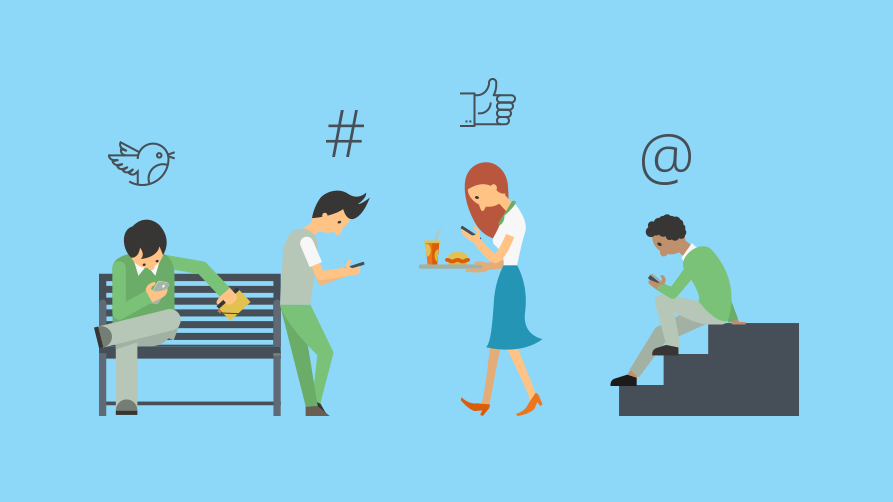 Facebook. LinkedIn. Instagram. Twitter. Snapchat. Pinterest… we can go on and on. So many channels, and so little time to test and figure out which channel is best for your technology or SaaS company.
With 96% of technology marketers using social media content as their main content marketing tactic, you can't afford NOT to be on social media, but that also doesn't mean that you should be on ALL of them. No no...
Social media has definitely proven to improve brand awareness and lead generation for b2b companies. We at Brand chemistry have had amazing results with social media marketing for many of our clients, including our b2b tech client Booking Boss.
We've done some of the hard yards for you and invested a lot of time figuring out what social media is actually worth your time (and advertising money). So let's dive right in: here's an overview of the best social media channels for a b2b tech company.
LinkedIn
I don't think there are any surprises here. LinkedIn is known to be THE social media channel to be on if you're a b2b business.
In fact, 78% of B2B marketers rate LinkedIn the most effective social media platform, and 97% of b2b marketers currently use it for their content marketing efforts. It's also an excellent channel for networking, improving thought leadership and generating leads.
Lead generation is one of the biggest challenges for tech companies. To get leads on LinkedIn, we recommend that you invest a little budget into LinkedIn's Sponsored Posts function.
You'll need to set your company page up before you can run ads. If you're new to this, we recently wrote a helpful post on setting up your first Sponsored Post on LinkedIn that you should check out - how timely!
With its comprehensive targeting options, you're able to narrow down the audience you really want to reach and serve them with compelling ads.
Paired with persuasive copy, imagery, a snappy title and compelling description, you'll be able to achieve a decent CTR with your ad. At Bc, we've achieved an average CTR of 0.6% for Booking Boss and 0.7% for ourselves (this doubled the industry rate at the time, which was 0.3%).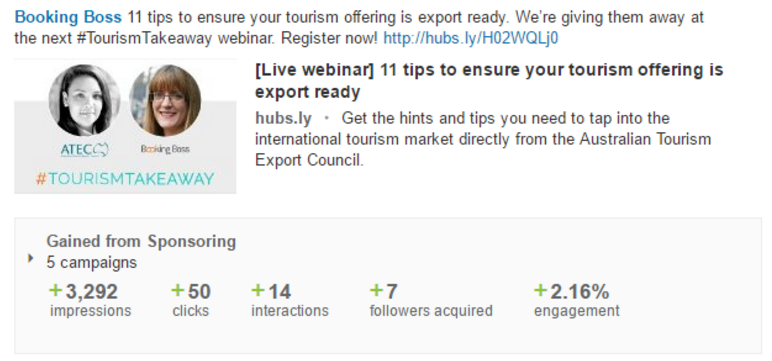 A high performing ad campaign on LinkedIn
We're aware that the cost-per-click on LinkedIn can appear pricey. However, we assure you that with the right targeting and ad, the quality of leads you'll receive from this platform will be one of the highest.
LinkedIn has also added 'lead gen forms' for users on mobile so that they aren't directed to an outside landing page. This is a great way to get those browsers who are scrolling on commute home - but beware, you're going to have to manually upload these lists unless your marketing automation platform is integrated with LinkedIn. The upside is: increased conversions.
Also, LinkedIn's new retargeting feature is one to take a look at. They call it Matched Audiences, and it's an excellent way to create another touch with the same targets, to deepen the relationship, remind them to act or to increase recall. Unless you have a sample size of 300 people visiting that page, though, it never gets off the ground. In terms of post frequency, we recommend posting at most once per day - and nothing too salesy.
Key takeaways:
Try and test your copy, imagery, title and description to achieve the best results

(

read this blog post on how to A/B test for Linkedin

)

Be slightly more formal and professional in your wording
Don't be afraid to have your company culture shine through your ad
Facebook
Facebook is amazing if you want to get your brand out there! Following Facebook's new algorithm changes, brands will need to buy ads to cut through the crowd. Plus, they have to know how to target the right audiences to maximise return on their advertising investment.
You may ask, we're a b2b company why should we be on Facebook?. The question is: do you have the time to lag behind your competitors?.
You do not need to continuously spend money on Facebook advertising, but you DO however, need to spend a substantial amount ($500-$700 per quarter) in the beginning to lift your brand off the ground, and then advertise periodically according to your campaign plans.
Investing in ads will get you Page Likes and followers (besides clicks to your website of course) - after which, you'll have an audience to engage organically with!
Our client Booking Boss has seen amazing results from this platform, not in the form of lead generation, but in the form of brand awareness.
After analysing the performance of the different types of ad content Booking Boss runs on the platform (gated content offers and blog posts promotions), we found that Facebook traffic that came through to Booking Boss' website doesn't convert as well as LinkedIn's traffic does.
Having said that, the Facebook crowd is definitely an engaged bunch (liking the post, the page or clicking on the link).
Check out one of Booking Boss' most engaged boosted posts (blog post) below: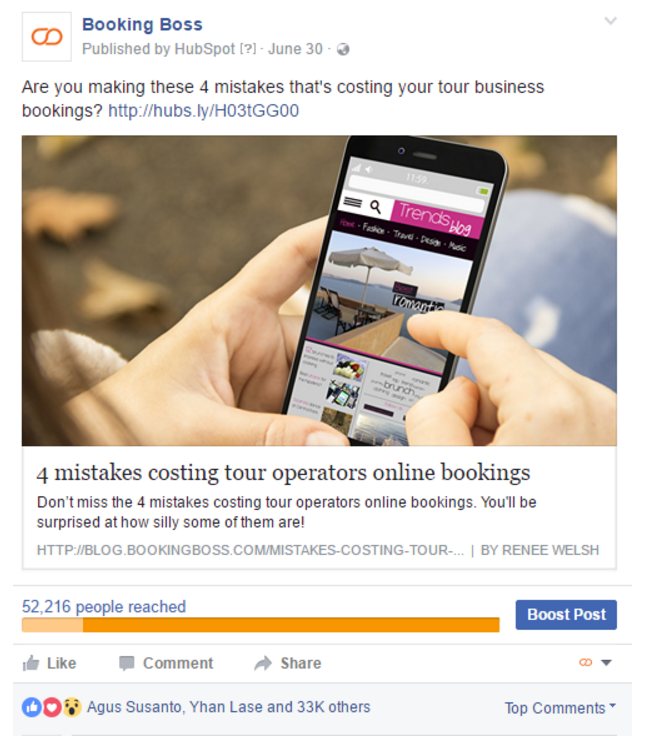 Hence, Facebook is now used with the goal of gaining engagement and subsequently brand awareness, rather than generating leads.
In addition to PPC ads, Facebook offers retargeting. You can do this through a platform like Adroll or directly through Facebook itself. We've found that often this works better than PPC.
Also, since Facebook is quite a 'personal' platform, we recommend putting awareness-level content on it, instead of consideration or decision-stage.
Key takeaways:
Again, always try and test your ad copy, imagery, title and description
You can be more informal in your writing
Let your company culture shine!
Never buy page likes and followers - you want quality, NOT quantity


Twitter
Of course you have to be on Twitter! The fast-paced 140-characters channel is not just noise if you know how to slice through all of that and provide your followers with valuable insights and support at the same time. And how do you do that?
Hashtags
Research the most popular hashtags in your industry. After that, find out the most commonly used (and relevant) hashtags used by your target audience. If you have a social media management platform (awesome!), create and set up separate monitoring streams to track mentions of these hashtags. You can also use Tweetdeck.
With these insights:
you can retweet tweets that your followers will find valuable
you can reply to these tweets to show your thought leadership and put yourself on the other account's radar
and most of all, you can keep on top of trending topics that may just inspire your next piece of possibly viral content!
On Twitter, a mixture of posts that are salesy and educational work well, all linking to your content. Wherever possible, try to reply to other people's tweets and engage your audience more personally.
Lists
We at Bc are huge fans of organisation, hence we LOVE lists. Twitter allows you to categorise your followers and following into different lists of people your business deals with. When they're set up you can quickly prepare and go into these lists knowing exactly what to expect and what content is best to engage with them.
Twitter as a customer service tool
Using social media as a customer service tool can be tricky. Do it right and your customers will love you for it, and do it wrong, you might attract the wrong kind of attention for your efforts. Luckily, we recently compiled a few lessons we can all learn from those who've executed their social media customer service strategy beautifully and those who didn't.
Final word
The key steps to knowing which social media channel you should be on and how you use each channel to achieve your goals, are very much dependent on knowing your target audience and how to resolve their pain points.
But what's next? Social media isn't going anywhere, but Facebook Messenger is definitely stepping into the b2b marketing game!
If you need help with getting your technology business off the ground, inbound marketing could be the answer you're looking for. This quick-start guide to inbound marketing is specifically written to help b2b technology companies scale and grow effectively. Download it today.
Brand chemistry is a strategic inbound marketing agency that goes the extra mile to deliver results for our b2b clients. Our inbound marketing specialists are HubSpot certified and use the latest techniques to provide our clients with a steady stream of relevant new leads.