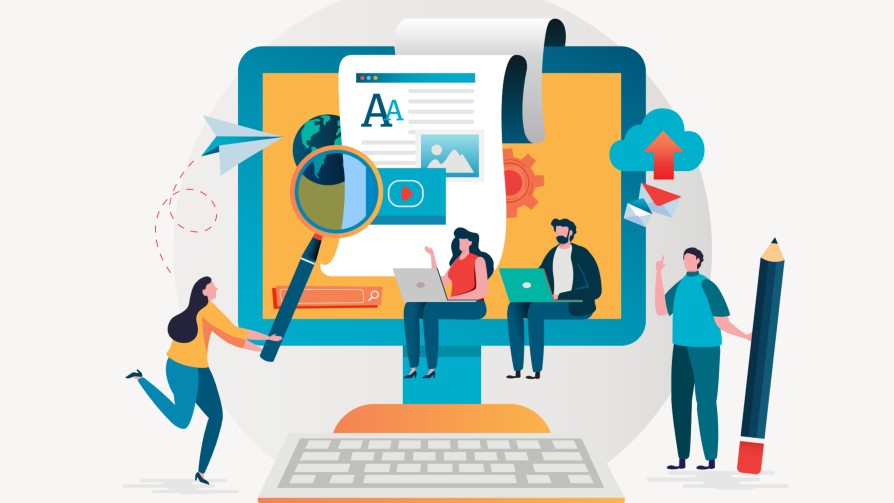 We're not afraid to say it: We're total, 100%, bona fide B2B marketing geeks. And to keep our geek credentials up to date, we continue to learn, experiment and deepen our understanding of current techniques.
Sure, B2B has a reputation for being a little behind our B2C cousins, but we're here to tell you that's no longer the case! The new class of B2B marketers are dynamic by nature, and always looking for new tech-driven ways to connect. And today we're letting you in on the trends, topics and tools you should be embracing now.
1. Account-Based Marketing
Account-based marketing (ABM) is on the up and up. In 2019, 55% of marketers rated their ABM strategy as "established" compared to just 43% in 2018. Add to that the fact ABM budgets have increased at an average of 41% and it's evident that ABM is picking up steam, but what's the big deal?
At its core, ABM is all about spending your marketing blood, sweat and tears selling to a small number of specific prospects that you KNOW will benefit from your product or service. Think of it as fishing with a spear, instead of a net.
ABM gives marketers a fresh and effective way to target specific companies and generate new business in a highly personalised, outbound fashion. It is especially suited to you if you have large, complex deal sizes and a known addressable market.
Most excitingly, ABM can get very sophisticated if you're using data enrichment strategies that tell you when your target companies are showing intent, and if you have the resources to take a highly personalised approach to each individual approach.
Many marketers claim that ABM initiatives outperform other marketing investments, which is why we love it too. However, it does require close collaboration between sales and marketing, as well as a laser beam focus on particular targets.
2. Video Content
Aside from making it clear that most of us are pretty average when it comes to interpretive dance, TikTok has taught us another, more valuable, lesson - video content (while not new), is booming. With fast 5G rolling out, video is going to continue its global takeover of feeds.
In the B2B space, video has many roles, but we're currently digging its ability to improve the recipient's experience of directive content. We're talking:
Q&As
Live streams
Product or service tutorials
Whether it's professionally produced video content or quick-and-easy Instagram stories that disappear within the day, video is killing it in the engagement stakes - just make sure you're adding subtitles!
3. Personalisation
Did you know an email with a personalised subject line is almost 30% more likely to be opened than an email with a generic subject line?
It's 2020, and people EXPECT a personalised experience. Whether it's personalised product or service recommendations, hyper-targeted communications or tailored marketing tactics, personalisation is key to nurturing your leads and retaining your customers.
At Brand chemistry, we also love HubSpot's dynamic content feature for pop-ups. We've found this clever way to personalise is incredible for lead generation.
Personalisation makes a big impact, like, Ed Sheeran big. And that's because 91% of consumers say they'd rather shop with brands that present offers and recommendations that are relevant to them.
With alternative businesses only a click away, it's never been easier for your customers to take their business elsewhere. Personalisation helps to generate more satisfying experiences for both new and existing customers - look for every opportunity to use it.
4. Chatbots
Chatbots have been rising in popularity for a while now. Chatbots help customers with everyday issues, offering fast access to relevant business information and redirecting users to human representatives when truly required.
Chatbots save valuable time for your customer service team, improve customer experience and speed up resolution times. Plus with advanced AI technology, chatbots enable all-important personalisation and nurturing to collect leads and keep them warm.
In 2020 and beyond, chatbots have the potential to do more than provide superior customer service. For example, Domino's chatbot will let you order pizza without leaving your Facebook Messenger app.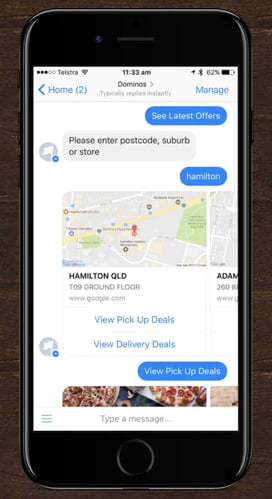 And it's not just pizza you can get delivered, news outlets like CNN and Techcrunch will serve you up the latest news and content from their platforms when you start a conversation with their chatbots.
5. Content Marketing
We hear you; content marketing sounds like old news. But we promise it's not. Many b2b organisations are realising that relationships, for the time being, will need to be built via content and digital methods - which is why content marketing (the clever, strategic kind) is still climbing in popularity.
Given content's ability to get your website found by Google, it is, and will continue to be, a crucial part of your B2B marketing strategy for years to come. Authoritative content will showcase your expertise and thought leadership, and long-form content (1000+ words) is effective for both traffic and thought leadership, as audiences are showing more interest in content that goes deep on a topic of interest.
At Brand chemistry, we keep getting stellar results with pillar pages and topic clusters. We love them for boosting keyword rankings for clients, obtaining sought after feature snippet slots, and overall SEO improvement in the awareness stage of the buyer's journey.
Although long-form written content remains a cornerstone of content marketing, in 2020, your content plan should also include interactive content. Think visually - beautifully designed guides, beneficial pillar pages with lots of visuals, useful videos (see above!), valuable data-driven infographics and other stimulating experiences.
6. Paid social and remarketing
It's not just content itself that's getting a future-focused facelift, it's the methods marketers use to get the content out and in front of the right eyeballs.
Did you know that a previous site visitor will click your paid ad at 2-3x the rate of a new visitor? This is one of the reasons we're loving remarketing as a key component of our content marketing strategies.
How are we doing it? Launching lower-cost brand awareness paid social campaigns (we're digging LinkedIn's new video views feature for this) to build up those remarketing pools to then use for lead generation (generally a pricier CPC) campaigns.
The details: On LinkedIn, you're able to segment these video-view remarketing pools by the percentage of video length watched (they're called LinkedIn Matched Audiences), which often is an indicator of how engaged your audience is.
A cost-per-view can range from $0.10 to $0.50 depending on your audience pool. Compared to a traffic generation campaign, where cost-per-visit from LinkedIn can go as high as $25, a video-view matched audience pool can be a good way to start building a remarketing pool if you have a smaller media budget (and in the process generate more traffic to your website!).
Table 1: Video-view pools built in 2 weeks with $3000
Table 2: Website visitors built in 3 months with $3000

Keen to discover more B2B marketing strategies? Check out our on-demand webinar, featuring what buyers are going to be most interested in both now and into the future.