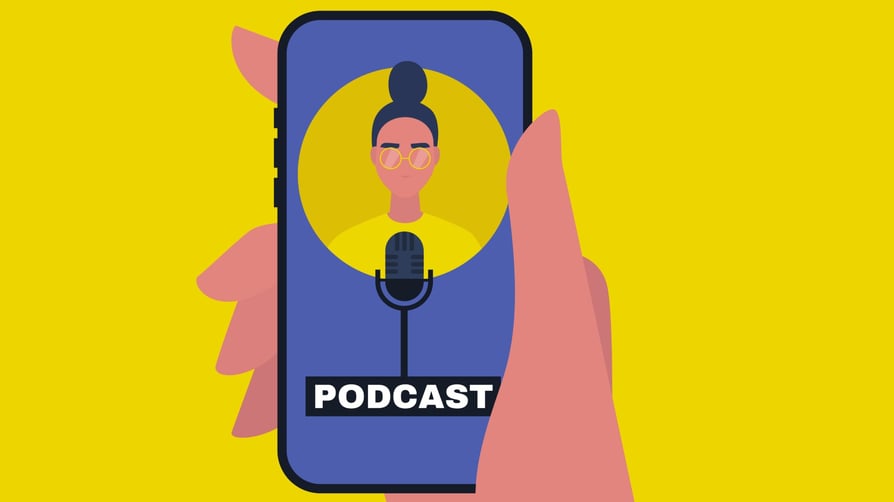 We all love a good podcast, whether your jam is true crime, comedy or current affairs. Not only are they great for entertainment and staying informed, but they're also an easy way to learn about new b2b marketing ideas, hacks and tech.
But if you search 'marketing podcast', you'd be forgiven for feeling overwhelmed by the choices available to you. Thankfully, here at Brand chemistry, we've managed to wrangle it down to a tight list of ten. So without further ado, here are the top podcasts for b2b marketing tips and ideas. You're welcome!
With over 1600 episodes, this daily podcast has more content than you could possibly listen to. The good news is that they're bound to have covered whatever topic you're looking for insight on - and some you weren't looking for!
Featuring a new marketing expert every episode, you'll get tips from the best of the best in this podcast - CMOs, CEOs, and other industry leaders and innovators. And they're all here to share their latest tactics and strategies with you.
If you haven't heard of #FlipMyFunnel movement, then are you even a cool marketer? With literally hundreds of episodes, this podcast of the same name is dedicated to helping b2b marketing, sales and customer experience professionals (that's you!) be awesome at their jobs.
From the Social Media Examiner comes this podcast, hosted by Michael Stelzner, talking everything social - strategies, tactics, tips, success stories, expert interviews… If it's related to social media, you'll hear it here.
If you love the Copyblogger blog, then you'll love their podcast as well. If it's related to copy and content, they'll cover it here, including content marketing, copywriting, SEO, email and social media marketing, to name a few.
After a three-year hiatus, B2B Nation: Smarketing has started releasing new episodes again as of June 2020! Talking to B2B sales and marketing professionals, this podcast has opinions and expert advice on the most important topics in smarketing today.
Is it really a marketing resource list if it doesn't have GaryVee in it? Like everything GaryVee does, his podcast is next level - an audio experience, in fact. It ranges from #AskGaryVee show episodes and keynote speeches to interviews and fireside chats.
A newbie on the scene, Confessions of a B2B Marketer follows Tom Hunt on his journey to create a successful b2b SaaS business and agency. Along the way, we meet his friends, family and colleagues, and mine them for all the advice we can get on SaaS growth insights.
No list of b2b podcasts is complete without one dedicated to Account-Based Marketing. This podcast is a new project by the ABM Leadership Alliance, whose focus is on educating b2b marketers about the benefits of ABM. If you haven't jumped on that bandwagon yet, check out this podcast for why you should.
If you don't have enough time in your week to read all the marketing books you would like to, then this podcast will give you the cliffnotes versions. In each episode, a marketing author shares the practical marketing insights and tips from their book, giving you all the benefits without the hours invested in reading.
And that's our top 10! We hope listening to them gives you tonnes of b2b marketing ideas to try out in your own campaigns. If you're looking for other ways to up your marketing game, check out our interview with three of our fave CMOs for more tips on how they became industry leaders.