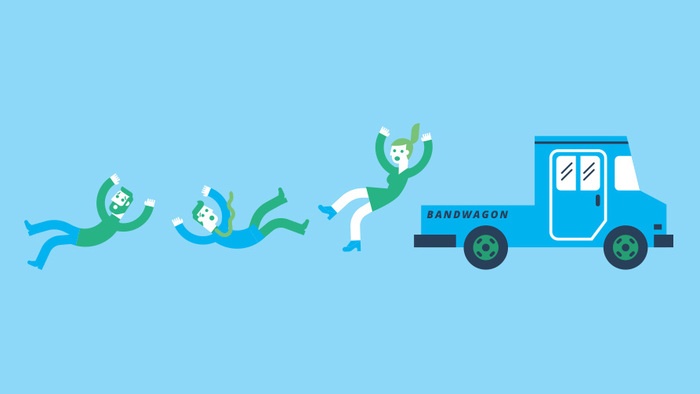 We all would like our brand to be popular with our target audience. That's why a noticeable decline in social media followers can be disconcerting - even though it's often considered a vanity metric.
Drops in your social media channels follower count is more apparent when you have fewer than 1000 followers or in the case of YouTube, subscribers. As marketing or community managers, you may have been asked the following questions more than once:
Why is our follower count dropping? How come it's taking so long to get millions of followers? Why isn't our content going viral? (Okay we threw the last question in for fun, but truth be told, it is one of the most asked questions by senior management).
While there is some truth in the saying that quality is more valuable than quantity when it comes to social media followers, you'll need that initial volume to get organic reach to increase your engagement rate. Furthermore, this metric is often an indicator of how well your social media strategy is working in the initial stages.
Did you know that a whopping 72% of people who follow a brand on social are more likely to make a future purchase than those who don't? And 74% of people who follow small and medium sized businesses follow to get updates on future products? The average engagement rate of Facebook pages with 0-10k fans/likes sits at 0.96%, with the rate steadily decreasing to 0.09% for pages with more than 1 million fans/likes.
To understand why your fans unfollow you on social media, you must first understand what your fans expect from you on these channels. Are they following you to get useful product tips? Or to get exclusive discounts? More importantly, b2b companies need to understand why they should have a presence on social media, and how to pick the right social media channels for their business. According to HubSpot:
16% of respondents said they follow a brand because they like the brand
15% said they follow brands to be notified of special offers or promotions
12% said they follow brands to learn about new products and services
To increase your social media following you need to implement a strong social media strategy within your inbound marketing strategy. Once that takes off and you see a steady increase in your follower count, that's when your data will be able to tell you when you gain followers, and when and why you lose them.
Here are the top 5 reasons why your followers are unfollowing you:
1. You're not providing value for your audience
With so many b2b brands on social media today, it is easy for a potential customer to seek answers where they can find them. And you can be sure that if you're not the one providing these answers, your competitors sure are. And just like that, your competitor gains a follower and you may have just lost one.
For a b2b company, a funny meme may get many retweets and favourites once in awhile, but if a majority of your social posts contain only memes and nothing your potential customer would deem useful - be it tips to help them better themselves, or discounts and updates on your latest product/services - they'll be inclined to unfollow your account and look for more interesting posts elsewhere. Because why would they inundate their news feed with something that's not relevant to them?
2. You update waaaaay too often
According to HubSpot, over 15% said they would unfollow a brand on Facebook, LinkedIn and Twitter if it posted more than six times a day. And over 20% said they would unfollow a brand on Facebook and Twitter if they deem the content too boring or repetitive.
Having said that, the frequency of Twitter postings are usually higher than Facebook's and LinkedIn's due to its fast-paced nature. If you don't share your links a few times, your followers may never come across any of your tweets. To avoid repetitiveness in postings, here are a few good tips to avoid sharing the same message twice.
3. You post too many promotional 'me me me' updates
We're not saying that you shouldn't be promoting yourself on social media. Of course you would! If not, why even bother getting the resources to maintain these fast-paced channels?
However, stick to the tried and tested 80-20 rule. What this means is: 80% of your posts should contain helpful and valuable content to your audience, and the other 20% - self-promotional goodness. For every 10 social post your business churns out, 8 of them should be to educate/help/improve your audience, and 2 to announce the latest happenings with your brand and products/services. The slight exception to the rule is postings about discount codes - everyone loves a bargain, especially your fans!
4. You overuse hashtags
Use hashtags strategically and your social update will get found by the right audience beyond your followers (please note that LinkedIn doesn't recognise hashtags). Use hashtags incorrectly and you'll appear to be a spammer.

To improve readability of your post, and to avoid annoying your audience:
Only use relevant hashtags in any one update
Use up to 3 hashtags per update
5. You automate your messages too much
We love automation - don't get us wrong. Automation makes marketing managers' lives more manageable and organised! However, when it comes to social, there is such a thing as too much automation and too little personal engagement. Sure, a little automated message to thank someone for following you may seem nice but over 30% have also said that they would unfollow a brand if they received an automatic message.
Keep in mind that social media is a two-way channel. The way consumers communicate with brands have changed - the relationship between a brand and social media is akin to having a sales or customer service person ready to help you out anytime.
Final thoughts
Continually monitor the engagement rate, optimise your social messages for each channel, and build relationships with your followers. If you're not getting satisfactory engagement or click-through rates to meet your goals, you may need to review your marketing strategy.
Is your marketing strategy delivering the results you want? Take our short quiz to find out if your current marketing efforts is working for you today.


Brand chemistry is a strategic brand agency. With more than 10 years experience building brands, we know what it takes to stand out amongst your competitors. Take a look at our client case studies to find out more.