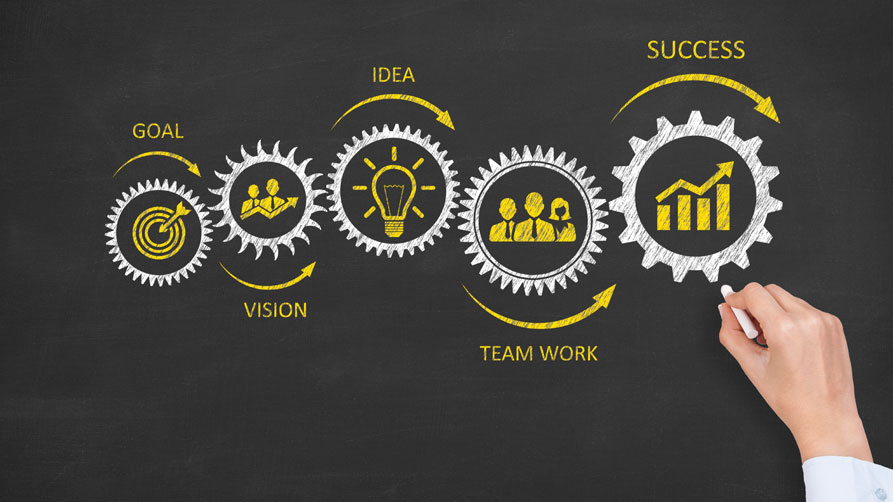 Time for a hard and fast rule; if you want to give your business the biggest chance of success you need a Marketing Automation system (MA) and Customer Relationship Management system (CRM) that integrate.
Yes, this is quite a bold statement, but in a world driven by technology, it's merely the truth. To achieve success you need to be able to work fast and smart and give your customer the best experience possible. An integrated MA and CRM can help your teams achieve the goal.
To learn why you need both a MAs and a CRM in your business, read on.
What is marketing automation and why should I implement it?
As the name suggests, marketing automation allows you to automate your recurring marketing efforts. This could be anything from sending emails to creating user-friendly landing pages. In a nutshell, marketing automation allows you to scale your efforts and monitor the effectiveness.
Why would you implement a MAs in your business?
The biggest driving factor is enabling a seamless customer experience, meaning your contacts and customers won't get bombarded with irrelevant information and it's not all about the sell, but about educating customers and prospects to help them make the right buying decision. On the back of that comes the ability to make your internal processes more effective and efficient.
Brand chemistry's Head of Content Andrea Hoymann explained there are varying levels of marketing automation tools - from basic level tools like Mailchimp that will send out emails - to more sophisticated systems such as Hubspot, which enables you to do a lot more.
"Sophisticated systems enable you to trigger marketing actions based on people's interaction with your website, email marketing and social media, increasing the chance of conversion and enhancing the overall brand experience."
"What's more, it enables you to set up workflows that will help you move a prospect from one buying stage to another, meaning that when they talk to your sales reps, they are much more likely to be ready to buy. This gives the sales team better focus and they spend their time doing demos and consultative sales meetings with the right kind of leads, rather than a bunch of tyre kickers,"
Why do you need a CRM?
A CRM is a necessary tool for any sales team who want the best chance of getting a lead across the line. A quality CRM stores everything there is to know about your client, their personal details, who has contacted them and there's also the ability to write notes in their file!
This information helps the sales team keep track of everything and better prepare them for future interactions. This benefits not only your company but also your customers as today's digitally prepared customer craves personalised service. Aberdeen Group found 90% of customers find custom content useful and 75% said they like it when brands personalise messaging and offers.
Why should I integrate the two systems?
If you want to take your sales and marketing to the next level, you need to integrate your systems.
If you don't integrate your MA and CRM you risk miscommunication, double-handling, and missed lead opportunities due to lack of visibility across systems. If you integrate the two your team will have a 360 degree view of what's happening with prospects, leads and customers at any and every point in time. You can see what email they last opened, what content they've consumed on your website, what they're saying on social media.
Combining these insights with the details you already know about your client from your CRM, gives you the opportunity to provide more relevant marketing information and allow salespeople to have a more meaningful conversation with the client.
What does this all mean? Happy customers and an efficient team that is meeting targets.
So you need this in your business, but what're the costs?
Cost really comes down to your needs, which usually depend on the goals and size of your organisation.
CRM prices vary and are usually based on the numbers of users and the amount of contacts the database needs to handle.
The cost for MA tools varies yet again; some companies charge you a cheap rate initially but then bump up the price when they discover you need an extra feature.
So you're not caught out by this, and other nasty little surprises, here are a few things to watch out for:
Cheap base prices with limited functionalities and exorbitant prices for add-ons.
Systems that don't natively integrate with your CRM. (If it doesn't you'll need to spend money on third-party providers to make it work using an API, this can be testing and costly).
The cost of maintaining and managing the platform. If it's not user friendly and has a lot of 'techy' aspects, you may have to hire an internal specialist to manage the platform.
You're ready? Let's learn how to onboard an integrated marketing automation platform and CRM
Onboarding a marketing automation platform and CRM system doesn't have to be a complicated task, but prior planning and documentation are important steps to take.
Andrea explains, a lack of planning can lead to a lot of frustration at a crucial time in the onboarding project.
"There's nothing worse when people lose faith in a software during the onboarding. It will make it so much harder to convince internal stakeholders to use the software properly and champion it within the team — even the best software can't deliver the desired outcome if people simply don't use it properly."
When onboarding any new technology or initiative all staff need to be well-trained and kept up to date with any changes. Any new platform should be user friendly and support your company's goals and not hinder them by making it difficult to use the new system.
If you want to start making the most of your sales opportunities, see a prospects entire interaction with your company and get your team working efficiently and effectively, it's time to move to integrate your CRM and MA systems.
Note: Don't be shy and ask to ask for help if need be. Getting an agency to help with the onboarding process is the best way to get the job done well, as quick as possible and with minimal distraction to your team. If you'd love to know more about how to get a great ROI from marketing technolgy, then you need to check out our 10-step guide to choosing the right marketing automation platform.
Brand chemistry is a strategic inbound marketing agency that goes the extra mile to deliver results for our b2b clients. Our inbound marketing specialists are HubSpot certified and use the latest techniques to provide our clients with a steady stream of relevant new leads.