Your tech company's best b2b marketing resource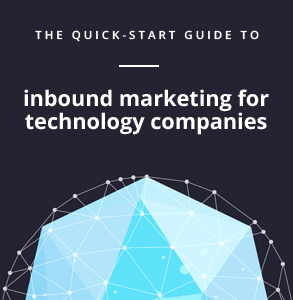 Marketing your technology company is a lot easier if you have a book to guide you. That's why we created The quick-start guide to inbound marketing for technology companies to help businesses like yours achieve success without stressing if your marketing plan's going to belly-up.
Download the guide to:
Learn how an inbound marketing approach can catapult your tech company's marketing efforts


Be led by example on how to create incredible buyer personas that actually reflect your true customer


Understand how a clever strategy can work to get you quality leads


Find out what technology can help you automate repetitive marketing tasks


Get a strategic execution plan to distribute your fantastic content
Don't keep wishing and hoping your tech company's marketing efforts will pay off. Download this guide to see how you can improve and dominate your industry.