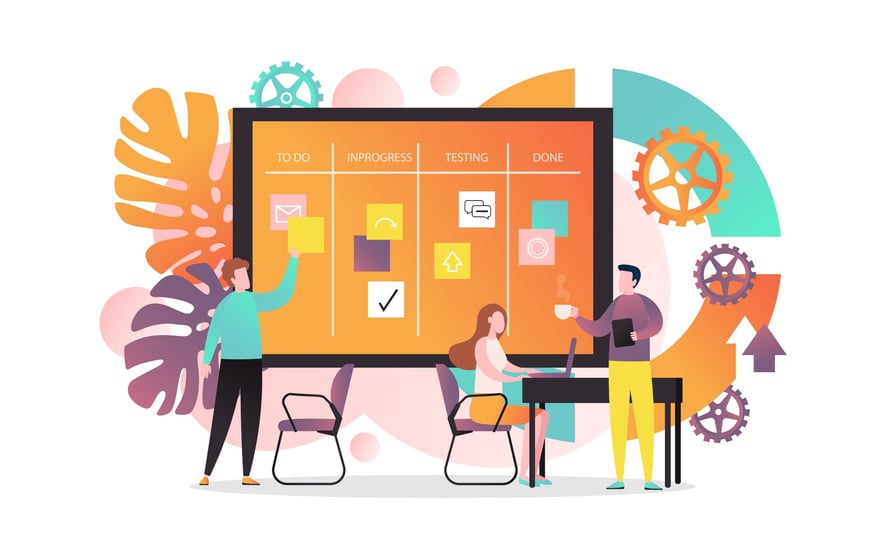 It's not news to you that marketing budgets have come under greater scrutiny as the pandemic's economic impact has been felt. Gartner research found almost half of CMOs faced budget cuts in 2020. Amid the uncertainty, job losses and mass remote working, budgets of all kinds have been tightened, and cost-effective solutions become even more desirable.
One such seemingly simple solution to your budgeting-woes might be outsourcing your marketing efforts. Or maybe you've been outsourcing, and you're thinking of hiring in-house instead?
Just with any disruption or crisis, we're seeing a new option emerge and work pretty well. The customised, hybrid model - where client and agency co-execute based on skills and resources the client has in-house.
To help you make the right decision for your business and your budget, let's explore the pros and cons of each solution. Plus we'll share a great resource to help you pick the right b2b inbound marketing agency if an outsourced or co-delivery option suits your needs best.
An outsourced b2b inbound marketing agency
An outsourced marketing team is an agency you work with externally. Think marketing strategy, SEO, content writing, pay-per-click (PPC), social media, design, PR and more. We've written in-depth about the pros and cons of outsourcing your marketing before, but let's quickly recap:
Pros
They're strategic and tactical marketing experts
They're accountable
They can provide long-term value to the company
Cons
They can damage internal morale
They're not there 100% of the time
There can be growing pains
An in-house marketing team
An in-house marketing team is made up of employees who work within your company. You hire and create the team you choose; it could be an individual or a group of experts. Take deep dive into the pros and cons of hiring an in-house marketing team in this post, but to quickly recap:
Pros
They're experts in your industry (well, can be)
They're more available for miscellaneous tasks
They're cheaper (sometimes)
Cons
Like any, single marketer, their skills are limited to a particular set
A more permanent fixture that is harder to scale up and down
A hybrid marketing team
A hybrid or co-delivery approach is a blend of internal and external marketing. In most cases, this will involve an in-house marketing manager or a project manager working with an agency to strategise and execute marketing efforts.
Pros
Customisable and flexible: A hybrid approach can be what you make it; it's fully customisable to your company's needs and is adaptable to your requirements as they evolve, change and grow. Scale your external marketing team up and down to suit your current needs!
See it in action: Brand chemistry client Axiom Workplaces, like many companies, was faced with upheaval thanks to COVID-19 in 2020. As long-time partners in marketing, we were able to work with the Axiom team to flex marketing support during the uncertainty without losing momentum.
Save on costs: Hiring a new team member with a specialised set of skills comes at a cost, and when you no longer need those skills, what do you do? Instead, use your hybrid team's agency side to fill the skill gap to save on operational costs and recruitment/hiring time.
See it in action: Our client Perkbox had advertising budget to use for paid social but hiring an internal resource would have been overkill for their needs. Instead, they partnered with our team with the bonus of tapping into our expertise in paid social ads.
Access specialised skills: Spoiler alert: Marketing agencies love marketing! We're certified marketing geeks. We make it our business to be up to date with the latest trends in strategy and tactics and marketing technology. Use your hybrid model to tap into multiple skill sets for the price of around one in-house employee!
See it in action: Our client Higgins Coatings pinpointed a need for specialised HubSpot knowledge soon after implementing the platform. They didn't have the internal expertise, so Higgins' National Marketing Manager called on Brand chemistry for help. Check out how Higgins' hybrid marketing approach has increased revenue x 3.
Find traction and drive momentum: There is nothing like outside accountability to get marketing projects off the ground and into the market. In-house resources are often overwhelmed with the daily business-as-usual tasks, so back them up with external agency resources to ensure deadlines are hit and results are rolling in.
See it in action: Our client Kyocera recognised the need to change its marketing approach from a media-centric outbound approach to a content-centric inbound approach, but their small in-house team simply wasn't resourced to make it happen. So Kyocera and Brand chemistry joined forces to deliver on the Kyocera vision - generating leads and attributing over $500k in sales to marketing in just the first eight months!
Cons
Managing a hybrid marketing team can be time consuming: There can be initial teething problems which makes normalising any team dynamic tricky.
The right external agency will have transparent systems and processes that quickly clean these up, so that the relationship can thrive.
A few tips for helping the agency-client hybrid team along
The solution to hybrid marketing success comes from knowing your in-house strengths and outsourcing the remainder. But also, make sure your agency can help you to:
Create an efficient workflow using sharable and open communication platforms like Basecamp, Google Docs or Slack. Share work and updates to keep everyone on the same page so you can kick team goals.

Select a manager to be the point of contact between your in-house and external team members. A clear point of contact is key to keeping your hybrid team on track.

Course-correct as you go. The beauty of co-delivery is in the flexibility of this model. Adapt and adjust as needed.
How to decide what's right for your business
Choosing the marketing team model which is best for your business, doesn't have to be a drag. Start by outlining your requirements - think about your marketing goals and the resources you will need to reach them. While you're at it, consider if you need specialised marketing skills (agency!), or deep company knowledge (in-house!), or a mix of both (hybrid!). Revisit the pros and cons above to see which option matches your requirements most closely.
Decided to outsource or co-deliver with an agency? The next step is to choose the best agency to ensure your marketing success. Check out our 7-step checklist to choosing your inbound agency for everything you need to look out for.
Brand chemistry is a b2b marketing agency winning your customers' hearts and minds through inbound, brand, content, lead generation and digital strategy. Our marketing specialists achieve stellar results with the latest lead generation techniques.